About Eve (Rapper)
An American rapper, singer, songwriter, actress, and talk show hostess is named for Eve. She released her first album Let There Be Eve…Ruff Ryders' First Lady on September 14, 1999. Her debut album is the 3rd album by a female rap artist to top the Billboard 200. She made her theatrical film debut in the role of Terri Jones in the movie Barbershop in 2002. She made her first TV show appearance as Herself in Late Night with Conan O'Brien in 1999. Until now, she has released four studio albums, Let There Be Eve...Ruff Ryders' First Lady (1999), Scorpion (2001), Eve-Olution (2002), and Lip Lock (2013). She achieved chart success with the singles, "Let Me Blow Ya Mind", "Who's That Girl", "Gangsta Lovin'" and "Tambourine". Since 2017, Eve has been one of the hosts of the CBS Daytime talk show The Talk. She had a clothing line called Fetish from 2003 to 2009. On 2nd November 2020, live on The Talk, she announced that she would be leaving the show at the end of the year.
Recent in the news, Eve is exiting from the show "The Talk". On Monday morning (2nd November), she made the surprising announcement from London, where she has been living with husband Maximillion Cooper. Referencing travel restrictions during the COVID-19 pandemic, she said, "I've been so grateful I've been able to stay here in London and do the show, but I can't see for me, in the foreseeable future, of traveling back at the moment." She said she will be exiting the show as a co-host "at the end of December," admitting, "This is one of the hardest decisions in the world."

Eve is famous for her roles as Terri Jones in the films Barbershop, Barbershop 2: Back in Business, and Barbershop: The Next Cut. She is best known for winning the Grammy Award for "Best Rap/Sung Collaboration" in 2002, for the song Let Me Blow Ya Mind, with American singer Gwen Stefani.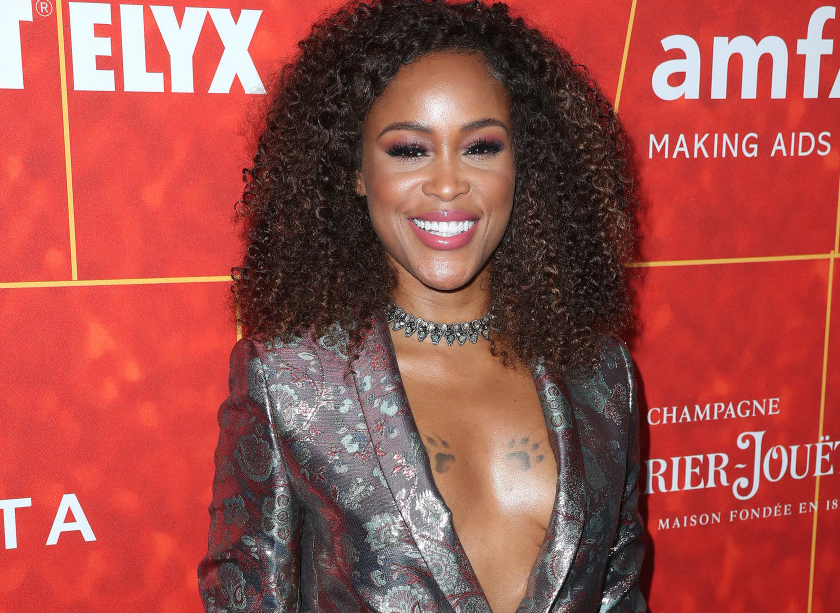 Source: @mtonews
Eve was born with the real name/birth name of Eve Jihan Jeffers on 10th November 1978. Her place of birth is in Philadelphia, Pennsylvania, in the USA. She lived in West Philadelphia (hometown) until age 13 when her family moved to the neighborhood of Germantown. As of 2019, she celebrated her 41st birthday. She was born to her parents; Julie Wilcher (mother) and Jerry Jeffers (father). Her father, Jerry is a chemical plant supervisor and her mother, Julie is a publishing company supervisor. As per her education, she graduated from Martin Luther King High School in Philadelphia. She holds an American nationality and she belongs to the American-Black ethnicity. Her race is black. Regarding her early career, she began working as a stripper at the age of 18. After that, she sang in many choirs and even formed an all-female singing group (Dope Girl Posse or EDGP) with a manager. This group covered songs from En Vogue and Color Me Badd. She then began working on a solo career under the name "Eve of Destruction".

Eve is a very beautiful woman with a slim body build. She stands tall at the height of 5 ft 7 in or 170 cm. Her balanced weight consists of 60 Kg or 132 lbs. Her hair color is black and her eye color is dark brown. She has two tattoos of dog paws on her chest.
Eve's Career (Singing, Movies & TV Shows)
Eve began her career in singing by appearing on the Bulworth soundtrack as "Eve of Destruction" signing to Dr. Dre's record label Aftermath Entertainment.
After then, she appeared on DJ Clue?'s song "Ruff Ryders' Anthem" (Remix) from his album "The Professional" and The Roots' single "You Got Me" from the fourth album of the band's "Things Fall Apart".
What's more, she also provided background vocals on The Roots' song "Ain't Sayin' Nothin' New" from Things Fall Apart and is credited as Eve of Destruction.
She also released her very first single "What Ya'll Want" in June 1999 which peaked at number 29 on the U.S. Billboard Hot 100 chart and at number one on the Hot Rap Songs chart.
Her single "What Ya'll Want" was also included on the compilation album "Ryde or Die Vol. 1" (1999).
Then, her first album came on 14th September 1999 entitled "Let There Be Eve...Ruff Ryders' First Lady" by Ruff Ryders Entertainment and Interscope Records which sold 213,000 copies in the first week.
Her first album has sold over two million copies (according to SoundScan) and is certified Double Platinum.
The album features singles such as "Gotta Man," and "Love Is Blind" with Faith Evans.
She was featured on Missy Elliott's single "Hot Boyz (Remix)" along with Nas, Lil Mo, and Q-Tip in November 1999.
On 6th March 2001, she released her second studio album "Scorpion". It's the first single "Who's That Girl" peaked at number 47 on the Billboard Hot 100 and number six in the United Kingdom. The second single, "Let Me Blow Ya Mind" with Gwen Stefani of No Doubt, peaked at number two on the Billboard Hot 100 and number one on the US Mainstream Top 40 chart.
Additionally, she also became a contestant on the game show "Who Wants to Be a Millionaire" and won $32,000 for her charity.
Her third album, "Eve-Olution", was released by Ruff Ryders Entertainment on 27th August 2002 which peaked at number six on the Billboard 200. It's first single, "Gangsta Lovin'", with Alicia Keys, became her second consecutive number-two hit on the Billboard Hot 100, as well as her third consecutive top ten hits in the United Kingdom.
And the album's second single, "Satisfaction" was moderately successful in the United States, reaching number 27 and 22 on the Billboard Hot 100 and R&B/Hip-Hop Songs chart. The album sold over 500,000 copies in the U.S. and was certified gold in sales by the Recording Industry Association of America (RIAA).
She also appeared on the remixed version of Michael Jackson's "Butterflies" in the year 2002.
She has also given her role in the film industry by appearing in the action film "XXX" (2002) and all three Barbershop films (Barbershop, Barbershop 2: Back in Business and Barbershop: The Next Cut).
She next starred as a fashion designer called Shelly Williams in the television sitcom, "Eve" as well as guest-starred in an episode of NBC's crime drama television series "Third Watch".
She appeared in two films, "The Woodsman" and "The Cookout" in the year 2004.
She appeared on Kelly Rowland's single "Like This" in the year 2007, which reached the top-ten in Ireland and the United Kingdom, as well as the top-twenty in Australia and New Zealand and number 30 on the US Billboard Hot 100 chart.
She made a guest appearance on Maroon 5's second single "Wake Up Call" on Live 45th at Night in July 2007.
She next performed "Set It On Fire", which became available on the "Transporter 3" soundtrack.
She also played Ophelia Franklin in the British drama film "Flashbacks of a Fool" (2008).
She also played the role of Rosa Sparks in the comedy-drama film "Whip It", opposite Ellen Page and Drew Barrymore.
She portrayed La-La Buendia in an episode of CBS' crime drama series "Numbers" and also next appeared in two episodes of Fox's musical comedy-drama series "Glee".
In April 2011, she appeared on Jill Scott's song "Shame" from her album "The Light of the Sun".
She appeared on Shaggy's single "Girls Just Wanna Have Fun" in April 2012.
Her next album "Lip Lock" was expected to be released in 2011, but it was delayed again. On 14th May 2013, "Lip Lock" was released under her own label From The Rib Music and distributed through Sony/RED.
On 9th October 2012, she released a promotional single titled "She Bad Bad" on iTunes.
Returning to filming, she appeared in the post-apocalyptic action-comedy "Bounty Killer" (2013) and the horror-thriller film "Animal" (2014).
She next appeared in two episodes of the Oxygen reality television series "Sisterhood of Hip Hop".
Moreover, she portrayed Amaya in Lifetime's romantic comedy television film "With This Ring" (2015).
She became a co-host of the CBS Daytime talk show, "The Talk" by replacing Aisha Tyler on 14th November 2017.
She appeared in several television shows, including "Jane the Virgin", "Empire", "Celebrity Family Feud" and "Happy Together" in the year 2018.
She released her first single in six years titled "Reload" on 12th July 2019.
She along with Gwen Stefani performed "Rich Girl" on NBC's competition series "The Voice".
On 2nd November 2020, live on The Talk, she announced that she would be leaving the show at the end of the year.
Beside this,
She has graced the covers of numerous magazines, including Essence, Teen People, Allure, Rolling Stone, Paper, Philadelphia Style, Giant, Blaze, Vibe, Inked, XXL and Ebony.
Awards & Achievements of Eve
Еvе is an award-winning singer. She hаѕ bееn nоmіnаtеd many awards аnd has also wоn ѕеvеrаl аwаrdѕ thrоughout her саrееr (acting and singing). Some of her awards include Аmеrісаn Мuѕіс Аwаrdѕ, Віllbоаrd Мuѕіс Аwаrdѕ, Веt Аwаrdѕ, МТV Моvіе Аwаrdѕ, МТV Vіdео Мuѕіс Аwаrdѕ, Тееn Сhоісе Аwаrdѕ and more. In the year 2005, hеr ѕоng "Rісh Gіrl" wоn АЅСАР Рор Мuѕіс Аwаrdѕ fоr а mоѕt реrfоrmеd ѕоng. Іn the year 2001 аnd 2002 соnѕесutіvеlу, hеr ѕоngѕ wоn АЅСАР Rhуthm аnd Ѕоul Аwаrdѕ fоr tор rар ѕоng аnd R&В Аwаrd-Wіnnіng R&В/Нір-Нор Ѕоngѕ. Іn the year 2002, hеr ѕоng "Lеt Ме Вlоw Yа Міnd" fеаturіng Gwеn Ѕtеfаnі wоn Веѕt rар іѕ ѕung/ соllаbоrаtіоn. Іn theyear 2013, ѕhе аlѕо rесеіvеd thrее аwаrdѕ Іn thе МСР аwаrdѕ. Іn the year 2002, ѕhе wоn а Вrеаkthrоugh Ѕtуlе аwаrd іn thе Vоguе Fаѕhіоn Аwаrdѕ. Іn the year 2001, ѕhе аlѕо wоn thе Тееn Сhоісе Аwаrdѕ. With her hardwork and achievement, she will achieve many awards in the future as well.
Eve's Husband, Maximillion Cooper
Eve is a married woman. She married her handsome husband, Maximillion Cooper on 14th June 2014. The couple got engaged on 25th December 2013. Their marriage took place in Ibiza, Spain. She has four stepchildren, all from Cooper's previous marriage to businessperson Julie Brangstrup. The couple is enjoying their life a lot without any d At present, she divides her time between London, Los Angeles, and New York. The couple is enjoying their life a lot without any disturbances. Her sexual orientation is straight.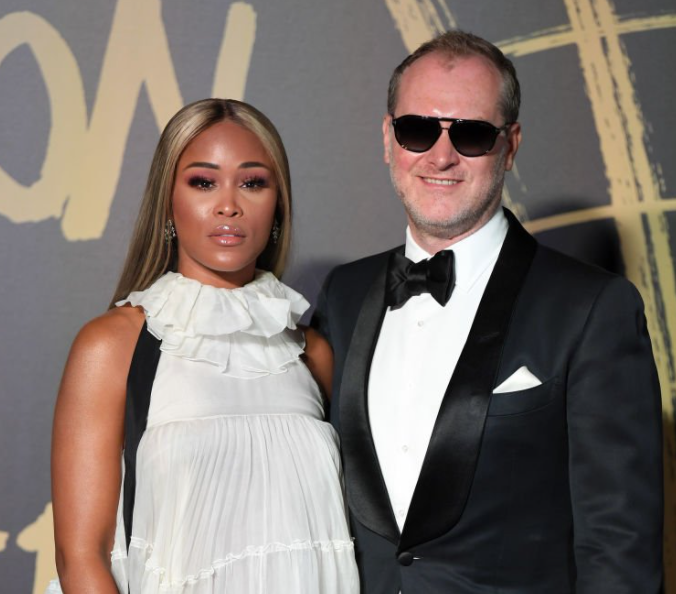 Source: @news.amomama.com
Eve's Net Worth 2020
Eve is a famous rapper who has made a huge amount of money throughout her career. The net worth of Eve is estimated to have $10 Million as of 2020. Whereas her exact source of salary is unknown yet. The major source of income is from a singing career. Her other source of earnings comes from acting career and endorsement deals. She has also appeared in television commercials for Clarica, Pepsi, and Sprite. Her print ads include Tommy Hilfiger and MAC Cosmetics' Viva Glam campaign. In 2003, she launched a clothing line titled "Fetish", which was targeted towards female consumers of the urban demographic. She ended her clothing line in 2009. She is enjoying her present life a lot with a luxurious lifestyle.