Jair Messias Bolsonaro famed as Jair Bolsonaro is a Brazilian politician. Moreover, he is also a retired military officer. He has been the 38th president of Brazil since 1st January 2019. He served in the country's Chamber of Deputies, representing the state of Rio de Janeiro, between 1991 and 2018. He was elected president as a member of the conservative Social Liberal Party, before leaving them to found the party Alliance for Brazil. He is a vocal opponent of same-sex marriage and homosexuality, abortion, affirmative action, drug liberalization, and secularism. He came in first place in the first round of the general election on 7th October 2018, with Workers' Party candidate Fernando Haddad coming in second place. The two candidates faced a run-off on 28 October 2018, and Bolsonaro was elected with 55.1% of the vote. Overall, he is a very talented politician with great power.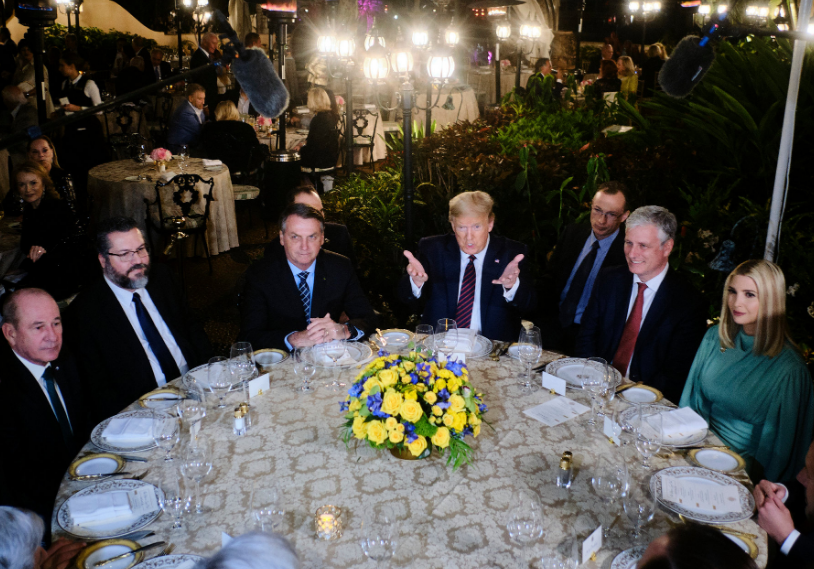 Source: @nytimes.com
Trump Welcomes Brazil's Bolsonaro but Leaves Tariffs on the Table
President of the USA, Trump hosted President Jair Bolsonaro of Brazil for a festive dinner at his Florida estate on Saturday but refused to rule out steel and iron tariffs that have created tension in the relationship between the two most populous countries of the Western Hemisphere. As he welcomed Mr. Bolsonaro to Mar-a-Lago, Mr. Trump hailed his Brazilian counterpart and celebrated their friendship. "Brazil loves him," the president said with Mr. Bolsonaro at his side. "The U.S.A. loves him. Great job." Asked about tariffs, Mr. Trump initially ducked the question, saying only, "The friendship is probably stronger now than it's ever been." Pressed if he would forgo tariffs, he said, "I don't make any promises." Mr. Trump and Mr. Bolsonaro enjoy one of the closest relationships that the president has in the Western Hemisphere. Mr. Bolsonaro is scheduled to visit the United States Southern Command headquarters in Miami on Sunday and then head onto Washington, where he will showcase agreements on energy and infrastructure finance. Mr. Trump threatened to impose metals tariffs on Brazil and Argentina in December in retaliation for what he called the unfair weakening of their currencies and agricultural policies. The president backed off the threat a couple of weeks later after Mr. Bolsonaro called him to appeal not to proceed with the levies.
Famous For
Being the 38th president of Brazil since 1st January 2019.
For serving in the country's Chamber of Deputies, representing the state of Rio de Janeiro, between 1991 and 2018.
Early Life of Jair Bolsonaro
Jair Bolsonaro was born as Messias Bolsonaro on 21st March 1955 in Campinas, Sao Paulo, a town in the southeast region of Brazil, to Perci Geraldo Bolsonaro and Olinda Bonturi. He is the third of his parents' six children and has two brothers and three sisters. As of 2019, he celebrated his 64th birthday. His father, a dentist without a college degree, had settled in Eldorado after the kids were born as there were not many dentists there. His nationality is Brazilian and his ethnicity is White. About his education, he got into the Preparatory School of Brazilian Army during his final years in school and later was sent to the Academia Militar das Agulhas Negras. He graduated from there in 1977 and served with the army's parachutist units for a while. He served in the military for 17 years and reached the rank of Captain, first gained public attention in 1986 after he complained to 'Veja' magazine about low salaries and firing of officers. He is Christian by religion.
Career of Jair Bolsonaro
Jair launched his political career under the ticket of the Christian Democratic Party (PDC) in 1988.
He was elected city councilor in Rio de Janeiro and remained on that post till February 1, 1991.
In addition to this, he was the Chamber of Deputies Vice Leader for PDC and fought for the party in the 1990 elections.
He also served first term in office from February 1991 to February 1995 and was re-elected for six consecutive terms after being elected as a federal congressman.
He switched support to the newly founded Progressive Party (PP) in 1993.
He merged with the Reform Progressive Party (RPP) in 1995.
This form the Brazilian Progressive Party (PPB).
He was re-elected for the post under the flag of RPP and assumed office for his second term on February 1, 1995.
He was re-elected twice more in the same post under the banner of PPB, in 1999 and 2003, but was affiliated with the Brazilian Labour Party (PTB) from 2003 to 2005.
He then joined the Liberal Front Party (PFL), the primary right-wing party in Brazilian politics in 2005.
In the same year, he returned to the Brazilian Progressive Party (PPB).
He was elected twice more as a federal congressman in 2007 and 2011 and remained with the party till 2016.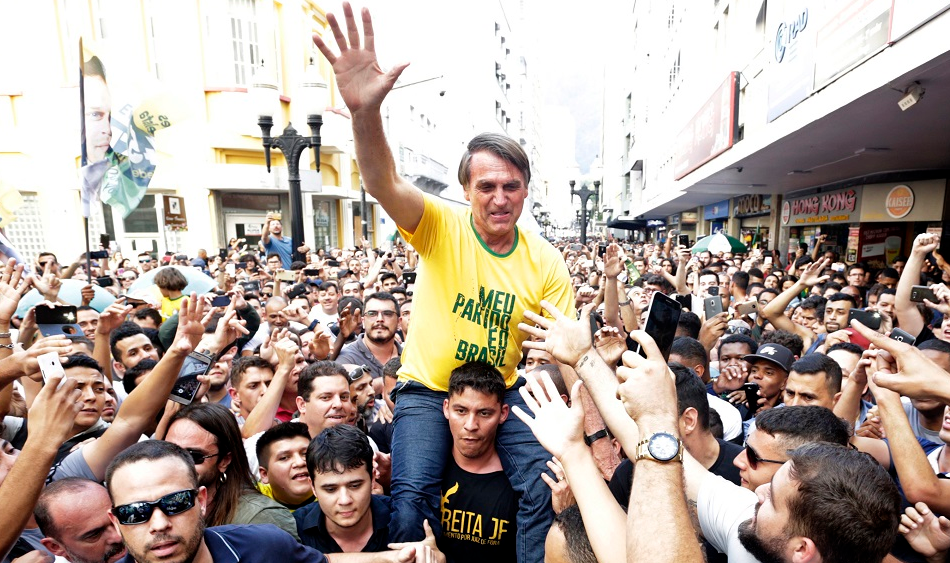 Source: @timesunion.com
He also became a member of the Social Christian Party (PSC) in the year 2016.
He then announced his intention to run for the presidency in March that year.
After that, he moved to the Social Liberal Party in August 2018 and launched his presidential campaign for the party, taking retired general Hamilton Mourao as his running mate.
He secured 46.03% votes to become the top candidate with a clear lead over opponent Fernando Haddad, who came second with 29.28% votes during the first round of the general election on 7th October 2018.
He was sworn in as President of the Republic on 1 January 2019, succeeding Michel Temer.
He began his cabinet formation before winning the presidency, having chosen economist Paulo Guedes as his Economy minister and astronaut Marcos Pontes as his Science and Technology minister.
He initially said his cabinet would be composed of 15 members; this figure later rose to 22 when he announced his final minister, Ricardo Salles, in December.
His predecessor, Michel Temer, had a cabinet of 29 members.
His cabinet is composed of 16 ministers, two cabinet-level positions, and four presidency secretaries including Chief of Staff Onyx Lorenzoni.
His ministries include Operation Car Wash judge Sérgio Moro as Justice minister and congresswoman Tereza Cristina as Agriculture minister.
He has stripped the indigenous affairs agency FUNAI of the responsibility to identify and demarcate indigenous lands.
Argentine President Mauricio Macri was the first foreign leader to be received by Bolsonaro on a state visit to Brasília since he assumed the Brazilian presidency.
The second inauguration of Nicolas Maduro in Venezuela took place nine days after Bolsonaro's inauguration.
He did not attend Maduro's inauguration and recognized Guaido as the legitimate ruler of Venezuela, alongside Mauricio Macri from Argentina and Donald Trump from the US, among others.
Since his election, his popularity is steadily declining.
In March 2019, he stated that the 1964 coup d'état that overthrew President Joao Goulart was not a coup and that March 31, the day the coup was installed, should be "properly commemorated".
A Datafolha survey, published on 21st May 2019, showed that 34% of respondents described Bolsonaro's administration as "great or good"; 26% as "regular", 36% as "bad or awful", while 4% did not respond. This is the first time more Brazilians reject the politics of Bolsonaro than affirming it.
On 25th January 2020, on his first state visit to India, Bolsonaro said that Brazil will continue to demand a permanent seat on the UN Security Council.
As the head of the state, he became the chief guest at the Delhi Republic Day parade on 26th January 2020.
Personal Wife of Jair Bolsonaro
Jair Bolsonaro is a married man and he got married to Rogeria Nantes Braga firstly. Together, they had three sons named Flavio, Carlos and Eduardo. After getting divorced from his first wife, he again married a woman named Ana Cristina, who is the mother of his fourth son, Renan. In 2013, he married Michelle de Paula Firmo Reinaldo Bolsonaro, who gave birth to his only daughter Laura who, according to Bolsonaro, was produced out of "a moment of weakness". He had hired his current wife, Michelle as his secretary during his tenure as a congressman, following which she climbed up the ladder very quickly and gained several promotions, as well as pay raise. He was forced to fire her after the Supreme Federal Court ruled that nepotism is illegal in the public administration. As of 2018, Bolsonaro and his wife lived in Barra da Tijuca, Rio de Janeiro. The duo is enjoying their life a lot.
Net Worth of Jair Bolsonaro
The net worth of this famous politician will be surely in millions. He is the president of Brazil. His current net worth has not been revealed by any sources yet. Without a doubt, his net worth will be surely in millions. His annual income is $238,000, monthly income is $19,000, weekly income is $4,000 and his daily income is $900 as of 2020. His major source of earning is from his politician career. As of today, he is satisfied with his earnings.
Body Measurements of Jair Bolsonaro
Jair Bolsonaro is a very cool person with a leadership personality attracting a lot of followers towards him. He has got a tall height of 185 cm or six feet one inch. His balanced weight consists of 90 KG. His chest size is 44 in, waist size is 36 in and biceps size is 14 in. His hair color is black and his eye color is blue. Overall, he has got a healthy body.