Ronaldinho is a Brazilian former professional footballer and ambassador for Barcelona. He is regarded as one of the Greatest Of All Time( G.O.A.T.) in football or soccer world. He is one of the legendary football player alive up to date. He is regarded as one of the greatest and most skillful players both of his generation and of all time. Due to his ability to score and create goals, he was capable of playing in several offensive positions, on either wing or in a free central role. Throughout his career, he was often deployed as a forward or as a winger, although he usually played like a classic number 10 in an attacking midfield role. ESPN described Ronaldinho as being "skillful by nature, his tricks are unparalleled and he is wonderful with the ball at his feet. One of the coolest players in pressure situations" and a "fast, brash, skillful, tricky, an uninhibited playmaker" who provides "a mix of goals, assists, skills and a large repertoire of crafty moves". Ronaldinho was identified as a rising star at the 1997 U-17 World Championship in Egypt, in which he scored two goals on penalty kicks. He has featured in EA Sports' FIFA video game series, appearing on the cover of FIFA Football 2004, FIFA 06, FIFA 07, FIFA 08 and FIFA 09. scroll down to know more information regarding his full biography, birthday, wiki, facts, body details, personal life, parents, awards, career stats, and many more.
Famous For
Being one of the best players of his generation and regarded by many as one of the greatest of all time in the football world.
Being renowned for his technical skills and creativity; due to his agility, pace and dribbling ability, as well as his use of tricks, feints, overhead kicks, no-look passes and accuracy from free-kicks.
Source: @planetfootball.com
Early Life of Ronaldinho
Ronaldinho was born on 21 March 1980 in the city of Porto Alegre, the state capital of Rio Grande do Sul, Brazil. His real name is Ronaldo de Assis Moreira. He is professionally known as Ronaldinho Gaúcho or simply "Ronaldinho". He holds Brazilian as well as Spanish nationality and belongs to mixed (Brazilian- African) ethnicity. His birth sign is Aries. His birthday falls on 21st March of every year. His mother, Miguelina Eloi Assis dos Santos, is a former salesperson who studied to become a nurse. His father, Joao de Assis Moreira, was a shipyard worker and footballer for local club Esporte Clube Cruzeiro. He has an older brother, Roberto which is also a footballer. Ronaldo's football skills began to blossom at the age of eight, and he was first given the nickname Ronaldinho – "inho" meaning small – because he was often the youngest and the smallest player in youth club matches. He developed an interest in futsal and beach football, which later expanded to organized football.
Career of Ronaldinho
Ronaldinho made his career debut for Grêmio, in 1998.
At age 20, he moved to Paris Saint-Germain in France before signing for Barcelona in 2003.
In his second season with Barcelona, he won his first FIFA World Player of the Year award, as Barcelona won La Liga.
The season that followed is considered one of the best in his career as he was instrumental in Barcelona winning the UEFA Champions League, their first in fourteen years, as well as another La Liga title, giving Ronaldinho his first career double.
After scoring two spectacular solo goals in El Clásico, Ronaldinho became the second Barcelona player, after Diego Maradona in 1983, to receive a standing ovation from Real Madrid fans at the Santiago Bernabéu.
Ronaldinho also received his second FIFA World Player of the Year award, as well as the Ballon d'Or.
Following a second-place La Liga finish to rivals Real Madrid in the 2006-2007 season and an injury-plagued 2007-2008 season, Ronaldinho departed Barcelona to join Milan.
He then returned to Brazil to play for Flamengo in 2011 and Atletico Mineiro a year later where he won the Copa Libertadores, before moving to Mexico to play for Queretaro and then back to Brazil to play for Fluminense in 2015.
Ronaldinho accumulated numerous other individual awards in his career.
He was included in the UEFA Team of the Year and the FIFA World XI three times, named UEFA Club
Footballer of the Year in 2006 and the South American Footballer of the Year in 2013, and was named in the FIFA 100, a list of the world's greatest living players compiled by Pelé.
At the international level, Ronaldinho played 97 matches for the Brazil national team, scoring 33 goals and representing his country in two FIFA World Cups.
He was an integral part of the 2002 FIFA World Cup-winning team in Korea and Japan, starring alongside Ronaldo and Rivaldo in an attacking trio, scoring two goals, including a free-kick from 40 yards out against England, registering two assists and being named in the FIFA World Cup All-Star Team.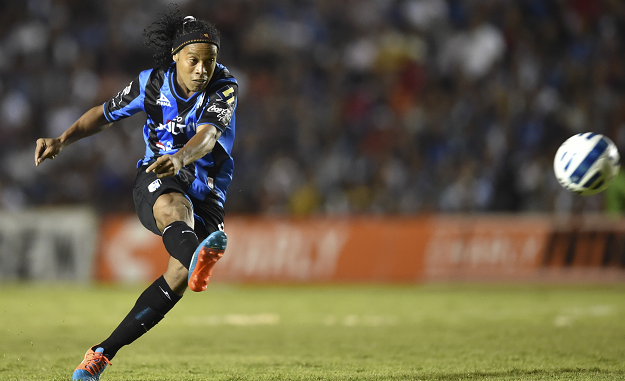 Source: @caughtoffside.com
As captain, he led Brazil to their second Confederations Cup title in 2005 and was named Man of the Match in the final.
Ronaldinho scored three goals in the tournament, taking his total to nine, making him the competition's joint all-time leading goalscorer.
Recently he is active in political sectors.
In March 2018 Ronaldinho joined the Brazilian Republican Party which has links to the Universal Church of the Kingdom of God.
Ronaldinho endorsed presidential candidate Jair Bolsonaro in the 2018 Brazilian presidential election.
In July 2019, 57 properties belonging to Ronaldinho along with his Brazilian and Spanish passports were confiscated because of unpaid taxes and fines.
In March 2020 he was questioned by police in Paraguay after he was alleged to have used a fake passport to enter the country, with Ronaldinho and his brother both being held in custody in the country.
While in prison, he competed in a prison futsal tournament, where his team was victorious.
They won 11–2 in the finals, with Ronaldinho scoring 5 goals and assisting the other 6.
Achievement and Awards Won by Ronaldinho
Ronaldinho, who is highly regarded as one of the greatest figure or personality in the football world, has won many Achievement, Honour, and Rewards from his football beginning career till his retirement. Following are some of his Achievements and Awards in the football world.
FIFA Confederations Cup Golden Ball: 1999
Bola de Prata: 2000, 2011, 2012
La Liga Best Foreign Player: 2003–04, 2005–06
FIFA World Player of the Year: 2004, 2005
Ballon d'Or: 2005
Golden Foot: 2009
Brazilian Football Museum Hall of Fame
A.C. Milan Hall of Fame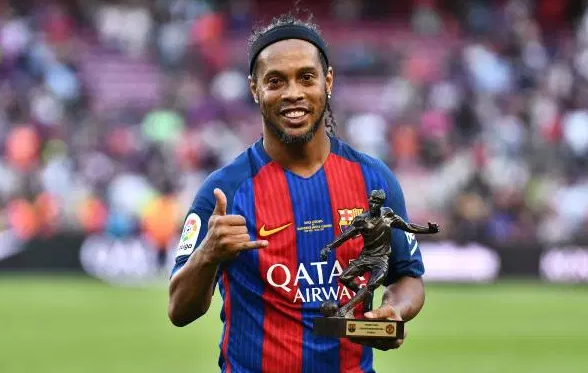 Source: @thesun.ie
Record of Ronaldinho
In March 2015, Ronaldinho was the sixth most popular sportsperson on Facebook, behind Cristiano Ronaldo, Messi, Beckham, Neymar, and Kaká, with 31 million Facebook fans. Ronaldinho also has over 50 million Instagram followers.
Personal Life of Ronaldinho
Talking about his past relationship, He first dated the Russian model, Irina Shayk in the late 1990s. In July 2002, it was reported that the Brazilian wizard had a fling with the English exotic dancer Lisa Collins. Ronaldinho started dating dancer Janaína Mendes in 2002. He had first met her at Domingao do Faustao in Brazil. They got married in May 2004. In February 2005, she gave birth to their son, Joao, who was named after Ronaldinho's late father. However, their marriage didn't last long as he would later claim that marriage wasn't for him. In November 2006, he was linked with the Argentine model Ximena Capristo by the Argentine press. The same year he also got linked with the Italian model Alexandra and he used to love her so much. In 2010, the Italian media linked Ronaldinho with Italian actress and TV personality, Sara Tommasi. She herself gave an interview in December 2010 to confirm that they had been dating for about two months. However, their relationship didn't last long into the following year. In May 2018, it was reported that Ronaldinho was going to get married to his longtime girlfriend Priscilla Coelho. The report claimed that he had been dating Priscilla for several years. Priscilla wasn't the only woman Ronaldinho was slated to get married to in August 2018. The reports claimed that he was going to get married to Beatriz Souza on the same day as well. He had started dating Souza in December 2016 and she had been living with him along with Priscilla. He gave equal allowance to both his girlfriends and even had the habit of giving both of the exact same presents. His sexual orientation is straight.
Net Worth of Ronaldinho
Ronaldinho is one of the richest football players in the world. As of 2020, The net worth of Ronaldinho is estimated to be $100 million and he is reported to charge around £150,000 for a single promoted Instagram post. As of 2020, his exact salary is unknown. He has accumulated his huge fortune through his profession as being a professional footballer. Ronaldinho has had endorsements with many companies, including Nike, Pepsi, Coca-Cola, EA Sports, Gatorade, and Danone. One of the world's highest-paid players, in 2006 he earned over $19 million from endorsements. Having endorsed Pepsi for much of his career and appeared in commercials with David Beckham, Thierry Henry, and Lionel Messi. Currently, The former Barcelona player lives "harmoniously" with his two wives Priscilla Coelho and Beatriz Souza in his £5million Rio de Janeiro mansion. He also owns a home in Spain which is super cool & very spacious. It's very well decorated with expensive fittings & its walls are adorned by expensive paintings. Ronaldinho drives a Hummer H2, which is as brawny as him. He also has a car collection which consists of several numbers of expensive cars like Mercedes-Benz E-class & Mercedes-Benz CLS luxury vehicle. He also owns a Private Jet plane.
Body Measurement of Ronaldinho
Ronaldinho is a good looking man with a well-maintained Athletic build body. He is the man with the deadly smile that ruled football and also regarded as the king of a smile. He stands 5 feet 11 inches tall and weighs 80 kg. His chest size is 38 inches, Waist Size is 32 inches & Biceps Size is 12 inches. His Shoe Size is 12 (US). His eye color is Dark Brown and hair color is Black. Overall, he has got a healthy body.