About Jane Lynch
An American actress, voice actress, singer, author, Jane Lynch is best known for her role as Sue Sylvester in the Fox musical comedy series "Glee" (2009-2015), which earned her a Primetime Emmy Award as well as a People's Choice Award for Favorite TV Comedy Actress. She is also a comedian too. She has performed in many films and TV series like A Mighty Wind, Hollywood Game Night, Glee, and Conan among others. She made her theatrical film debut in the fantasy comedy film "Vice Versa" as Ms. Lindstrom in 1988. As well, she made her TV show debut in 2001 providing the voice to the character of a French teacher in the animated comedy series "Family Guy". She has gained several awards from her career such as Florida Film Critics Circle Awards, Ft. Lauderdale International Film Festival Awards, 14th Satellite Awards, 1st Dorian Awards, and many others. Her film credits include The 40-Year-Old Virgin, Role Models, Another Cinderella Story, and Talladega Nights. As recent news, Lynch's 2020 Emmy Awards Look Proves she's Mastered the Art Of at-Home Fashion.
Famous For

Being an American actress, voice actress, singer, author, and comedian.
For her role as Sue Sylvester in the Fox musical comedy series "Glee" (2009-2015).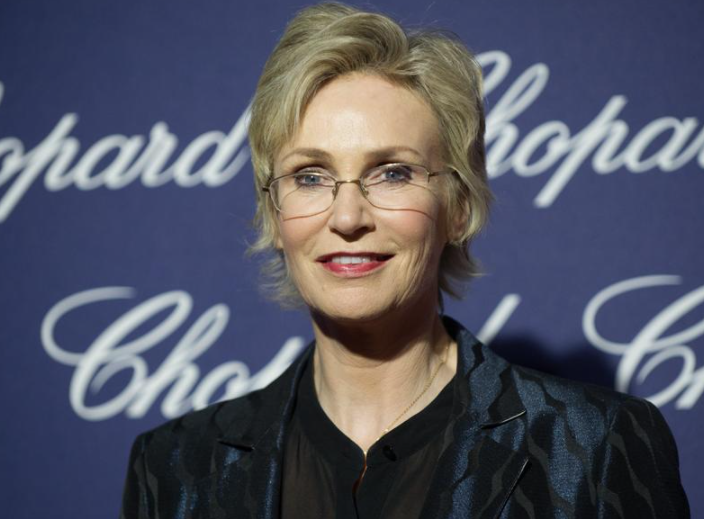 Source: @newsbreak
Early Life of Jane Lynch

On 14th July 1960, Jane Lynch was born with the real name or birth name of Jane Marie Lynch in Evergreen Park, Illinois, U.S. She belongs to American nationality whereas she is from American-white ethnicity. Subsequently, she is from Christianity religion. Cancer is her star sign and white is her race. She celebrates her birthday on 14th July of every year and she had celebrated her 60th birthday as of 2020. She is the daughter of a banker, Frank Lynch, and a homemaker-secretary mother, Eileen (nee-Carney). Her father was of Irish descent, his parents having come from Swinford, County Mayo, and her mother was of Irish and Swedish ancestry. She has also two brothers, Bob and John, and a sister, Julie. She is educated from Thornridge High School and graduated from Illinois State University with a Bachelor's degree in Theater. She also has a Master's degree in Theater from Cornell University.
Career of Jane Lynch

Jane Lynch commenced her acting career from the film "Vice Versa" in 1988, playing a minor role and also she plays as the role of a doctor in the film, "The Fugitive" in 1993.
She was also seen in several television commercials, including one for Frosted Flakes for an adult audience. As well, she was chosen for the 2000 dog show mockumentary, "Best in Show".
Likewise, she has appeared in numerous films like A Mighty Wind (2003), For Your Consideration (2006), The 40-Year-Old Virgin, The Ballad of Ricky, The Hammer, Another Cinderella Story, Role Models, Talladega Nights: The Ballad of Ricky Bobby, Alvin, and the Chipmunks, Walk Hard: The Dewey Cox Story, Space Chimps, The Rocker, The Hammer, Another Cinderella Story, Ice Age: Dawn of the Dinosaurs, Wreck-It Ralph, Spring Breakdown and many others.
Furthermore, in "Adventures of Power", a critically acclaimed comedy about air-drumming released in 2008, so she reunited with Michael McKean, her former co-star from "For Your Consideration", in the role of Aunt Joanie.
Similarly, she starred in the Fox musical comedy-drama series "Glee" as Sue Sylvester as well as portrayed Dorothy McWilliams, Julia Child's sister in the American comedy-drama film "Julie and Julia".
In addition, she other many television series such as The X Files, L.A. Law, Judging Amy, The West Wing, 7th Heaven, Glee, Desperate Housewives, Friends, NewsRadio, Married With Children, 3rd Rock From The Sun, Dawson's Creek, Felicity, Arrested Development, Lovespring International, Two and a Half Men, Veronica Mars, Weeds, Boston Legal, L Word, Criminal Minds, Help Me Help You, Gilmore Girls, New Adventures of Old Christine, Psych, Monk, The Marvelous Mrs. Maisel, The King of Queens, Frasier and moreover.
She narrated "Out & Proud" in Chicago, a documentary that tells about LGBT life in Chicago from the Civil War to 2008, and stars as a regular cast member of the Fox series "Glee" in 2009. The role echoed previous guest appearances in "The X-Files" and "Veronica Mars", being her third-time cast as a harsh high school teacher.
Moreover, she has also hosted "Saturday Night Live" on 9th October 2010 as well as guest-starred in the Nickelodeon comedy "iCarly".
She has starred on "The Price Is Right" as a Celebrity Charity Week contestant on 21st February 2017.
Then, she was announced as an executive producer of comedy web series "Dropping the Soap" in March 2013, and she also portrayed Janet Reno for the Discovery Channel television series, "Manhunt: Unabomber" in 2017.
She guest-starred in Episode 7 of "Marvelous Mrs. Maisel" as popular in 2017, but dislikeable comic Sophie Lennon, so she returned in the role for two episodes at the end of the second season.
After then, she joined the main cast of "Final Space" as A.V.A., the A.I. of the Crimson Light in 2019.
Subsequently, it was reported that Lynch will appear in a recurring role on the upcoming Netflix comedy series, "Space Force" in May 2020, as well it was also reported by Vulture, that she will host a revival of "The Weakest Link" on NBC on the 8th July 2020.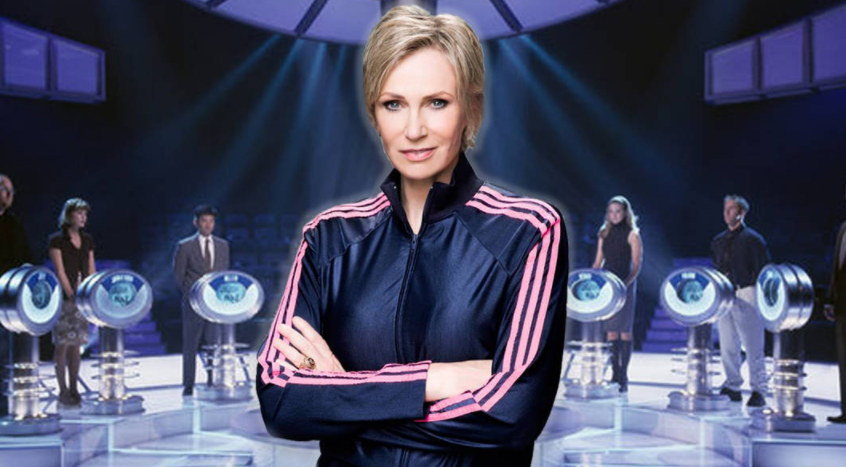 Source: @heart.co.uk
As a piece of recent news, her 2020 Emmy Awards look proves she's mastered the art of at-Home fashion. "I dressed up," the Glee alum shared, adding, "A little sparkle... Sunday morning I put on something sparkly."
The Emmy-winning actress also explained how the annual event is "completely different" from before. Earlier this year, it was announced that the Emmy Awards would air virtually due to the coronavirus pandemic.
"This is nice because I literally went up to my bathroom about 25 minutes ago to slap on some beautiful makeup," Jane dished. "It's a much bigger deal when you are, of course, going to the event. I love it." "I love having the makeup artist come over to get all dressed up and decide what you're going to wear and get in the car," she continued. "It's a lovely experience, but I also enjoy it at home."
Additionally, she has also written and starred in the award-winning play "Oh Sister, My Sister" which was produced in 1998.
An autobiography written by her, titled "Happy Accidents", was published in the fall of 2011 by Hyperion Voice.
She made her Broadway debut as Miss Hannigan in Annie for a limited engagement lasting from 15th May to 14th July 2013 and debuted "See Jane Sing", a cabaret show in 2015.
She has also launched "A Swingin' Little Christmas", a nostalgic Christmas album in 2016 as well as recorded a Christmas single with actor Dick Van Dykein 2017.
In 2020, she directed her first 2 TV commercials for the production company, STORY, and joined its roster of commercial directors.
Awards and Achievements of Jane Lynch

Florida Film Critics Circle Awards
Ft. Lauderdale International Film Festival Awards
14th Satellite Awards
1st Dorian Awards
62nd Primetime Emmy Awards
26th TCA Awards
37th People's Choice Awards
Hollywood Walk of Fame
71st Primetime Emmy Awards
Personal Life of Jane Lynch

Reflecting on Jane's personal life, she is a married woman. Though, regarding her sexual orientation, she is lesbian. She tied a knot with clinical psychologist Lara Embry on 31st May 2010, whom she met a year earlier at a fundraiser in San Francisco. The couple's relationship was exceptional for four years. But she announced that she and Embry were divorcing; which was finalized in January 2014. She speculated to Craig Ferguson on "The Late Late Show" on 19th July 2013, that the deafness was most likely caused by having had a high fever as an infant. Of course, she's stunning, she's popular and irresistible, and so it's quite natural to have followers everywhere. She's as beautiful in her actual life as she appears in her pictures.
At present, she is in a relationship with her girlfriend, Jennifer Cheyne. Jane Lynch is feeling extra grateful these days. In this week's issue of PEOPLE, the host for NBC's newest game show "Weakest Link", opens up about her relationship with partner Jennifer Cheyne-and why they work "so well" together as a couple. "My partner makes me thankful all day long," Lynch told.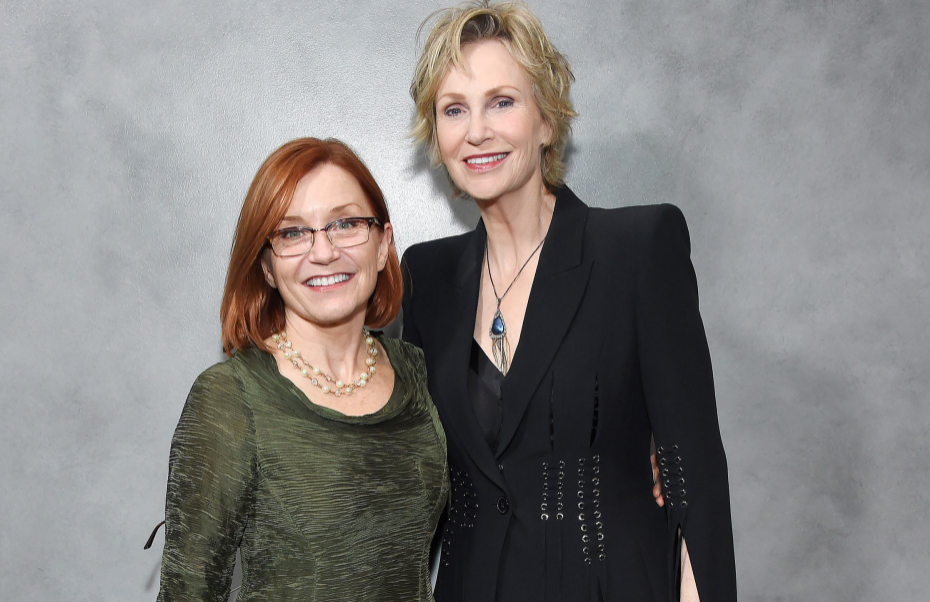 Source: @people
Net Worth of Jane Lynch

Jane is among those few individuals that have such a wide range of experience and remains true to whatever she embarks on to. She has reached great heights in her career already. Moving towards her net worth, it is around $16 million as of 2020 whereas she also earns a handsome amount of salary too, which around $80 thousand per episode. With her hard work and the luck by her side, she can double the amount of wealth she has of today. In addition, her major source of income is from an acting, singing, and author career, and she is happy and satisfied with it. She has also done endorsement work for several brands such as Nexium, Sprint PCS, Tilex, American Express, Washington Mutual, Netflix, Combat for Roach Control, Vita Coco Coconut Water, and many others. As well, she has starred in many commercial ads from where she earns a fine amount of money.
Body Measurement of Jane Lynch

The very graceful Melina has a great personality. She's got a standard height of 6 ft or 183 cm and a convincing appearance. Whereas, her body weight is around 65 kg or 143 lbs. She had the perfect body combined with good looks too. Her sensible thoughts with a good sense of humor greatly attract her spectators to their TV screen. Her usual exercise schedule has guided her to be in a marvelous body posture with appropriate body measurements of 35-24-34 inches or 89-61-86 cm. She is a pretty woman with brown hair and dark brown eyes. Regarding her body build type, it is average. In addition, when she was a child, she had a serious illness which left her deaf in the right ear.