About Karl-Anthony Towns
Karl-Anthony Towns, a Dominican-American basketball player, currently competes for the Minnesota Timberwolves in the NBA. His playing position is power forward/center. Prior to his professional career, he played college basketball for the Kentucky Wildcats. Towns showcased his talent early on by earning a spot on the Dominican Republic national team at just 16 years old. In the 2015 NBA draft, he was selected as the first overall pick by the Minnesota Timberwolves, and he subsequently won the NBA Rookie of the Year award for the 2015-16 season. Throughout his career, Towns has garnered three All-Star selections and even claimed victory in the 2021-22 NBA Three-Point Contest. He is nicknamed KAT.
Karl-Anthony Towns Early Life & Family
Karl-Anthony Towns Jr., born on November 15, 1995, is from Edison, New Jersey, USA. He holds American nationality and his ethnicity is African-American and Dominican descent. He has African-American ancestry on his father's side and Dominican ancestry on his mother's side. His father, Karl Towns Sr., is African-American, while his mother, Jacqueline Cruz, is Dominican. Tragically, his mother passed away in April 2020. Towns grew up in Piscataway, New Jersey, with his family, and his father, who played basketball at Monmouth University, also coached basketball at Piscataway Technical High School. As a Scorpio, Towns celebrates his birthday on November 15, and he turned 27 years old in 2022. His Christian faith is important to him. In terms of education, he attended the Lake Nelson Seventh-Day Adventist School and later transferred to Theodore Schor Middle School in 2009. Back in high school, he repeated 7th grade to gain an extra year of development. Towns was deeply influenced by his father who nurtured a dream of becoming a professional basketball player from a young age.
In high school, Karl-Anthony Towns achieved remarkable success in basketball. He led his team at St. Joseph High School to state championships in 2012, 2013, and 2014, earning recognition as the top-ranked player in the ESPN 25 national ranking. Due to his mother's Dominican heritage, Towns was selected to play for the Dominican Republic national basketball team, representing the country in international competitions. He later decided to reclassify as a senior and committed to playing for the Kentucky Wildcats under Coach John Calipari. With impressive performances, Towns recorded multiple quadruple-doubles and graduated high school with a 3.96 GPA. During his freshman year at Kentucky, Karl-Anthony Towns played under a unique "platoon system," resulting in limited playing time. Nevertheless, he managed to average 10.3 points and 6.7 rebounds in just 21.1 minutes per game. While studying kinesiology at Kentucky, Towns expressed his aspirations of becoming a doctor after his basketball career, and he continues to pursue his degree through online courses. His impressive performance earned him recognition as a second-team All-American by the Associated Press and NABC, as well as a third-team All-American by Sporting News. As the 2014-15 season progressed, Towns emerged as a top draft prospect, surpassing Jahlil Okafor in most draft rankings due to his defensive prowess and potential for offensive growth. On April 9, 2015, Towns, along with several of his Kentucky teammates, declared for the 2015 NBA draft.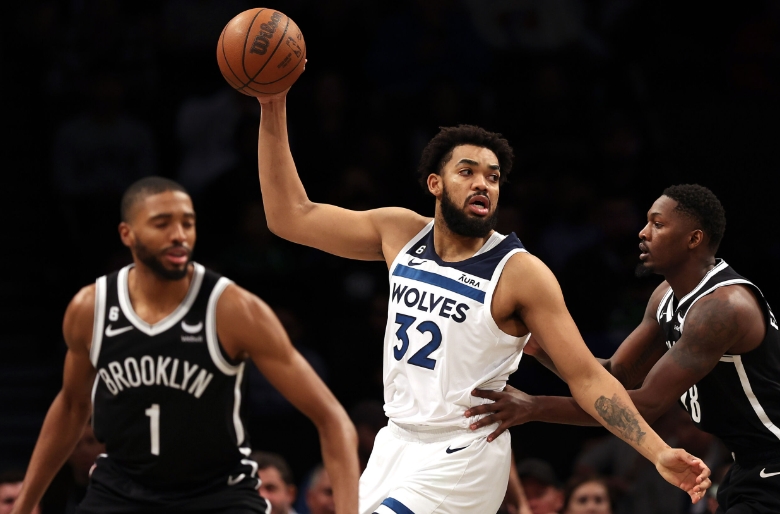 Karl-Anthony Towns Basketball Career
Minnesota Timberwolves
On June 25, 2015, Karl-Anthony Towns was selected as the first overall pick by the Minnesota Timberwolves in the 2015 NBA draft.
He signed his rookie scale contract on July 7 and made his NBA debut on October 28, contributing 14 points and 12 rebounds in a win against the Los Angeles Lakers.
In the next game against the Denver Nuggets, Towns delivered an impressive performance with 28 points and 14 rebounds, helping the Timberwolves secure a historic 2-0 start on the road.
Throughout the season, Towns displayed his skills, averaging 16.0 points and 10.4 rebounds per game in his first 13 games.
He was named Western Conference Rookie of the Month for November and continued to excel, recording notable games such as a season-best performance with 27 points, 17 rebounds, and six blocks on January 20, 2016.
He became the youngest player since Kevin Durant to achieve a 30-point, 10-rebound game.
Towns received multiple Rookie of the Month honors, won the NBA All-Star Weekend Skills Challenge, set rookie rebounding records, and finished the season as the unanimous NBA Rookie of the Year.
He became the first Timberwolves player to earn Rookie of the Month honors in all six months and secured a spot on the NBA All-Rookie First Team.
On November 30, 2016, he showcased his exceptional skills in a game against the New York Knicks, scoring a career-high 47 points and grabbing 18 rebounds despite his team's 106-104 loss.
At just 21 years old, he became the third-youngest player in the last 30 years to achieve at least 45 points and 15 rebounds in a single game, an impressive feat.
In addition, he fell just two points short of breaking the franchise record for first-quarter scoring, set by Chauncey Billups.
He continued his outstanding performance throughout the season, setting a new Timberwolves record with his 27th consecutive game recording at least one blocked shot against the Charlotte Hornets on December 3.
On December 28, he recorded his first career triple-double with 15 points, 11 rebounds, and 10 assists, demonstrating his versatility on the court.
He reached his 100th career double-double in a game against the Los Angeles Clippers on March 8, 2017, becoming the second-youngest player in NBA history to achieve this milestone, following Dwight Howard.
His remarkable achievements didn't go unnoticed, as he was named Western Conference Player of the Week for his outstanding performances from March 6 to March 12.
On April 11, 2017, he surpassed Kevin Love's franchise record for points in a season, finishing with 2,061 points, 1,007 rebounds, and 101 3-pointers, making NBA history as the only player to achieve at least 2,000 points, 1,000 rebounds, and 100 3-pointers in a single season.
On November 15, 2017, he celebrated his 22nd birthday by leading the Minnesota Timberwolves to a 98-86 victory over the San Antonio Spurs, ending a 12-game losing streak against them. He contributed 26 points and 16 rebounds, displaying his impact on the court.
Towns achieved remarkable milestones before turning 22, ranking in the top 10 in various statistical categories in NBA history, including eighth in points, third in rebounds, and second in double-doubles.
He continued to shine throughout the season, earning Western Conference Player of the Week honors and showcasing his versatility with impressive performances.
In the regular season finale, he played a crucial role in securing Minnesota's first playoff appearance in 14 years, and he led the league with 68 double-doubles.
Although the Timberwolves lost in the first round of the playoffs, Towns displayed his talent with consistent scoring and rebounding performances.
In September 2018, he signed a lucrative five-year, $190 million extension with the Timberwolves.
Throughout the season, he showcased his exceptional skills, including a season-high 39 points and 19 rebounds in a game against the Sacramento Kings.
Towns continued to impress with multiple double-doubles and notable performances, such as recording 27 points and a career-high 27 rebounds in a win over the New Orleans Pelicans.
He also hit a buzzer-beating shot in overtime to secure a victory against the Memphis Grizzlies.
Unfortunately, Towns missed two games due to a concussion but returned with a stellar performance of 34 points and 21 rebounds.
By the end of the season, he achieved his highest rebounding average to date, with 12.4 rebounds per game.
On October 23, 2019, he had an outstanding performance with 36 points, 14 rebounds, 3 blocks, and 3 steals in a win against the Brooklyn Nets.
He finished the season with his highest scoring average of 26.5 points per game.
In December 2020, Towns joined an elite group of players to reach 8,000 points, 4,000 rebounds, and 1,000 assists in 360 games or less.
He battled COVID-19 in early 2021 but returned strong, including a season-high 41 points in a victory over the Phoenix Suns.
In the 2021-2022 season, Towns had notable achievements such as winning the Three-Point contest, recording a 36-point, 15-rebound, 5-assist, 3-block game shooting over 75% from the field, and scoring a career-high and franchise-record 60 points in a game.
He also made an impact in the playoffs, registering impressive performances with high-scoring and rebounding numbers.
On November 28, 2022, he suffered a right calf strain during a game against the Washington Wizards, leading to an indefinite absence from the court.
Despite initially being reported as a Grade 2 strain, Towns later revealed it was a Grade 3 strain, requiring a longer recovery time of around two months.
In the final game of the season, he contributed 30 points and 8 rebounds to secure the eighth seed in the Western Conference play-in tournament, but the Timberwolves were ultimately eliminated by the Denver Nuggets in the First Round of the playoffs.
For his national team, he has represented the Dominican Republic internationally since 2012. He debuted for his country at the 2012 Centrobasket, when he was age 16.
Karl-Anthony Towns Awards and Achievements
3× NBA All-Star (2018, 2019, 2022)
2× All-NBA Third Team (2018, 2022)
NBA Rookie of the Year (2016)
NBA All-Rookie First Team (2016)
NBA Three-Point Contest champion (2022)
Consensus second-team All-American (2015)
SEC Freshman of the Year (2015)
First-team All-SEC (2015)
Gatorade National Player of the Year (2014)
McDonald's All-American (2014)
First-team Parade All-American (2014)
Karl-Anthony Towns Dating & Girlfriend
Karl-Anthony Towns is currently in a happy relationship with his beautiful girlfriend, Jordyn Woods, a model and social media personality. The couple began dating in 2020 and their romance was publicly confirmed when they were spotted sharing a kiss during a cozy dinner in West Hollywood. Together, they are enjoying their lives and cherishing their time together without any disruptions. He is straight when it comes to his sexual orientation.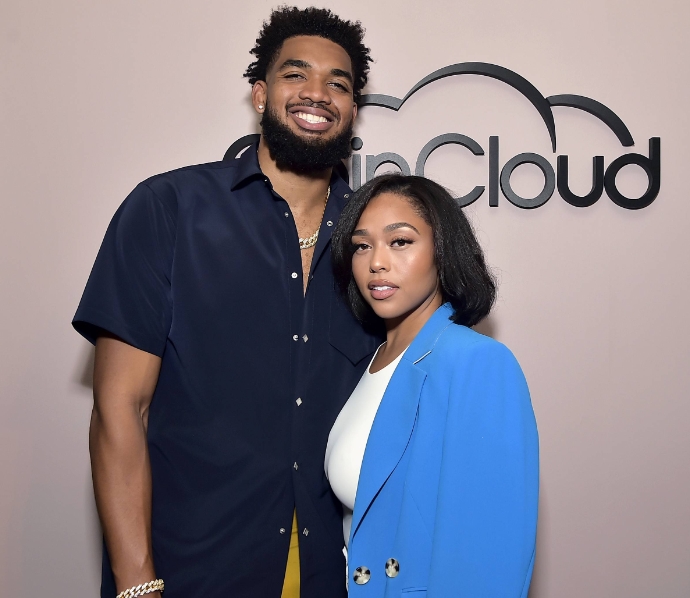 Karl-Anthony Towns Net Worth
Karl-Anthony Towns, a highly successful and talented basketball player, boasts a net worth of $9 million as of 2023. In 2018, he signed a remarkable five-year, $190 million super-maximum extension with the Timberwolves, solidifying his financial standing. His impressive salary progression demonstrates his continued earning power. Starting from the 2019-20 season, at the age of 23, he earned an annual salary of $27,285,000, which remained consistent for that year. In the following seasons, his salary continued to rise. At 24 years old in the 2020-21 season, Towns received $29,467,800, and at 25 in the 2021-22 season, his salary increased to $31,650,600. As he progressed to 26 years old in the 2022-23 season, Towns earned $33,833,400, and his salary for the current 2023-24 season, at the age of 27, stands at an impressive $36,016,200. With these substantial earnings, Towns has secured financial stability and is recognized as one of the top earners in the basketball world. As the main source of his wealth, his basketball career has allowed him to lead a luxurious lifestyle. Towns reside in a grand mansions and indulge in driving luxurious cars. Notably, he recently acquired a special car as a tribute to his late mother. According to TMZ Sports, Towns purchased a brand new Mercedes-Maybach featuring his mother Jacqueline Towns' signature beautifully embroidered into the headrests. Through his professional success, Towns not only secures his financial stability but also enjoys the finer things in life while cherishing the memory of his beloved mother.
Karl-Anthony Towns Height & Weight
Karl-Anthony Towns, a handsome and athletic basketball player, stands at 7 ft 0 in (2.13 m) tall and weighs 248 lb (112 kg). He possesses black hair and black eyes, with his tall height being a distinctive feature. Unfortunately, Towns faced immense personal tragedy when he lost seven family members, including his mother, to COVID-19 within a span of seven months, and he himself tested positive for the virus in January 2021. However, he took a step towards recovery and safety by receiving the first dose of the COVID-19 vaccine in April 2021. He maintains his body a lot by doing frequent exercise.