Katherine Marie Heigl famed as Katherine Heigl is a well-known actress as well as a former fashion model who began her career as a child model with Wilhelmina Models. She made her acting debut in the movie That Night in the year 1992. She landed the role of Isabel Evans on The WB television series Roswell (1999-2002), for which she received nominations for Saturn and Teen Choice Awards. Her other movies include Knocked Up (2007), 27 Dresses (2008), The Ugly Truth (2009), Killers (2010), Life As We Know It (2010), New Year's Eve (2011), The Big Wedding (2013), and Unforgettable (2017). She has also starred in several films that have seen limited releases, including Jackie & Ryan (2014), Home Sweet Hell (2015), and Jenny's Wedding (2015).
Katherine Heigl to star in the thriller film "Fear of Rain"
Katherine Heigl is to star in a new horror film 'Fear of Rain'. The 'Bride of Chucky' star will return to the genre in Castille Landon's independent movie, which is currently in post-production. The synopsis of the movie reads: "The film follows a teenage girl living with schizophrenia who struggles with vivid and terrifying hallucinations as she begins to suspect her neighbor has kidnapped a child. "Her parents try desperately to help her live a normal life, without exposing their own tragic secrets, and the only person who believes her is Caleb - a boy she isn't even sure exists." She said: "I thought aging in Hollywood was going be this giant disaster, and then suddenly it didn't turn out to be so bad. Instead, I'm playing women that I'm far more interested in than the women I was playing in my twenties - I'm playing women I'd actually want to be."
Early Life of Katherine Heigl
Katherine Heigl was born as Katherine Marie Heigl on 24th November 1978, in Washington, D.C., in Columbia Hospital for women. Her nationality is American and her ethnicity is mixed between German and Irish Descent. She is the youngest of four children of Nancy, a personal manager, and Paul Heigl, a financial executive, and an accountant. Her father is of German and Irish descent, and her mother is of German ancestry. Her siblings are Meg, Jason, and Holt. In 1986, her older brother Jason died of injuries suffered in a car accident, after being thrown from the back of a pickup truck while out for lunch with some of his high school classmates. As of 2019, she celebrated her 41st birthday. She attended New Canaan High School in New Canaan, Connecticut.
Career of Katherine Heigl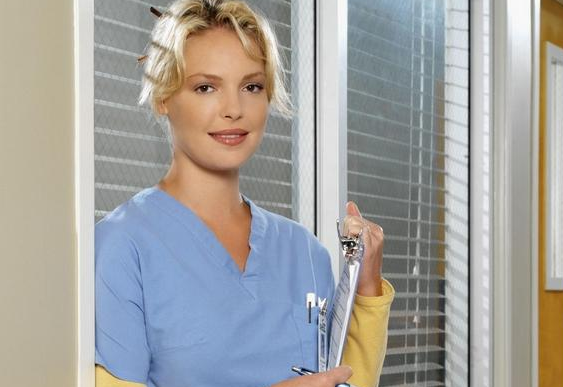 Source: @goerie.com
Katherine firstly signed with Wilhelmina Models as a child model.
She appeared in a national television ad was for Cheerios cereal.
She made her film debut in the movie "That Night" in 1992.
She played Christina Sebastian in Steven Soderbergh's Depression-era drama King of the Hill before being cast in her first leading role in the 1994 comedy My Father the Hero.
In 1995, she starred in the Steven Seagal action thriller Under Siege 2: Dark Territory.
She then landed the lead role in Disney's made-for-television film Wish Upon a Star in 1996, portraying two body-swapping characters along with Danielle Harris.
She also made her role in the movie Bride of Chucky.
She turned her attention to television when she accepted the role of Isabel Evans on the science fiction TV drama Roswell in the year 1999.
Moreover, she was frequently featured in photo essays in magazines such as Life, TV Guide, and Teen as well as FHM.
She then made her role in the thriller movie Ground Zero.
She appeared in three television movies, including the horror genre Evil Never Dies in 2003.
She also starred as Romy in the 2005 television film Romy and Michele: In the Beginning, a prequel to the 1997 film Romy and Michele's High School Reunion.
She played Izzie Stevens on ABC's medical drama Grey's Anatomy from 2005 to 2010, a role for which she won the Primetime Emmy AWARDS FOR Outstanding Supporting Actress in a Drama Series in 2007.
Heigl has a prominent film career, with appearances in Knocked Up (2007), 27 Dresses (2008), The Ugly Truth (2009), Killers (2010), Life As We Know It (2010) and New Year's Eve (2011). She played the lead role on the short-lived NBC television series State of Affairs from 2014 to 2015.
She is now being represented by Norman Aladjem at Paradigm Agency and is managed by Nancy Heigl and Stephanie Simon and Jason Newman at Untitled Entertainment.
She had the lead role in One for the Money (2012) for which she received a Golden Raspberry Award nomination for Worst Actress.
In 2013, she appeared alongside Robert De Niro, Diane Keaton and Susan Sarandon in The Big Wedding.
She was cast as the voice of a squirrel, Andie in the movie The Nut Job.
She then starred in the romantic drama Jackie & Ryan (2014).
She next starred as a rejected and jealous housewife in the dark comedy Home Sweet Hell (2015).
She returned to television in the NBC drama series State of Affairs.
She replaced KaDee Strickland in the lead role of Sadie Ellis, in the CBS legal drama Doubt.
She starred opposite Rosario Dawson and Geoff Stults in the erotic thriller Unforgettable (2017).
She reprised the voice-over role of Andie, also as Surly's girlfriend in the animated sequel The Nut Job 2: Nutty by Nature.
In the year 2018, she joined the cast of the USA Network legal drama series Suits where she would play the role of Samantha Wheeler, a new partner at the fictional law firm of Zane Specter Litt.
Personal Life of Katherine Heigl
Katherine Heigl is a married woman. In June 2006, she got engaged to singer Josh Kelly, whom she had met a year earlier on the set of his music video for "Only You". The duo married on 23rd December 2007, in Park City, Utah. In September 2009, the couple adopted a daughter named Naleigh, from South Korea. In April 2012, the duo adopted a second daughter, Adalaide, from the U.S. In June 2016; the couple announced that they were expecting their third child. She then gave birth to a son, Joshua Bishop Kelley, Jr., on December 20, 2016. As of today, the duo is living a happy life without any disturbances. The couple is living a happy married life without any problems.
Net Worth of Katherine Heigl
Katherine Heigl is a very famous and talented actress as well as producer. As of 2020, she has an estimated net worth of $30 million but her exact salary is not revealed yet. Her major source of earning is from her acting career and she is satisfied with her earnings and she is living a luxurious lifestyle.
Body Measurements of Katherine Heigl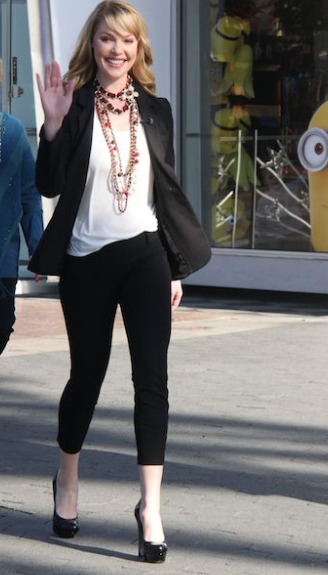 Source: @healthyceleb.com
Katherine Heigl is a very beautiful and charming actress with a height of 5 ft 9 inches. Her body weighs 58 kg. She has blonde hair color and dark brown eye color. Her body measurements is 36-25-36 inches. Her bra size is 34B, shoe size is 9.5 US and dress size is 6 US. She has got a very glowing face with a charming smile attracting a lot of people towards her.