An American rapper, songwriter, actor, and activist is named for Killer Mike. He is also the founder of Grind Time Official Records, which he launched through the SMC and Fontana Distribution. He made his debut on "Snappin' and Trappin'" from OutKast's 2000 LP Stankonia and later appeared on the Grammy-winning song "The Whole World" from their greatest hits album Big Boi and Dre Present...Outkast. In March 2003, he released his debut studio album, "Monster", which reached #10 on Billboard 200. He made his first TV show appearance as a musical guest on "Saturday Night Live" in the year 2002. In the year 2006, he made his film debut in the comedy-drama movie, "ATL" as himself. The documentary series "Trigger Warning" with Killer Mike, in which he explores issues in the U.S. that affect the black community, premiered on Netflix in January 2019. He has also delivered several lectures at colleges and universities, written about social justice topics for publications such as Billboard, and been the subject of interviews regarding police misconduct and race relations. In the show, he goes to extreme lengths to shed light on systemic issues, often leading him to off-the-wall solutions, from creating educational porn to founding a sovereign nation within the US. He was a visible and vocal supporter of Bernie Sanders' 2016 U.S. presidential campaign, refusing to support Hillary Clinton after Sanders left the race, and again supported Sanders in his 2020 presidential campaign. Scroll down to get more information about his full biography, family details, birthday, wiki, facts, age, net worth, career, albums, and more.
Famous For
Being an American rapper, songwriter, actor, and activist.
Being the founder of Grind Time Official Records, which he launched through the SMC and Fontana Distribution.
Being one-half of the rap duo, Run the Jewels, which has gone on to release critically acclaimed studio albums by the same name.
For his outspoken and vocal activism for numerous of the social and political causes.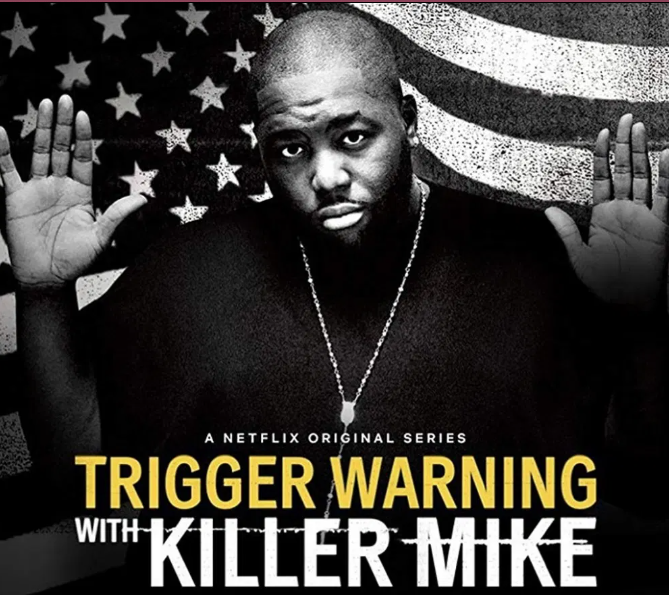 Source: @lolifefilm.wordpress.com
Where is Killer Mike From?
Killer Mike was born on 20th April 1975 with the birthname/real name of Michael Santiago Render. His birthplace/hometown is in Atlanta, Georgia, United States. He is American by nationality and he belongs to the Afro-American ethnicity group. His race is Black. He was born to his family; policeman (father) and florist and drug trafficker (mother/mom). Because his parents were teenagers at the time of his birth, he was partly raised by his grandparents in the Collier Heights neighborhood of Atlanta. His parent's name and siblings' details is unknown. Regarding his education, he went to Douglass High School in Atlanta and certified in 1993. He got admission to Morehouse College in Atlanta in 1995. He dropped out of college shortly after. His Zodiac sign is Aries.
How old is Killer Mike?
His age is 45 as of 2020. He celebrated his birthday on 20th April every year.
What is the Religion of Killer Mike?
His religion is Unknown but he does have his own religion. In the episode "New Jesus," Killer Mike is frustrated that black Christian communities are taught to worship a white Jesus. So he starts the "Church of Sleep," centered on the radical prospect of black people finally getting to rest, as his makeshift congregation naps, reflects, and writes their own scripture.
How Killer Mike began his career?
When he was in college, he met producers The Beat Bullies and eventually Big Boi of OutKast.
His music debut was a feature appearance on OutKast's "Snappin' & Trappin'" from the 2000 album Stankonia, followed by their 2001 single "The Whole World", which won the 2002 Grammy Award for Best Rap Performance by a Duo or Group.
He appeared in Jay-Z's album, "The Blueprint 2" in its single titled 'Popping Tags'.
His debut album called "Monster" was released in 2003.
Two of its singles were Akshon as well as A. D. I. D. A. S.
He appeared alongside T.I. on the song "Never Scared" by Bone Crusher in his album AttenCHUN!. It peaked at #26 on the Hot 100, becoming Mike's second top 40 hits ("The Whole World" being the first).
Having been recorded in 2005, the conflict between Big Boi and Sony Records delayed the release of his second album titled "Ghetto Extraordinary".
The album was released three years later as a mixtape.
In the year 2006, he released "I Pledge Allegiance to the Grind" as his second official album, followed by "I Pledge Allegiance to the Grind II" in the year 2008.
He released his fourth official album, PL3DGE, on Grand Hustle in the year 2011.
Cartoon Network introduced him to El-P who is a rapper and a producer in 2011 and produced his album known as R.A.P. Music the following year.
He was also a guest on the Butane song and the album, "Cancer 4 Cure" both by El-P.
When R.A.P. Music and Cancer 4 Cure were released within weeks of each other, the two rappers decided to tour together.
The success of the tour eventually led to the decision to record as a duo, which they named Run the Jewels.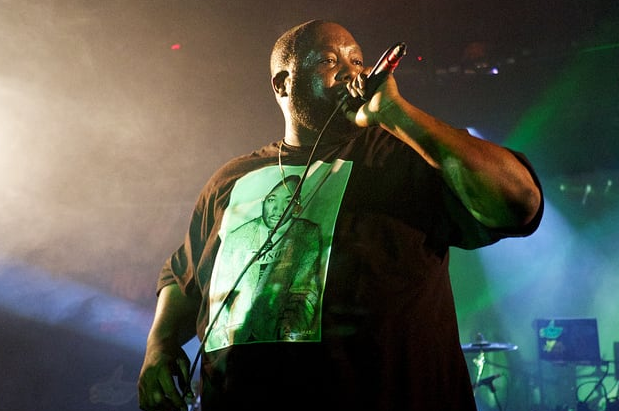 Source: @spectrumculture.com
On 26th June 2013, they released an eponymous album.
The following year on 28th October, they released their second one called "Run the Jewels 2".
A third one named "Run the Jewels 3" was released on 24th December 2016.
Moreover,
As an actor, he has been featured in the films 20 Funerals, Idlewild (2006), and ATL (2006).
Between 2006 and 2008, he voiced the character of Taqu'il in Frisky Dingo cartoon. Also, a Boost Mobile phone in Aqua Teen Hunger Force.
On 1st November 2011, he and his wife Shana opened a barbershop which is located in Atlanta, Georgia, and bears the name Graffitis SWAG.
He is an activist who focuses on police brutality, social equality, and systemic racism.
Awards and Achievement of Killer Mike
Killer Mike has reached a great height in his music career. His music debut was a feature appearance on OutKast's "Snappin' & Trappin'" from the 2000 album Stankonia, followed by their 2001 single "The Whole World", which won the 2002 Grammy Award for Best Rap Performance by a Duo or Group.
How much is Killer Mike's Net Worth as of 2020?
Killer Mike is an American rapper, songwriter, actor, as well as an activist. With his singing career, he has made a huge amount of money. As of 2020, he has an estimated net worth of around $5 million. His major source of wealth is from his music career. He has made money from the sales of his album either as a solo artist or a duo. Some musicians have also featured him in their songs as well. His other source of money is from acting career. He and his wife own a barbershop. He has appeared in a TV commercial for the Sonos speakers from the Apple Music. His exact salary at present is unknown. He is living a cool lifestyle from his earnings and he is satisfied with his earnings.
Who is Killer Mike's Wife?
Killer Mike is a married man. He married his beautiful wife, Shana Shay in the year 2006. They began dating for a long time before getting married. They are also the proud parents of four children (son and daughter) namely Pony, Mikey, Aniyah, and Malik. The duo also runs their barbershop Graffitis SWAG (Shave, Wash, And Groom) in Atlanta, Georgia. They opened it back in 2011 and they are planning to open 150 more shops across the United States over time. In his rare interviews, he has credited his wife for his success and achievements. He has a straight sexual orientation. As of now, the duo is living a happy life and enjoying life a lot without any disturbances.
What is the Weight of Killer Mike (Weight Loss)?
Killer Mike is a very handsome person with a large body build. He stands at a height of 6 feet 3 inches or 190.5 cm. His bodyweight is 120 kg or 265 pounds. He has a trimmed beard and an overweight frame. He has black hair and his eyes are black. His body measurements such as chest size, waist size, and biceps size are unknown. Overall, he has got a healthy body with a glowing face. workout routine, weight loss details, and diet plans aren't known.