About Kylie Minogue
Kylie Minogue is an Australian singer, songwriter, actress, record producer as well as a television judge. She is also recognized as the highest-selling female Australian artist of all time having sold 70 Million records worldwide. She rose to fame after her role in the Australian soap opera "Neighbours", playing tomboy mechanic Charlene Robinson. She has earned numerous awards and accolades, including a Grammy Award, three Brit Awards, 17 ARIA Music Awards, two MTV Europe Music Award and two MTV Video Music Award during her career span. On the 25th anniversary of the ARIA Music Awards in 2011, she was inducted by the Australian Recording Industry Association into the ARIA Hall of Fame. She made her film debut in The Delinquents (1989) and portrayed Cammy in Street Fighter (1994). She has also appeared in the films Moulin Rouge! (2001), Jack & Diane and Holy Motors (2012). In 2014, she appeared as a judge on the third series of The Voice UK and The Voice Australia. She is nicknamed "The Princess of Pop". At present, she is residing in South Coogee, New South Wales, Australia, and Chelsea, London, England. In the year 1988, she became the first person who won four "Logie Awards" in one event. She was voted as the best-dressed female in 2001 by the readers of Heat magazine (UK). She got the honor of being appointed as a "Chevalier" (knight) of the "Ordre des Arts et des Lettres" by the French Government, the junior grade of France's highest cultural honor, for her contribution to the enrichment of French culture. At the age of 36, she was diagnosed with breast cancer on 17th May 2005 and went through surgery on 21st May 2005, and then chemotherapy was done soon after that. After her diagnosis of breast cancer, the then Australian Prime Minister John Howard issued a statement in her support. Her bronze statue was unveiled in November 2007 at Waterfront City, Melbourne Docklands.
Kylie Minogue is famous for her debut album "Kylie" (1988), and other albums such as "Fever" (2001), "Enjoy Yourself" (1989), "Rhythm of Love" (1990), and "Put Yourself in My Place" (1994). She is better known for her singles gained much attention including, "The Loco-Motion," "Especially for You," "Better the Devil You Know," Can't Get You Out of My Head," "Confide in Me," "Spinning Around," "Slow," "2 Hearts," "All The Lovers" and more. She is the highest-selling female Australian artist of all time and has been recognized for reinventing herself in music and fashion, for which she is referred to by the European press as the "Princess of Pop" and a style icon.
Source: @billboard
Kylie Minogue was born on 28th May 1968 with the birth name of Kylie Ann Minogue. Her place of birth is in Melbourne, Australia. She holds Australian nationality and her ethnicity is White. She follows the teachings and theories of Buddhism, Taoism, and Hinduism by religion and Gemini is her Zodiac sign. She was born to her parents; Ronald Charles Minogue (Father) and Carol Minogue (Mother). Her father is an accountant and her mother is a former ballet dancer. As of 2020, she celebrated her 52nd birthday. She was raised in Surrey Hill in Melbourne (hometown). She was the eldest of the three children. Thus, she has two siblings named Brendan and Dannii. As per her education, she was sent to Camberwell High School. She along with her younger sister Dannii began their careers together as child artists on Australian television.
Kylie Minogue is a beautiful singer who has a height of 5 ft with a bodyweight of 46 Kg. With a slim body build, her body measurement is 34-23-35. Her hair color is blonde and her eye color is blue. Her dress size is 2 US. Her bra size is 32B and her shoe size is 5 US. Overall, she has got a healthy body with a charming personality. She was diagnosed with breast cancer in 2005 in the middle of her worldwide tour, "Showgirl". She had to cancel the tour in order to get into immediate surgery and subsequent chemotherapy. During the time of her hospitalization, the then Prime Minister of Australia John Howard issued a public statement supporting Kylie in her battle with cancer. She has been appreciated worldwide for sharing her experience with cancer diagnosis and treatment with the media to make people more aware of it.
Kylie Minogue's Singing Career
In her early career, Kylie did small-time roles in soap operas like "Skyways", "The Sullivans" and "The Henderson Kids" at the age of twelve.
She rose to fame after her role in one of the most popular Australian soap operas called "Neighbors" in the year 1986 as Charlene Mitchell.
She came to attention after she signed a contract with an Australian recording company called the Mushroom Records in 1987.
She made her debut album called "Kylie" in July 1988. The album is a collection of dance-oriented pop tunes and spent more than a year on the UK Albums Chart, including several weeks at number one.
The single "The Locomotion" reached number three on the U.S. Billboard Hot 100 chart, and number one on the Canadian dance chart.
Her second album, "Enjoy Yourself" was released in October 1989.
She made her debut film "The Delinquents" in the year 1989.
Her third album called "Rhythm of Love" was released in November 1990. Her hit single from this album "Better the Devil You Know" showcased her to be more flamboyant and sexy.
Her fourth album "Let's Get to It" was released in the year 1991.
In the year 1994, she signed a contract with Deconstruction Records and released her fifth album called "Kylie Minogue". She then released her sixth album "Impossible Princess".
Her seventh studio album, "Light Years", was released on 25th September 2000. In the year 2001, she came up with her eighth album "Fever". In the year 2002, she toured the world with her concert "KylieFever2002".
She released her second official greatest hits album entitled "Ultimate Kylie" in November 2004. She commenced her Showgirl: The Greatest Hits Tour in March 2005.
She was diagnosed with breast cancer in 2005 and she released her digital single "Over the Rainbow".
In the year 2006, her children's book called "The Showgirl Princess", which she wrote during the time of her recovery was released.
She released her tenth album called "X" in November 2007.
In the year 2010, she released her studio album called "Aphrodite". Aphrodite debuted at number one in the United Kingdom, exactly 22 years after her first number one hit in the United Kingdom.
She signed to Roc Nation for a management deal in September 2013.
She released her twelfth studio album, "Kiss Me Once" in March 2014.
In January 2015, she appeared as a guest vocalist on Giorgio Moroder's single "Right Here, Right Now".
Her contract with Parlophone Records ended, leaving her future music releases with Warner Music Group.
In September 2015, an extended play with Fernando Garibay titled "Kylie + Garibay" was released.
In the year 2016, she recorded the theme song "This Wheel's on Fire", from the soundtrack 'Absolutely Fabulous: The Movie'.
She signed a new record deal with BMG Rights Management in February 2017. Her album Golden was released in April 2018 with "Dancing" serving as its lead single.
She released the greatest hits compilation "Step Back in Time: The Definitive Collection" on 28th June 2019, featuring "New York City" as the lead single.
She also appeared in her own Christmas television special, "Kylie's Secret Night", which aired on Channel 4 in December 2019.
She stated that she would like to create a "pop-disco album" and return to recording new material after the performance. Work continued on "Disco" during the COVID-19 pandemic in 2020, with Minogue using a home studio to record throughout lockdown.
On 23rd July 2020, "Say Something" was unveiled as the first single from "Disco". The album's second single, "Magic", was released on 24th September, and the third single, "I Love It", on 23rd October.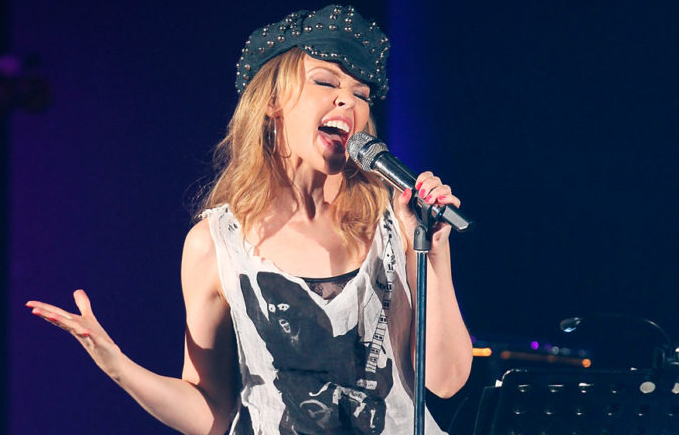 Source: @nme.com
Kylie Minogue's Awards and Achievements
Kylie Minogue is an award-winning actress who has won numerous awards during her career life including a Grammy Award, three Brit Awards, 17 ARIA Music Awards, two MTV Video Music Awards, two MTV Europe Music Awards, and six Mo Awards, including the Australian Performer of the Year in 2001 and 2003. She gained two "ARIA Awards", including the "Most Outstanding Achievement" award for her hit single "Fever" in 2001. It also earned her two 'Brit Awards' under the Best International Female Solo Artist and Best International Album categories. She was made Order of the British Empire (OBE) for her excellence in the music and entertainment industry. She became the first person to win four Logie Awards in one year and was the youngest recipient of the "Gold Logie" as the country's "Most Popular Television Performer", with the result determined by public vote. She received four accolades at the ARIA Music Awards of 2002, including Highest Selling Single and Single of the Year for "Can't Get You Out of My Head". She also won the "Best International Female Solo Artist" award at the 2008 BRIT Awards.
Kylie Minogue's Personal Life
Kylie Minogue is not married yet and she is still to get married. Moving towards her dating life, she initially dated her "Neighbors" co-star, Jason Donovan in the year 1994, and after five years of their relationship, the couple split. After then, she dated the lead singer of INXS (Australian rock band), Michael Hutchence in the year 1989. But the duo parted their ways in 1991. She also had a short-lived affair with Lenny Kravitz (American rock singer-songwriter, record producer, multi-instrumentalist, and actor) during the year 1991. She had a fling with South African businessman Zane O'Donnell in the year 1993. After Zane, her relationship continued with Prince Albert. She met "Prince Albert of Monaco" when she was invited by him as a personal guest at the "World Music Award" in Monte Carlo in 1991. They again met in 1992 during the same event. But, in 1993 she had a fling with him. She also had a brief affair with American singer and musician Evan Dando in the year 1994. In the 1994 action film "Street Fighter", she co-starred with actor Jean-Claude Van Damme. The two of them started seeing each other in May 1994 and soon after a few months in August 1994, they parted ways. Later, she started dating the French photographer Stephane Sednaoui in 1997. In the year 1998, the duo got separated. She also dated Pauly Shore (Comedian, actor) for about six months in the year 1997. The pair were cast together in Biodome (American comedy film, 1996). Pauly later stated in an interview that after Kylie, he has not been able to find a girlfriend like her. She went on dating Britain's multi-millionaire heir, Tim Jeffries in 1998, and that was too for a shorter while. She turned to British model James Gooding, having started dating in 1998 until 2001. She was in a romantic relationship with the French actor Olivier Martinez since 2002 and broke up with him in the year 2007. After that, she entered into a relationship with model Andres Velencoso in 2008 but due to some misunderstanding, the duo split. She started dating British actor, Joshua Sasse. She publicly confirmed her relationship in November 2015. In February 2016, their engagement news started surfacing on the Internet. But, by February 2017, it was all over and they had called off their engagement. In July 2018, she confirmed her relationship with Paul Solomons who was the creative director at British GQ and GQ Style magazine at the time. She shared an Instagram picture of the two kissings on the rooftop of a building in New York. As of now, the duo is enjoying their present life happily without any disturbances. Her sexual orientation is straight.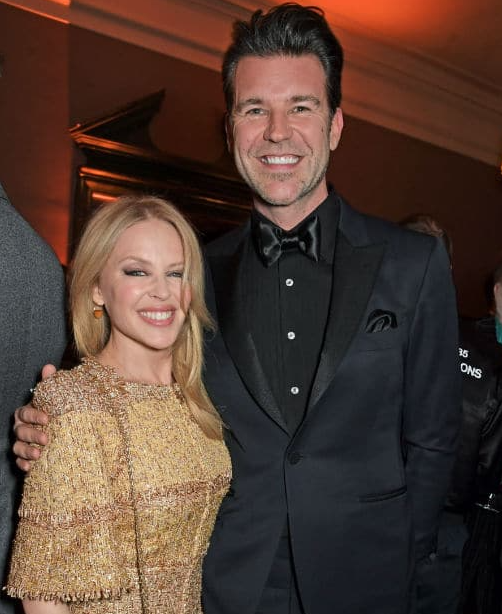 Source: @evoke.ie
Kylie Minogue's Net Worth 2020
Kylie Minogue is a successful singer, songwriter, actress, and record producer who has made a huge amount of money throughout her career. As of 2020, her net worth is estimated to have AU $109 Million. But her exact salary is still to get unfold yet. She has also made TV Commercials in Coca-Cola (1990), Pepsi Cola (2000), Eurostar (2001), her own fragrance "Showtime" (2008), and Lexus cars, UK (2011). She has done print ads for H&M Lingerie (1998), Ford Street Ka (2002), Tour diamonds (2008). Her major source of wealth comes from a singing career. She is living a luxurious lifestyle from her earnings.