About Mesut Ozil
Mesut Ozil is one of the versatile and talented as well as a professional footballer who is playing for the current team, Premier League club "Arsenal" where his playing position is attacking midfielder. He has also been deployed as a wide midfielder in his career. He is famous for his highly technical skills and skills. Previously, he had played for Schalke 04, Real Madrid, Werder Bremen. He is a left foot player. His shirt number/jersey number is 10. Toni Kroos is one of his best teammates. He had represented himself in Russia for the World Cup 2018 as a part of the German national team by showing his talent to all. He made his La Liga debut for Real Madrid against Mallorca at the Iberostar Stadium on August 29, 2010, in a goalless away draw. He replaced Angel Di Maria in the 62nd minute. He played his first Premier League match for Arsenal in an away match against Sunderland on 14th September 2013. He got his customary assist in the 11th minute Olivier Giroud goal in a 1-3 win. His international debut for the German national side came in a friendly against Norway played on 11th February 2009. He made his first TV appearance in the news sports show "Das Aktuelle Sportstudio" as himself in an episode dated 7th August 2010 and "Bambi Verleihung 2010" was the German international's first film appearance. Though, it was a TV movie where he appeared as himself-Winner in 2010. Overall, he is a very talented footballer.
Recent in the news, the Arsenal boss is getting fed up with criticism. There has been plenty to discuss from an Arsenal perspective in recent weeks. Nothing more so than Mesut Ozil's shock exclusion from the Premier League squad list. He is not a sure starter, granted, but nobody expected him to be left out of the squad entirely. He has kept himself to himself and shown solidarity with the fans, claiming that he is one of them. If his social media activity is anything to go by, then he certainly is. He has been frozen out of the first team and was not included in the 25-man Premier League squad. Alongside a video showing him pumping weights, Ozil posted: "The struggles along the way are only meant to shape you for your purpose." In April, Ozil clashed with the club over wage reductions during lockdown when football was suspended.

Ozil is famous for being a German Professional Footballer who plays for Premier League Club Arsenal. He is famous for creating goal-scoring opportunities for his team as well as for his intelligent and creative style of play. Additionally, he grabbed his fame being the most expensive German player at the time of his transfer.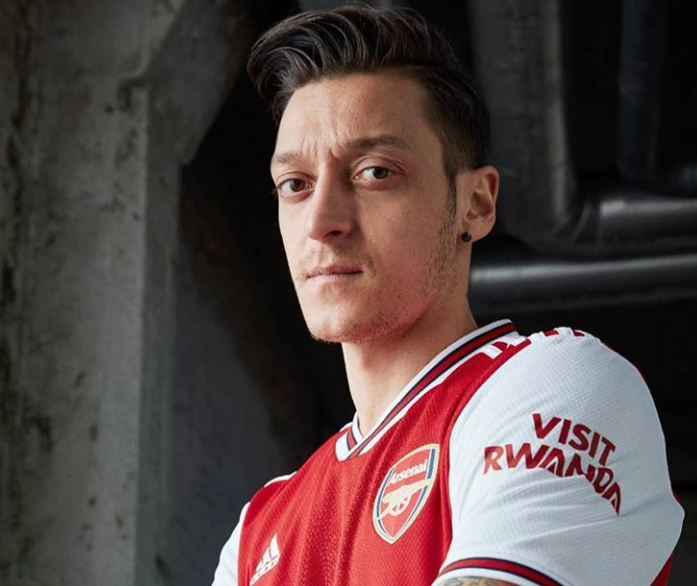 Source: @instagram.com/m10_official/
Mesut Ozil was born on 15th October 1988 in his hometown, Gelsenkirchen, West Germany. By nationality, he is German and he belongs to the German-White ethnicity. He has Turkish ancestry. He was born to his parents; Mustafa Ozil (father) (Former agent and a former executive at Mesut Ozil Marketing Company) and Gulizar Ozil (mother) (Housewife). About his siblings, he also has a brother named Mutlu Ozil and sisters named Dugyu Ozil and Nese Ozil. Libra is his Zodiac sign and his religion is Islam. As of 2019, he celebrated his 32nd birthday.
As per his education, he got his early education at Gesamtschule Berger Feld located near the famous Schalke's Veltins Arena in the playmaker's hometown. He then started his football education at the club DJK Westphalia, where he was enrolled by his father in 1995. He continued his soccer education with Rot-Weiss Essen, which he joined in 2000 at the age of 11. He stayed with their youth academy for five years before moving to Schalke's youth academy.
With a slim and athletic body build, Mesut Ozil stands tall at the height of 5 ft 11 in or 1.80 m. His balanced weight consists of 76 Kg or 167.5 lbs. He has a pair of light brown eye color and his hair color is dark brown. He maintained his body a lot to keep himself attractive. His smiling face and charming personality have helped him to gain the attention of all the viewers. He has a languid body language. His chest size is 42 in, arms size is 14 in and waist size is 33 in. He made changes to his diet to cut out injuries from his game. He has shunned fuzzy drinks in favor of green tea and has been guzzling lots of water. He has revealed in interviews that he has been hitting the gym to improve his game and to cut out injuries, which has plagued him in the post. He also claimed that his goal isn't to get big muscles. He has been hitting the gym to become quicker and more explosive in the attacking third.
Football Career of Mesut Ozil
During the season 1995-2000, Ozil played, at the youth level, for various clubs in Gelsenkirchen.
After then, he moved to the youth system of Schalke 04 in the year 2005 where he can be seen wearing a shirt/jersey number of 17.
Soon after declining an offer from Schalke 04, claiming that a yearly salary of €1.5 million would not be enough, he eventually fell out with club management and moved on to Werder Bremen in January 2008.
On 31st January 2008, he moved to the club Werder Bremen by signing a three-year contract with this club for a reported fee of €5 million, signing a contract with the German club until 30th June 2011.
On 26th April 2008, he scored his first professional goal in the Bundesliga.
He played by wearing shirt number of 11.
He scored the go-ahead goal in the 33rd minute against Karlsruher SC, to put his team up 2-1 on 26th April 2008 which was his very first Bundesliga goal.
He played in twelve games throughout the second half of the season.
He helped lead the North German club to the 2009 DFB-Pokal with the winning goal in a 1-0 victory over Bayer Leverkusen in Berlin.
He also excelled in Europe where he led Werder Bremen to the final of the last ever UEFA Cup, losing out to Shakhtar Donetsk of Ukraine.
He then became the key playmaker of Werder Bremen in the 2009-2010 season.
He played his 100th Bundesliga game, scoring the 1-0 lead in a 2-0 win against his former club Schalke on 1st May 2010.
During the 2009-2010 season, he was declared as the "best player of the first half of the season".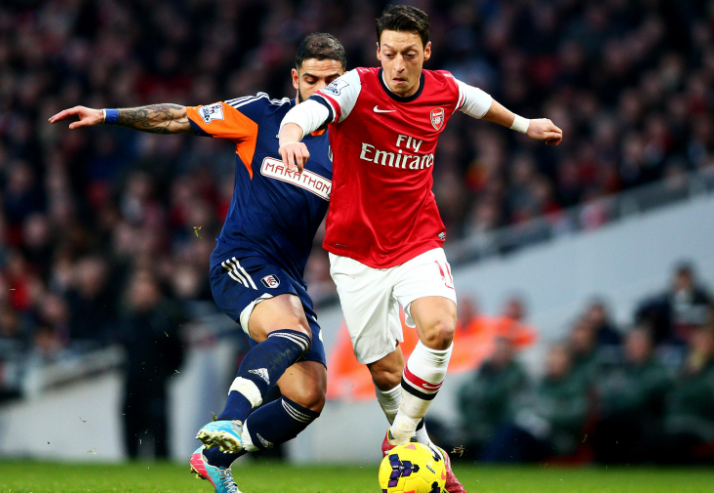 Source: @bleacherreport
He finished his two seasons with this club, Werder Bremen ended with a total of 71 matches and with 13 goal kicks.
He then made his move to the club, Real Madrid on 17th August 2010. The transfer fee is believed to have been in the region of €15 million.
On 22nd August 2010, he made his debut in a friendly match against Hercules. He was given the number 26 in the pre-season and 19 for his debut.
His next debut for La Liga came on 4th September 2010, in a match against Mallorca.
He played for the club, Real Madrid for three years.
He made his season debut in the Champions League on 15th September against Ajax.

His first Champions League goal with Real came in the 14th minute against Milan on 19th October 2010.
He made his debut in the Copa del Rey, scoring once in an 8-0 victory over Levante on 22nd December.
With this club, Real Madrid; he appeared in 105 games and scored 19 goals becoming the key player of the team that won La Liga in the year 2012.
On 2nd September 2013, he transferred to Arsenal FC, an English club. The transfer fee was believed to be around £42.5 million (€50 million) for a five-year deal. The transfer makes him the most expensive German football player of all time.
Contract leaks in January 2016, however, have revealed that the record fee was actually broken down to £37.4 million (€44 million) with a further £5.1 million (€6 million) split evenly over six years from July 2014, subject to Champions League qualification.
On 14th September 2013, he made his team debut, in a league game against Sunderland.
He made his Champions League debut for Arsenal against Marseille after three days.
He made his home debut against Stoke City in a 3-1 victory.
He scored his first goal for Arsenal, a brilliantly controlled finish from a Ramsey cross, in a 2-0 win against Napoli in the Champions League.
He scored his first two Premier League goals during the 4-1 home win against Norwich City on 19th October.
He scored his first goal of 2014 in a 4-1 FA Cup quarter-final win over Everton on 8th March.
He played all three of Arsenal's remaining fixtures during the last month of his debut season in England.
He returned to club training in the middle of August after participating in Germany's 2014 FIFA World Cup win in Brazil.
He made his first appearance of the season in a 2-2 draw with Everton at Goodison Park on 23rd August.
He then made his first appearance in three months as a 73rd-minute substitute in a 3-0 win against Stoke City on 11th January 2015.
He started in the 2015 FA Cup Final as Arsenal beat Aston Villa in a commanding 4-0 victory on 30 May, concluding his second season at Arsenal with 5 goals and 9 assists, in 33 appearances across all competitions, and back-to-back FA Cups.
He started for Arsenal in the 2015 FA Community Shield on 2nd August 2015.
He then made his first appearance of the Premier League season in Arsenal's 2-0 opening day defeat to West Ham United after a week.
He scored his first goal of the 2015-2016 season in a 3-0 home victory over Manchester United on 4th October.
He scored his first Champions League goal of the season in Arsenal's 2-0 group stage home win over Bayern Munich on 20th October.
He played his 100th game for the Gunners in a 1-0 home defeat against Chelsea in the Premier League on 24th January 2016.
He ended his third season at Arsenal with 8 goals and 20 assists in all club competitions, which won him the Arsenal Player of the Season award.
He missed Arsenal's opening day defeat to Liverpool, after his excursions at UEFA Euro 2016 meant he was not match-fit.
He concluded his fourth season at the club with 12 goals and 13 assists in 44 appearances across all competitions and featured heavily as he won the 2017 FA Cup.
He recorded a goal and an assist in a 5-2 victory over Everton on 22nd October.
He re-signed with the club on a three-year extension, keeping him contracted until 2021 on 31st January which was reported his salary more than doubled to £350,000 per week, making him the highest-paid player in Arsenal's history.
He then scored in the first knockout round of the Europa League, netting calmly against Ostersund on 15th February.
He recorded his 50th Premier League assist in a 3-0 win over Watford on 11th March.
He ended his fifth season at Arsenal with 5 goals and 13 assists in 35 appearances and featured heavily in the club's later run and appearance in the 2018 EFL Cup Final.
He was also named one of Arsenal's vice-captains.
On 22nd October, he captained Arsenal for the first time in a 3-1 comeback win over Leicester City.
He also featured in the 2019 UEFA Europa League Final.
He was given additional time off to start the 2019-2020 season, after being the victim of an attempted robbery.
He then made his season debut on 15th September, playing 71 minutes in a 2-2 draw against Watford.
He did not feature for the club after the resumption of competitive football following its suspension due to the COVID-19 pandemic.
Later, he was left out of the match-day squads for the first matches of the 2020-2021 season and was not included in the club's squad for the Europa League group stage. He released a statement on Twitter in which he said that he was "deeply disappointed" but will "continue fighting for [his] chance".
International Career of Mesut Ozil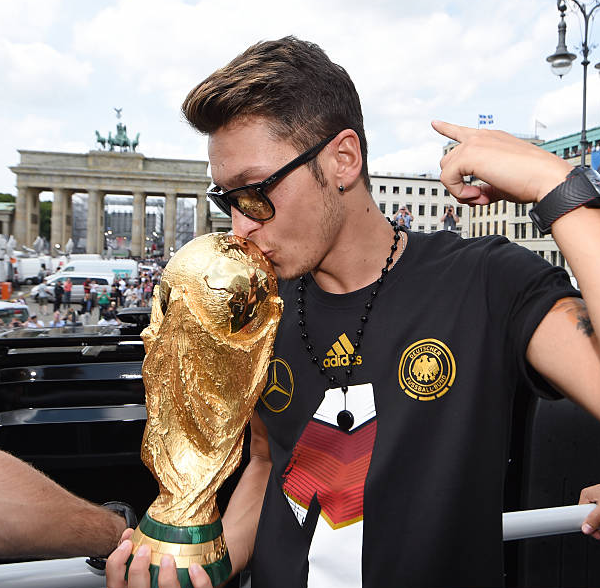 Source: @dailycannon
The famous footballer, Ozil has also devoted his career time for his national country, German in both senior as well as junior levels in many tournaments.
He was named the Man of the Match in the U-21 European Championship final.
On 11th February 2009, his senior international debut came against Norway in a friendly match.
He was selected for Germany's squad for the 2010 FIFA World Cup in South Africa.
He also played in the UEFA Euro 2012 and 2016.
In the 2014 FIFA World Cup qualification campaign, he ended as Germany's top scorer with eight goals.
He was also a member of the team which won the World Cup 2014 along with Toni Kroos, Manuel Neuer, Marco Reus, and many more.
He has won over 88 caps for his national side scoring 22 goals.
His name was also enlisted in the squad of Germany national team in this World cup 2018 Russia.
He had played in the World cup 2018.
He featured in two of the country's three games, and averaged more chances per 90 minutes (5.5) than any other player in the competition.
He retired from the team as a form of protest against members within the Federation in which he perceived had "racially discriminative backgrounds" according to Ozil.
Following the announcement of his retirement, he drew support and criticism from the public, former players, and managers; former teammate Per Mertesacker notably came out in support.
Awards, Achievements, and Honours of Mesut Ozil
Individual
kicker Bundesliga Team of the Season: 2008-09
kicker Attacking Midfielder of the Year: 2010
Germany national team Player of the Year: 2011, 2012, 2013, 2015, 2016
UEFA European Championship Team of the Tournament: 2012
UEFA Team of the Year: 2012, 2013
FIFA FIFPro World XI 2nd team: 2013, 2016
FIFA FIFPro World XI 5th team: 2014, 2017
Laureus Media Award: 2014
IFFHS World's Best Playmaker Silver award: 2013
PFA Fans Player of the Month: April, November & December 2015
German Football Ambassador Public Award: 2015
Best German Abroad (Kicker Magazine): 2016
Arsenal Player of the Season: 2015-16
UEFA Best Player in Europe Award: 10th place 2012
FIFA Ballon d'Or: 2010 (13th place), 2011 (11th place), 2012 (14th place), 2013 (16th place)
Werder Bremen
DFB-Pokal: 2008-09; runner-up: 2009-10
UEFA Cup runner-up: 2008-09
Real Madrid
La Liga: 2011-12
Copa del Rey: 2010-11; runner-up: 2012-13
Supercopa de España: 2012
Arsenal
FA Cup: 2013-14, 2014-15, 2016-17
FA Community Shield: 2015
EFL Cup runner-up: 2017-18
UEFA Europa League runner-up: 2018-19
Germany U21
UEFA European Under-21 Championship: 2009
Germany
FIFA World Cup: 2014; third place: 2010
Mesut Ozil's Wife, Amine Gulse
Moving towards his personal life, Mesut Ozil is a married man. Initially, he dated German model Anna Maria Lagerblom in May 2009. After the end of the season, the couple went on vacation together. Anna was a constant presence in the stands during the 2010 World Cup, where Ozil made the whole world sit up and notice his tremendous potential. Later, in September 2010, they ended their relationship. After that, he dated Aida Yespica from the year 2012 until 2013. He then began affairs with Mandy Capristo who is a singer and model by profession. The couple started dating in the early months of 2013 and she moved with him to London after his transfer to Arsenal. However, their relationship ended in October 2014 amidst rumors that the German player had cheated on his girlfriend. Despite this, they later reunited after a year of separation and they made their relationship public by walking the red carpet together at the Bambi Awards in November 2015 but later parted ways in 2017. After this, he began dating Miss Turkey 2014, Amine Gulse in the year 2017. They engaged on 3rd May 2017 which was held in Germany. Then, the lovebirds got married on June 7, 2019. Mesut Ozil and wife Amine Gulse Ozil welcome a baby daughter named Eda Ozil. The married couple is enjoying their present life happily without any disturbances. His sexual orientation is straight and he is not gay.
Mesut Ozil's Net Worth 2020 & Salary
Mesut Ozil is a professional footballer who has made a vast amount of money and fame throughout his football career which is his major source of wealth. As of 2020, the net worth of this German footballer is estimated to have $50 Million. He had recently signed a new long-term deal with Arsenal which increased his wage significantly, assuring his stay at the English club till 2021. He earns an annual salary of $24.4 million, which comes down to $470,000 per week as basic weekly wages, apart from bonuses. He is currently the second-highest-paid player in the Premier League, whereas Manchester United star Alexis Sanchez is topping the list with his new $668,000 per week wage. Back then, he was a hit in the Real Madrid lineup before being bought by Arsenal for a record transfer fee of $65 million in 2013. He seems to be a car lover and has quite a few cars to show off. He owns and drives the best luxury cars in the world of brands like Ferrari, Mercedes, Volkswagen, BMW, etc. which would total to approximately $5 million. In the year 2014, he bought a house in London which cost him more than $8 million. However, it is worth noting that the actual value of the house now will be much more. In the year 2013, he signed a seven-year sponsorship deal worth $35 million with Adidas. In June 2016, he inked a multi-million deal with a German car company, Mercedes. As of today, he is living a luxurious lifestyle from his career earnings.