About N'Keal Harry
Versatile N'Keal Harry is a Canadian-born Vincentian professional American football wide receiver for the New England Patriots of the National Football League (NFL). Harry was known for catching jump balls and being the bigger, stronger athlete in most scenarios. He is the two times First-team All-Pac-12 and an active rooster who has scored his first career touchdown in a game against the Dallas Cowboys. He also played college football at Arizona State University and was drafted by the Patriots in the first round of the 2019 NFL Draft. As a highly talented and skilled American football player, he is one of the brightest prospects in the NFL. Recently, Cam Newtons says N'Keal Harry is becoming his 'Chance Man'.He played football for the Patriots by wearing a shirt number 15.
Famous For

Being a Canadian-born Vincentian professional American football.
For being a wide receiver for the New England Patriots of the National Football League (NFL).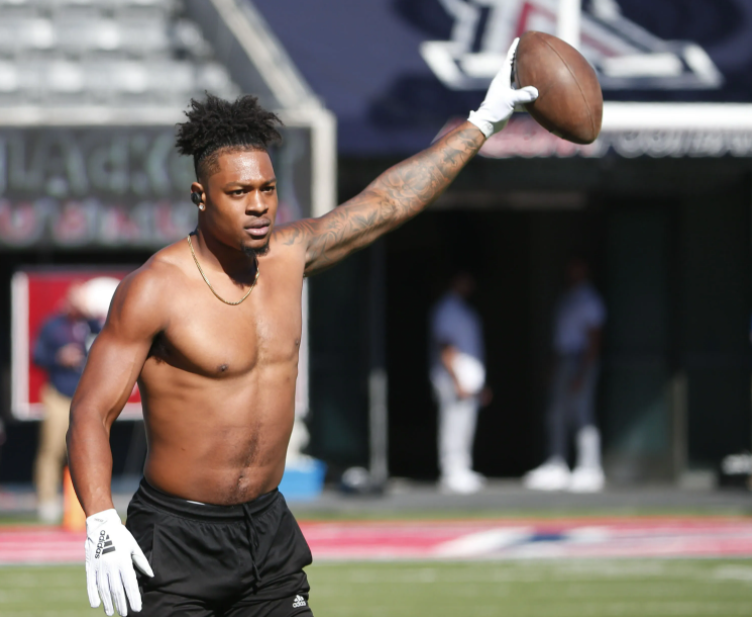 Source: @azcentral
Early Life of N'Keal Harry

On 17th December 1997, N'Keal Harry took birth in Toronto, Ontario, Canada to his mother, Naudine, and his father. However, he moved as a baby to St. Vincent and the Grenadines (hometown), but his retired grandmother, Felna decided to raise him in the United States with her. He holds Canadian nationality and Candian-black ethnicity. Analogously, he is from Christianity religion and his race is black. He happily celebrates his birthday on 17th December of every year and he has celebrated his 23rd birthday as of 2020 though as his birthdate, his star sign is Sagittarius. Details about his father's name and siblings are still to get disclosed yet. He started his education at Chandler High School after transferring from Marcos de Niza High School in Tempe, earning five-star recruiting honors from Rivals.com, and was noted by many recruiting services as one of the top wide receiver recruits in the country. In his junior season, Harry caught 13 touchdown passes on 30 catches for 657 yards.
Career of N'Keal Harry

College Career
N'Keal Harry kicks off his American football career becoming the ninth true freshman in school history to start a season opener in the 2016 season-opening game against Northern Arizona University as he posted 58 catches for 659 yards and five touchdowns as well as ran for 69 yards and scored twice and completed a 46-yard pass of his own.
N'Keal had 82 catches for 1142 yards and 8 touchdowns earning him First Team All-Conference honors during his Sophomore campaign though he started his junior season with media accolades as he was selected to the 2018 AP Preseason All-American team as he made one of the greatest catches in football history according to Colin Cowherd on Saturday 27th October.
He announced that he would forego his senior year and enter the 2019 NFL Draft after the comeback win against the Arizona Wildcats on 24th November.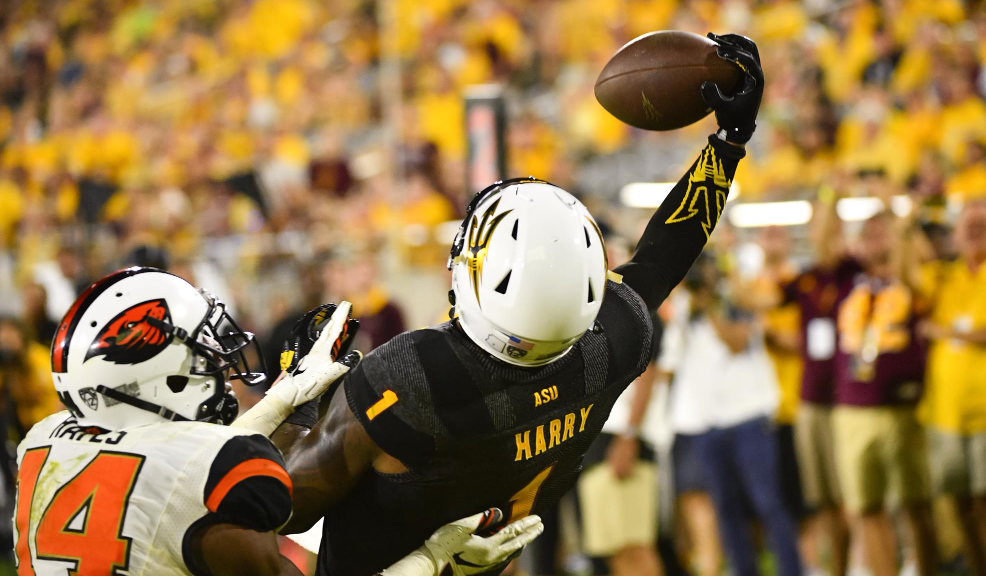 Source: @thesundevils
Professional Career

Harry was selected by the New England Patriots in the first round of the 2019 NFL Draft with the 32nd overall pick as well as he was the second wide receiver to be selected that year, behind Marquise Brown (Baltimore Ravens, 25th overall). He was also the first wide receiver that Patriots' head coach Bill Belichick has drafted in the first round during his tenure with the Patriots, and the first wide receiver the Patriots have drafted in the first round since Terry Glenn in 1996.
He signed a 4-year deal with the Patriots worth $10.1 million featuring a $5.3 million signing bonus on 14th May 2019 but he was placed on injured reserve as a result of the ankle injury he sustained during training camp on 2nd September 2019 though he was activated off injured reserve on 2nd November 2019.
He caught his first career receiving touchdown off a 10-yard pass from Tom Brady in the 13-9 win over the Dallas Cowboys on 24th November 2019 and also caught two passes for 15 yards and a touchdown, and rushed two times for 22 yards in a 34-13 victory over the Cincinnati Bengals in week 15.
He appeared in seven games in the regular season and totaled 12 receptions for 105 receiving yards and two receiving touchdowns as a rookie.
As well, he finished with 5 receptions for 39 yards in the 21-11 win in the season opener against the Miami Dolphins in the 2020 season whereas, in week 2, he finished with a career-high 8 receptions on 12 targets against the Seattle Seahawks, he finished the game with 72 receiving yards.
Then, on a week 4 Monday night game against the Kansas City Chiefs, Harry recorded his first touchdown of the year on a pass from Jarrett Stidham, he finished that game with 3 receptions for 21 yards and a touchdown.
Furthermore, Cam Newton has recently said N'Keal Harry is becoming his 'Chance Man'.
"He's getting better. He's growing," Newton said to reporters on Thursday, transcribed by NESN. "It's very promising to see a guy like N'Keal make a play like that. We're going to need more of that here moving forward." "It's just a chance. In essence, a slogan or a saying you give a receiver is a 'Chance Man.' Just give him a chance, man," Newton said. "That was a 'Chance Man' type throw and he came down with it."
Harry finished the game with three catches for 49 yards and it was one of the better performances in his young career. In a difficult season, he's recorded 29 receptions for 277 yards and two touchdowns over the span of 11 games.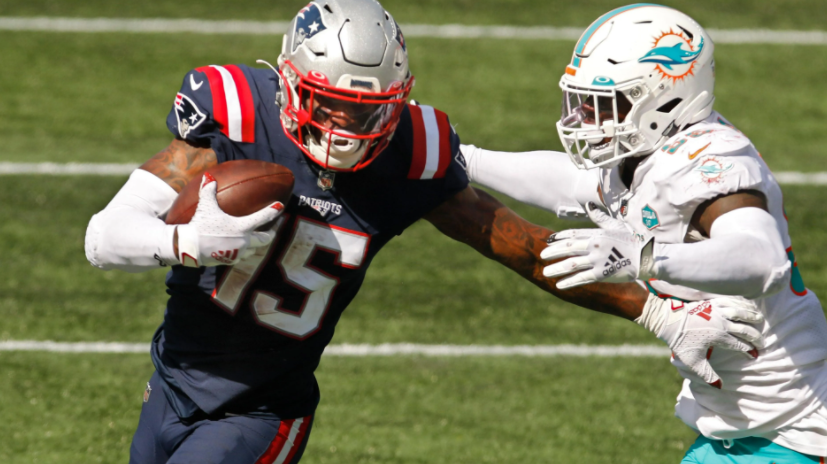 Source: @providencejournal
Awards and Achievements of N'Keal Harry

N'Keal Harry is a 2 tines First-team All-Pac-12 (2017, 2018) champion.
Personal Life of N'Keal Harry

Reflecting on N'Keal Harry's personal life, he is an unmarried guy. Whereas regarding his dating life, he was in a romantic relationship with Kianna although Harry and Kianna Ibis can't predict their future together. But they know that for two years and right now, they couldn't be happier as a couple. Both are All Pac-12 athletes for Arizona State - Harry in football, Ibis in women's basketball - and stars on their teams. Furthermore, talking about his sexual orientation, he is straight.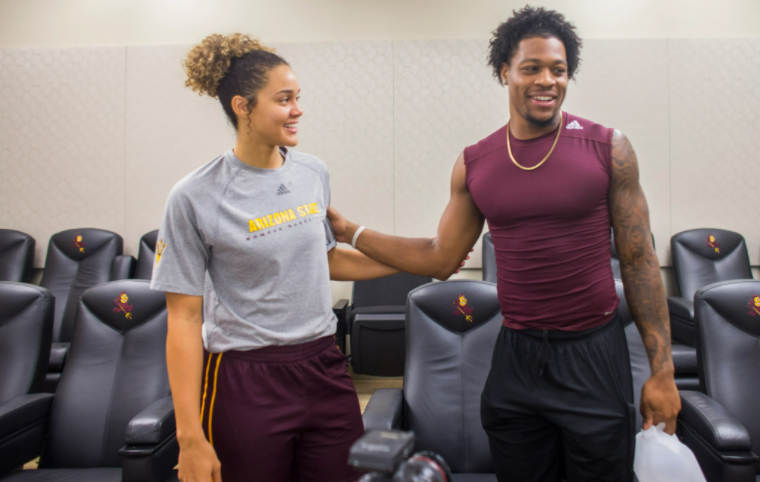 Source: @azcentral
Net Worth of N'Keal Harry

Moving towards N'Keal Harry's net worth, he has a worth of around $10.1 million as of 2020 whereas he has also a handsome amount of salary too which is also in millions of dollars per year. Harry was picked in the 2019 NFL draft by the Patriots and signed an agreement worth $10.1 million featuring a $5.3 million signing bonus on 14th May 2019, which is a 4-year deal. He will reportedly earn $2,524,587 on average for four years until 2022. The former Arizona State star will earn $5,859,252 in 2019 with a base salary of $495,000 and $5,364,252 as a signing bonus. Patriots will pay him $954,016 in 2020 while his base salary in 2021 is reported to be $1,413,032. Harry will receive $1,872,047 as a base salary in his last year of the contract. In addition, his major source of income is from his American football career. He also makes additional earnings from his endorsement deals as he has landed a contract with a popular sportswear brand Adidas. As per the deal, he will be the official ambassador of Adidas shoes and will wear them during the games but the enrings from the deal are not revealed yet.
Body Measurement of N'Keal Harry

The height of handsome and adaptable American footballer, N'Keal Harry is around 6 ft 4 in (1.93 m) though his body weight is around 225 lb (102 kg). His physique combined with his perfect height and masculine look takes him to the top of the desired list in the young gen women. He undeniably has the quality that appeals to the opposite sex. Harry has black hair and dark brown eyes color as his body build type is athletic.