About Oscar Pistorius
A South African former professional sprinter and convicted murderer, Oscar Pistorius is widely known as the blade runner. He endured the amputation of both legs as an infant but still became highly active in sports. He took up running at age 16, and within a few months, he had captured gold at the 2004 Athens Paralympics. He was the first amputee athlete to compete in the Olympics. He attempted to enter non-disabled international competitions, over persistent objections by the International Association of Athletics Federations (IAAF) after becoming a Paralympic champion. He was the first amputee to win a non-disabled world track medal at the 2011 World Championships in Athletics and was also the first double-leg amputee participant to compete in the 4 times 400 meters relay at the 2012 Olympics. He runs with J-shaped carbon-fiber prostheses called the "Flex-Foot Cheetah" developed by biomedical engineer Van Phillips and manufactured by Ossur. In 2014, he was convicted of negligent killing in the death of his girlfriend, and the conviction was changed to murder in 2016. Additionally, he has gained several awards in his careers like the Laureus World Sports Award, and BBC Sports Personality of the Year Helen Rollason Award.
Famous For

Being a South African former professional sprinter.
For being the blade runner.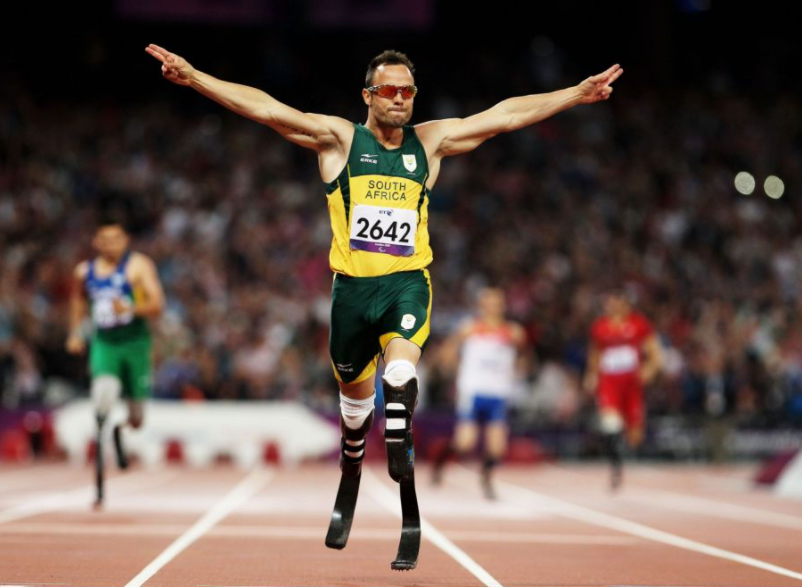 Source: @wallpaperup
Early Life of Oscar Pistorius

On 22nd November 1986, Oscar Pistorius took birth with the real name or full name of Oscar Leonard Carl Pistorius in Sandton, Johannesburg, Transvaal Province, South Africa whereas his current residence is in Gauteng Province. He is of Afrikaner ethnicity with Afrikaans as a mother tongue and is also fluent in English. He is a white South African with Italian ancestry from his maternal great-grandfather, who was an Italian immigrant to Kenya. Analogously, he is from Christianity religion. Sagittarius is his star sign and white is his race. He celebrates his birthday on 22nd November of every year and he had celebrated his 33rd birthday as of 2019. He is the son of Henke Pistorius (father) and Sheila Pistorius (mother). He has also a sister named Sheila Pistorius and a brother, Carl Pistorius. Additionally, he attended Constantia Kloof Primary Schooland Pretoria Boys High School and began studying for a Bachelor of Commerce (B.Com.) in business management with sports science at the University of Pretoria in 2006.
Career of Oscar Pistorius

Oscar Pistorius commenced his sporting career from a disability sport, T44 where he was classified in T43 as well as took part in the 2004 Summer Paralympics in Athens and came third overall in the T44 100-meter event and went on to win the final in a world record time of 21.97 seconds.
Then, he finished sixth in the non-disabled South African Championships over 400 meters with a world-record time of 47.34 seconds in 2005 and won gold in the 100 meters and 200 meters, beating his previous 200-meter world record in the following year.
Again, he won gold in the 100-, 200- and 400-meter events, breaking the world record over 200 meters at the 2006 IPC Athletics World Championships.
He set a disability sports world record for the 400 meters (46.56 seconds) at the South African Senior Athletics Championships in Durban on 17th March 2007 and at the Nedbank Championships for the Physically Disabled held in Johannesburg in April 2007.
As well, he was invited by the IAAF to take part in what would have been his first international non-disabled event, the 400-meter race at the IAAF Grand Prix in Helsinki, Finland, in July 2005 but was unable to attend, however, because of school commitments.
Similarly, he ran in the 400-meter race at Rome's Golden Gala and finished second in run B with a time of 46.90 seconds which was a warm-up for his appearance at the 400 meters at the Norwich Union British Grand Prix at the Don Valley Stadium in Sheffield on 15th July 2007.
In particular, he had set his sights on competing at the 2008 Summer Olympic Games in Beijing, China, but was not selected by the South African Olympic Committee.
Furthermore, he was also invited to take part in a series of scientific tests at the German Sports University Cologne in November 2007.
As well, he appealed against the decision to the Court of Arbitration for Sport (CAS) in Lausanne, Switzerland, and starred before the tribunal at the end of April 2008.
He also competed in the 400 meters in the B race of the Notturna International in Milan but was "disappointed" on 2nd July 2008 whereas his performance on 11th July 2008 at the Rome Golden Gala was an improvement of more than a second.
But, he was failed to qualify for the 400 meters at the 2008 Summer Olympic Games by 0.70 seconds with a personal best time of 46.25 seconds, at the Spitzen Leichtathletik meeting in Lucerne, Switzerland, on 16th July 2008, but Athletics South Africa announced on 16th July 2008 that he would also not be selected for the 4 times 400 meters relay team as four other runners had better times.
He participated in the 2008 Summer Paralympics in Beijing in the 100, 200, and 400 meters (T44) and set a Paralympic record with his time of 11.16 seconds in the heats of the 100 meters on 9th September.
Later, following a slow start, he rallied to snatch gold from the United States' Jerome Singleton in the 100 meters in a time of 11.17 seconds, 0.03 seconds ahead of the silver medallist as well as won his second gold in the event in a time of 21.67 seconds defending Paralympic champion in the 200-meter sprint on 13th September.
He has won three IPC Athletics World titles in New Zealand but was beaten for the first time in seven years in the 100 meters by Jerome Singleton in January 2011 and also won the T44 400 meters in 47.28 seconds and the 100 meters in 11.04 seconds at the BT Paralympic World Cup in May. Likewise, he has competed across a number of non-disabled races in the summer of 2011.
In addition, he won the 400-meters event with a posted time that ranked him as 15th fastest in the world and was announced on 8th August 2011 that he had been included in the South African team for the World Championships in Daegu, South Korea, and had been selected for the 400-meter and the 4 times 400-meter relay squad.
He ran the opening leg as South Africa advanced to the finals with a national record time of 2 minutes 59.21 seconds in the heats of the 4 times 400 meters relay but was not selected to run in the finals since he had the slowest split time of 46.20 seconds.
Later, the South African Sports Confederation and Olympic Committee (SASCOC) announced on 4th July 2012 that he had been included in the Olympic team for the 400-meter and the 4 times 400 meters relay races.
He also became the debut amputee runner to compete at an Olympic Games on 4th August 2012 at the 2012 Summer Olympic Games whereas he took second place in the first heat of five runners, finishing with a time of 45.44 seconds (his best time that season) to advance to the semi-finals on 5th August in the 400-meter race.
Pistorius was chosen to carry the South African flag for the closing ceremony as well as carried the flag at the opening ceremony of the 2012 Summer Paralympics on 29th August and entered the T44 classification men's 100 meters, 200 meters, and 400 meters races, and the T42-T46 4 times 100 meters relay.
On 1st September, he established a new T43 world record of 21.30 seconds in his heat in the 200-meter competition where he was defeated in the final the next day by Alan Oliveira of Brazil.
Analogously, he won a team gold medal on 5th September, running the anchor leg as part of the South African 4 times 100 meters relay team setting a team world record time of 41.78 seconds.
As well, his Beijing Olympics 100-metre title was defended with a season's best time of 11.17 seconds but was succeeded by Great Britain's Jonnie Peacock and on 8th September, the last full day of competition, he won gold in the T44 400 meters with a time of 46.68 seconds, breaking the Paralympic record.
Moreover,
His autobiography, "Dream Runner", was published in Italian in 2008 with Gianni Merlo, a journalist with "La Gazzetta Dello Sport" and an English version titled "Blade Runner" was released in 2009.
He collaborated in the release of a music CD called "Olympic Dream" in 2008. He also actively supports the Mineseeker Foundation, a charity that works to raise awareness for landmine victims and has a support program to provide prostheses for victims.
He has also starred on "L'isola dei famosi", an Italian version of "Celebrity Survivor" in 2010 as well as appeared on "The Tonight Show with Jay Leno" on 9th October 2012.
In 2010, he played in the Laureus World Sports Awards Golf Challenge at the Abu Dhabi Golf Club in Abu Dhabi, United Arab Emirates, and the Help-net Fund Celebrity Charity Golf Day.
Killing of Reeva Steenkamp

Oscar Pistorius shot and killed his girlfriend, South African model Reeva Steenkamp, at his home in Pretoria in the early morning of Thursday on14th February 2013. He acknowledged that he shot Steenkamp four times, causing her death, but said that he mistook her for a possible intruder. Whereas, his trial for murder began on 3rd March 2014, in the Pretoria High Court and the trial proceedings were adjourned until 30th June to enable Pistorius to undergo a psychiatric evaluation to establish whether he could be held criminally responsible for shooting Steenkamp on 20th May 2014. The defense closed its case on 8th July and closing arguments were heard on 7th and 8th August. He was found guilty of culpable homicide and one firearm-related charge of reckless endangerment related to discharging a firearm in a restaurant on 12th September. On 21st October 2014, he received a prison sentence of a maximum of five years for culpable homicide and a concurrent three-year suspended prison sentence for the separate reckless endangerment conviction.
After Pistorius served approximately one-sixth of his prison term, his release date to house arrest was announced for 21st August 2015 but his release was unexpectedly blocked by South Africa's Justice Minister Michael Masutha on 19th August 2015. On 3rd March 2016, it was announced he had been denied his right to appeal, and would next be due in court on 13th June 2016 to begin a five-day sentencing hearing for the murder conviction, concluding on 17th June 2016. Then, it was anticipated that he would be eligible for release on parole, after serving three years of his sentence, in 2019 though he was briefly released from prison for four hours on 14th October 2016 through a compassionate leave license to attend the funeral service of his grandmother, who died on 8th October 2016.
South African court increased Pistorius' jail sentence to 13 years and five months on 24th November 2017 because prosecutors had argued that the six-year term was too short. The SCA ruled his sentence be increased to 15 years, less time already served. On 19th December 2017, it was confirmed that he had filed papers with the Constitutional Court to appeal the newly increased sentence and have his previous six-year sentence reinstated but the appeal was dismissed by the courts; Pistorius will not be eligible for parole until at least 2023.
Awards and Achievements of Oscar Pistorius

Oscar Pistorius is a famous South African former professional sprinter who has gained several awards and accolades. He was awarded the BBC Sports Personality of the Year Helen Rollason Award on 9th December 2007. Later, he was awarded the Laureus World Sports Award for Sportsperson of the Year with a Disability for 2012 and was honored with the unveiling of a large mural depicting his achievements in the town of Gemona, Italy on 22nd August 2012. He was also shortlisted by the IPC for the Whang Youn Dai Achievement Award as a competitor on 9th September 2012. He was nominated by an unnamed external organization from South Korea according to director Craig Spence.
Personal Life of Oscar Pistorius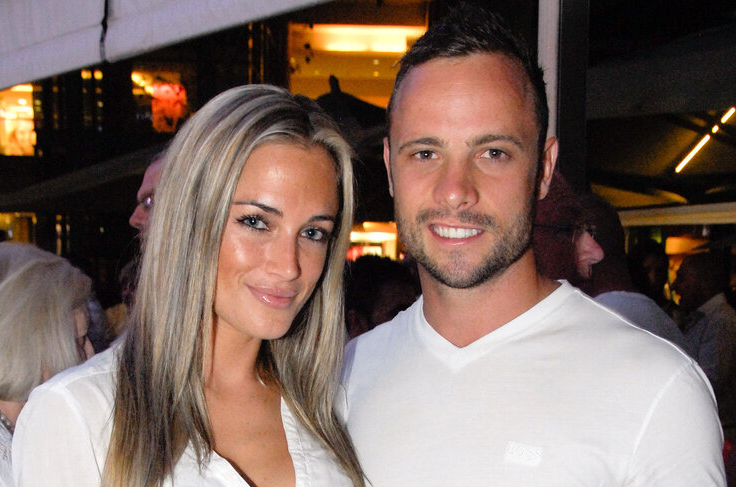 Source: @oxygen.com
Reflecting on Oscar's personal life, he is an unmarried guy. But regarding his relationship status, he is not dating anyone because he is sentenced to jail for 13 years and five months for killing his girlfriend, Reeva Steenkamp. So we can assume that he is currently living a single life. Furthermore, talking about his sexual orientation, he is straight. As recent news, Oscar Pistorius has turned to God while locked up for the murder of his model girlfriend - and is begging for her family's forgiveness. "I want to tell them I'm sorry," the killer athlete said. "What he really, really wants is forgiveness," Schroder told the outlet. "He is more concerned about forgiveness than actually getting out on parole." While serving out his time, Pistorius, 33, has grown a beard and found his faith, said Schroder, who's visited his friend four times in prison. He's also given up exercise and started smoking, according to his pal. "He still maintains to this day it was an accident," Schroder told The Sun. "I did feel he was showing remorse." "He quoted a study by an expert that when you are woken from a deep sleep and are put into a situation of fear that you act very differently to when fully conscious. I listened to him but did not buy it."

Net Worth of Oscar Pistorius

Moving towards Oscar's net worth, his worth was around $50 Thousand as of 2020 though he was also earning a handsome amount of salary too which was also in thousands of dollars per year. He was among those few individuals that have such a wide range of experience and remains true to whatever he embarks on to. He has reached great heights in his career already and he still has a lot more to do. In 2012 he had sponsorship deals worth US$2 million a year with Ossur, BT, Nike, Oakley, and Thierry Mugler. He also participated as a model in advertising campaigns. He was sincere in his work. But, he is doing all the hard works in order to build a secure financial status for himself and his family. In addition, his main source of income was from a sporting career. Any estimation of Oscar's net worth has to take his imprisonment into account. Before he was charged, Oscar's net worth was around $5 million.
Body Measurement of Oscar Pistorius

Reeva Steenkamp stands at a perfect height of 5 ft 1 in (in stumps) whereas his body weight is around 80.6 kg (178 lb). He is also a handsome guy with dark brown hair and eyes too. He had the perfect body combined with good looks. Whereas regarding his body build type, it is athletic. Furthermore, in February 2009, he was seriously injured when he was thrown from a boat in an accident on the Vaal River near Johannesburg. He was airlifted to Milpark Hospital, where he underwent surgery to repair broken facial bones, including his nose and jaw. There were initial concerns about his fitness, but he recovered fully. However, the accident affected his training and running schedule for that year. He was also introduced to running in January 2004 while undergoing rehabilitation at the University of Pretoria's High-Performance Centre after a serious rugby knee injury in June 2003. He has also two visible tattoos: the dates of his mother's birth and death on the inside of his right arm; the other tattoo, which is on his back, is the Bible verse.