About Payton Pritchard
Payton Pritchard, an American professional basketball player, currently plays for the Boston Celtics in the NBA. He wears jersey number #11 with the Boston Celtics. He primarily plays as a point guard and shooting guard. Pritchard gained recognition during his college career, where he played for the Oregon Ducks. In his sophomore year, he received the honor of being named second-team all-conference in the Pac-12. As a senior, he was a finalist for the prestigious Naismith Trophy. Pritchard's talent and skills led him to be selected as the 26th overall pick by the Boston Celtics in the 2020 NBA draft. He had a notable achievement when he reached the NBA Finals with the Celtics in 2022. However, after limited playing time and the Celtics' exit from the 2023 playoffs, Pritchard expressed his desire for a trade from the team. Pritchard has also represented the United States in international competitions, including the 2015 FIBA 3x3 Under-18 World Championship and the 2017 FIBA U19 World Cup in Egypt, where he and Team USA won the bronze medal, and he earned a spot on the All-Star Five.
Payton Pritchard Early Life & Family
Born on January 28, 1998, in Tualatin, Oregon, USA, Payton Pritchard is an American basketball player. Payton Michael Pritchard is his birth name. He holds American nationality and belongs to the American-White ethnic background. As of 2023, he celebrated his 25th birthday. His zodiac sign is Aquarius and he follows Christianity religion. Payton comes from a family of athletes, with both his parents, Terry and Melissa, having a background in sports. His father, Terry, was a college football player, while his mother, Melissa, used to be a gymnast. Payton has three siblings, namely Taylor Pritchard, Anthony Pritchard, and Lexie Pritchard. He shares a close bond with his family and often posts pictures of them on his Instagram. In fact, his sister Lexie also plays basketball as a guard and attended West Linn High School, just like Payton. Payton's passion for basketball began at a young age, influenced by his athletic upbringing. He started playing the sport at the age of five.
For his education, Payton attended West Linn High School. Initially committed to the University of Oklahoma, where his father had played football, he later decided to join the University of Oregon Ducks Men's Basketball team in August 2015.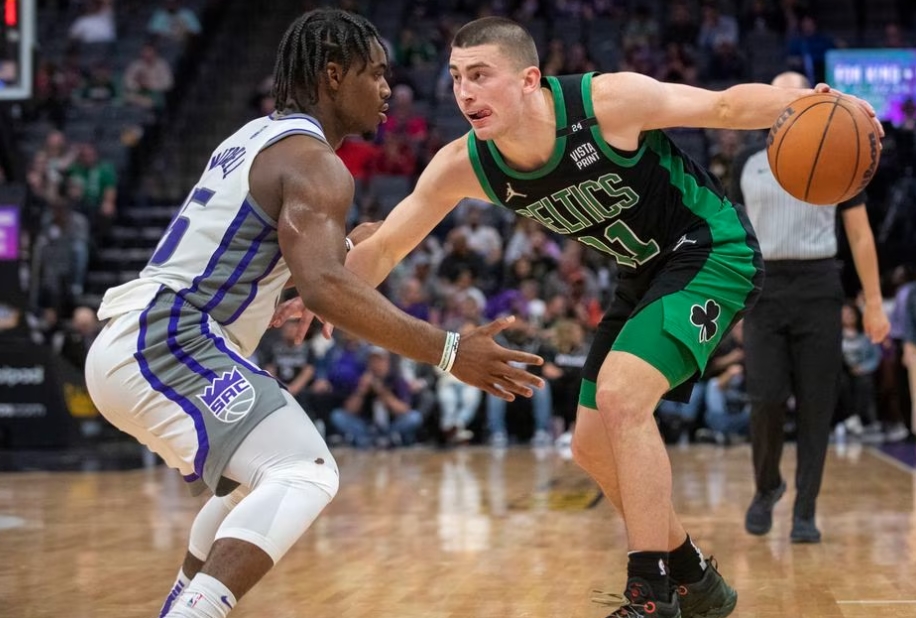 Payton Pritchard Basketball Career
Payton Pritchard had an outstanding high school basketball career, leading West Linn High School to four consecutive state titles while earning several prestigious awards.
He was named the Todd Pratt Player of the Year in 2014 and 2015, the Oregon Class 6A Player of the Year, and the Gatorade Oregon Player of the Year in 2015.
Demonstrating his exceptional skills on the court, Pritchard averaged 22 points and 5.8 assists per game as a junior and improved to 23.6 points, 6.8 assists, and 3.1 steals per game as a senior.
Highly regarded by recruiters, he committed to the University of Oregon Ducks in 2015, choosing them over a previous commitment to Oklahoma, where his father had played football.
Pritchard showcased his talent further by scoring an impressive 45 points in the Northwest Shootout, an all-star game featuring players from Oregon and Washington.
Notably, he faced off against several future NBA stars and lottery picks, including Ben Simmons, Jaylen Brown, and Jahlil Okafor, during his time at the Les Schwab Invitational.
Pritchard's collegiate basketball journey was filled with remarkable achievements and clutch performances. In his freshman year, he played a pivotal role for the Oregon Ducks, making 39 appearances and averaging 7.4 points and 3.6 assists per game.
Notably, he hit a deep three-pointer against UCLA, assisting on Dillon Brooks' game-winning shot over Lonzo Ball, propelling the Ducks to their first Final Four appearance in decades.
Pritchard stood out as the lone freshman starter in that year's Final Four.
The following season, he showcased his skills even further, recording a career-high 29 points, eight assists, and six rebounds in a win over DePaul.
As a sophomore, he stepped up as the sole returning starter for Oregon, averaging 14.5 points, 4.8 assists, and 3.6 rebounds per game.
He faced a slow start in his junior year but rallied late in the season, leading Oregon to an unexpected Pac-12 Tournament Championship and reaching the Sweet 16 of the NCAA Tournament.
He was named the Pac-12 Tournament MVP while maintaining averages of 12.9 points, 4.6 assists, and 3.9 rebounds per game. Following his junior season, he initially declared for the 2019 NBA draft but chose to return to Oregon for his senior year.
As a senior, he continued to shine, delivering memorable performances, including a game-winning shot against Washington and a career-high 38 points in an overtime victory against Arizona.
Pritchard's senior campaign was exceptional, as he averaged 20.5 points, 5.5 assists, and 4.3 rebounds per game, earning the Pac-12 Player of the Year title, consensus All-American honors, and the prestigious Bob Cousy Award as the nation's top point guard.
After being drafted with the 26th pick by the Boston Celtics in the 2020 NBA draft, he signed a four-year rookie contract worth $10.5 million on November 24, 2020, which included team options for the third and fourth years.
He made an impressive professional debut, scoring 17 points in a preseason game against the Philadelphia 76ers.
With Kemba Walker out, he earned significant playing time in the early stages of the season, showcasing his skills alongside Jayson Tatum, Jaylen Brown, and Marcus Smart.
On January 4, 2021, he achieved a career-high 23 points, eight assists, and two rebounds in a win against the Toronto Raptors, followed by a game-winning layup against the Miami Heat in the next game.
He faced a challenging period thereafter, commonly referred to as the "rookie wall," where his performance and efficiency waned. However, he made a resurgence in mid-April, scoring in double figures in six consecutive games and achieving a then-career-best 28 points against the Oklahoma City Thunder.
Pritchard's strong performance in the 2021 NBA Summer League earned him a spot on the All-Summer League First Team.
He played a role in the Celtics' journey to the 2022 NBA Finals, where they ultimately fell to the Golden State Warriors in six games.
On April 9, 2023, Pritchard recorded his first career triple-double, registering a career-high 30 points, 14 rebounds, and 11 assists against the Atlanta Hawks. However, following limited minutes and the Celtics' exit from the 2023 playoffs, Pritchard requested a trade from the team.
Pritchard has also showcased his skills on the international stage, representing the United States in various tournaments.
He impressed at the 2015 FIBA 3x3 Under-18 World Championship, scoring 9 three-pointers in a game against Poland.
As a member of the USA National Select Team, he contributed 12 points on 4 three-pointers in the 2016 Nike Hoop Summit.
He also made the US squad for the 2017 FIBA U19 World Cup, averaging 9.0 points, 3.1 assists, and 2.9 rebounds per game.
He had a standout performance of 16 points against Canada's RJ Barrett and was named to the All-Star Five as Team USA secured the bronze medal.
Payton Pritchard Awards and Achievements
Lute Olson Award (2020)
Bob Cousy Award (2020)
Consensus first-team All-American (2020)
Pac-12 Player of the Year (2020)
First-team All-Pac-12 (2020)
Second-team All-Pac-12 (2018)
Pac-12 tournament MOP (2019)
Payton Pritchard Net Worth
Payton Pritchard is a professional basketball player currently representing the Boston Celtics in the NBA. With a net worth of approximately $4 million in 2023, Pritchard's financial success stems from his lucrative NBA contracts. On November 24, 2020, he inked a four-year rookie deal with the Celtics worth $10.45 million, averaging an annual salary of $2.61 million. His primary source of income comes from his NBA contracts, while his endorsement agreement with Nike, signed on April 27, 2021, contributes significantly to his earnings. During the 2020-21 and 2021-22 seasons, Pritchard earned paychecks of $2.035 million and $2.135 million, respectively. For the 2022-23 season, he has a salary of $2.239 million after exercising an option deal. Moreover, on October 29, 2022, the Boston Celtics exercised a $4.04 million option for Pritchard for the 2023-24 season. By the conclusion of his four-year contract with the Celtics, his career earnings will reach $10.44 million, with a qualifying offer of $5.95 million as he becomes a free agent in 2024. These substantial earnings have allowed him to enjoy a lavish lifestyle and does have luxurious cars with big mansions.
Payton Pritchard Dating & Girlfriend
Payton Pritchard is currently in a joyful relationship with his girlfriend, Emma McDonald. Their dating status was made public on Valentine's Day of 2023 when Pritchard shared an Instagram post featuring a picture of them together. In the comment section, Emma, Payton's girlfriend, expressed her love for him with the comment, "so much love for you." Although specific details about the beginning of their relationship remain undisclosed, Emma McDonald is known as an Instagram influencer and YouTuber. She co-hosts a weekly podcast called "Love ya Bye" alongside her sister, Maggie MacDonald. Payton and Emma are enjoying their lives together, cherishing their time as a couple. His sexual orientation is straight and he is not gay.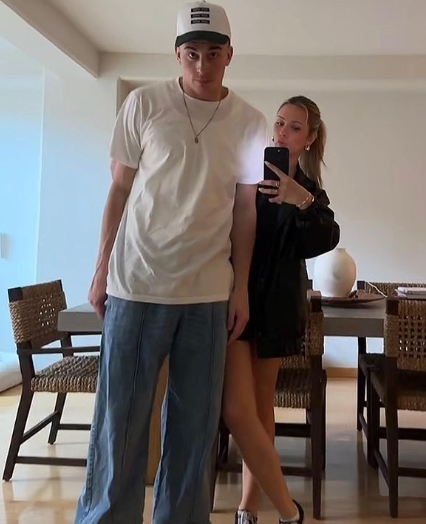 Previously, Payton was in a relationship with his ex-girlfriend, Lucy Charter. According to her Instagram profile, Lucy describes herself as a writer. Lucy Charter and Payton Pritchard are alumni of the University of Oregon. So, they have known each other since their college days. However, it is unclear how the couple started dating, as they rarely share anything about each other. The couple dated each other since 2019. Charter shared the first post about the basketball player in July 2019, while Pritchard made their relationship Instagram-official in August 2019. Payton and Lucy have been spotted many times in public and once went on a trip together before Payton was signed by the NBA. He is also connected with Lucy's cousin as he attended the wedding of her cousin. No reports of their break-up ever came; rather, the two unfollowed each other on Instagram & deleted the pictures quietly. It is not known what caused the fallout of their relationship.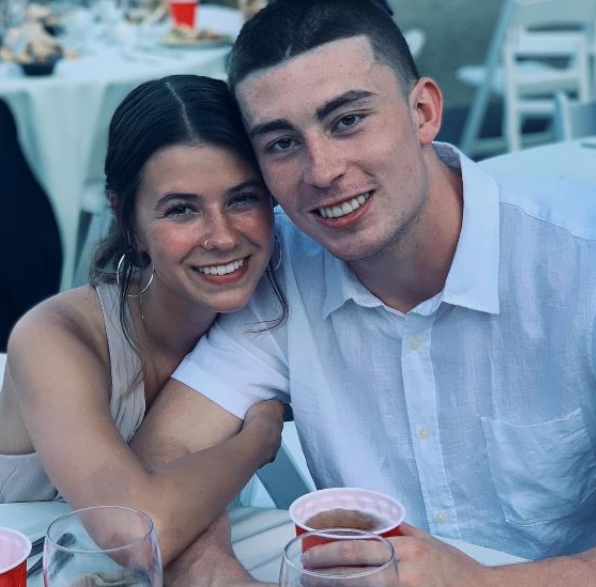 Payton Pritchard Height & Weight
Payton Pritchard is a talented basketball player known for his athletic physique. With a listed height of 6 ft 1 in (1.85 m) and a listed weight of 195 lb (88 kg), he possesses a strong and fit body. Pritchard complements his physical attributes with brown hair and captivating brown eyes. His overall appearance adds to his charm and appeal both on and off the basketball court.