About Pearlena Igbokwe
Pearlena Igbokwe is the Chairman of Universal Studio Group which is a division of NBCUniversal. The Nigerian-born veteran Executive Producer is not only believed to be the first "Igbo" to head a major US television studio, but also the first African-American female to assume the position. She took over from Indian-American, Bela Bajaria, who was president up until her exit last month. She is responsible for NBCUniversal's three powerhouse studios: Universal Television, Universal Content Productions (UCP), and NBCUniversal International Studios. At present, she oversees the production of over 2500 hours of programming currently airing or streaming around the globe and manages a slate of ambitious storytellers including Tina Fey, Seth MacFarlane, Amy Poehler, Dick Wolf, Lorne Michaels, Michael Schur, Nahnatchka Khan, Sam Esmail, Julie Plec, Larry Wilmore, Debra Martin Chase, Gareth Neame, Alan Yang, David Heyman, Sean Hayes, and Tanya Saracho, among numerous others. When she was with 'Showtime', one of her several big contributions was her involvement in developing the pilot and overseeing every season of "Dexter", Showtime's most popular show. She was one of Multichannel News "Wonder Women" in the year 2010. She has also appeared previously in Hollywood Reporter's "Top 35 under 35", as well as in Ebony and Black Enterprise's "Top 50 Showbiz Players".
After outlining her exec team, recently appointed Universal Studio Group chief Pearlena Igbokwe is adding another studio to that group. The Universal Television Alternative Studios is being incorporated into Universal Studio Group. As part of the move, UTAS president Toby Gorman is joining Igbokwe's leadership team and will continue to oversee the studio's biggest shows, including "Making It," "The Wall," "The Titan Games," "Songland" and "World of Dance." Gorman, who previously reported to Ahr, will now answer to Igbokwe. Originally launched by Fernando Hernandez, Ahr took over Universal Television Alternative Studios in 2016. Gorman was tapped to lead the division in August 2019 after Ahr was upped to head NBC Entertainment's Alternative and Reality Group.
Here's Igbokwe's memo to staff: Hey Everyone,
Please join me in welcoming the Universal Television Alternative Studios team to our Universal Studio Group family!
Beginning today, UTAS will be moving under our studio group umbrella and studio president Toby Gorman will join my USG leadership team. Toby will continue to oversee development, domestic sales strategy and creative affairs, while collaborating closely across all areas of production, casting, business affairs and international commercial development for UTAS.
In the last few years, UTAS has grown its unscripted and alternative formats slate exponentially adding series like "The Wall," "World of Dance," "The Titan Games," "Songland" and "Making It" to their roster. They also house numerous overall deals with some talent straddling unscripted and scripted projects across UTAS and Universal Television.
Now, with UTV, UCP, NBCUniversal International Studios and UTAS under the same umbrella we can further support our creators' ambitions to develop and produce great television – no matter the format.
We are so lucky to be adding Toby and his innovative team to our studio group and I look forward to collaborating with everyone at UTAS to further ignite our unscripted business.
Pearlena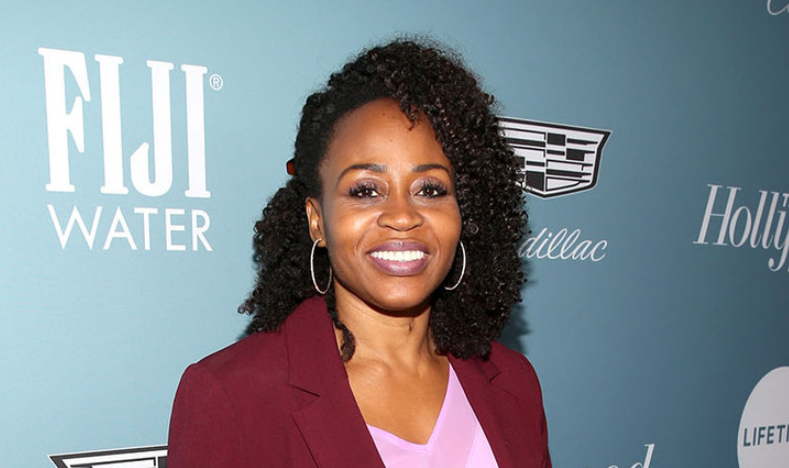 Source: @hollywoodreporter
Pearlena Igbokwe is famous for being the Chairman of Universal Studio Group, a division of NBCUniversal. She is best known for being the first woman of African descent to head a major U.S. television studio, as she comes from the Igbo tribe of Nigeria.
Pearlena was born in the year 1968 as per sources. Her birthplace is in Lagos State, Nigeria whereas she holds dual citizenship. Her nationality is American-Nigerian. Her ethnicity is Nigerian-Black and her race is black. She was born and partially bred in a small village in the southeastern part of Nigeria, she lived through the Biafran war-her village was severally attacked by bomber planes and they depended on food that was airlifted to them. She relocated to the United States of America when she was six years old. She moved to join her father there. She celebrated her 52nd birthday. Her religion is Christian. As per her education, she earned a Bachelor of Arts degree from Yale University and an MBA from Columbia University. Information about her parents, childhood, and siblings is still unclear.
A very charming and black beauty queen, Pearlena Igbokwe stands at average height. She has got an attractive body physique matching with her body weight. Blessed with great looks and an amazing goddess-like figure, she can definitely rock any wear she decides to put on. Considered hot and sexy actresses of today's time, she takes extra care of her appearance. She eats right and works out on a regular basis to maintain her shape and weight. It's because of the hard work she does; she looks extremely gorgeous. She has the perfectly toned figure and enviable long legs to flaunt after all. Besides, she has also evolved as one of the fashion icons in the biz. She wears trendy clothes along with the right hair and makeup to look different and elegant than the rest. She makes a special effort to look professional and attractive on air. She wears outfits that make her glow. Besides, her clothes are such that which celebrates her beautiful long legs and flaunts her curvaceous figure. She also takes special care of her hairstyles and makeup. She never goes overboard with her looks. Her body details such as breast size, waist size, and more have not been revealed yet. Her hair color is black and her eye color is brown. Overall, she has got a healthy body.
Pearlena Igbokwe's Career
Pearlena Igbokwe became the President of Universal Television from June 2016 until September 2020.
During her presidential time, she oversaw creative development, casting, and production for one of the country's largest and most successful studios.
After that, she led the division to new heights with record volume, commercial success, and critical acclaim. Her programming highlights include Russian Doll, The Good Place, New Amsterdam, The Bold Type, Good Girls, and Dick Wolf's successful new franchise, FBI, and FBI: Most Wanted, among numerous other notable projects.
Prior to her studio work, she served as Executive Vice President, Drama Programming, for NBC Entertainment, where she developed the top-rated new broadcast dramas for three out of her four years in the role (Blacklist, Blindspot and This Is Us).
For twenty years, she worked at Showtime involving in developing the pilot and overseeing the first five seasons of "Dexter", Showtime's most popular series ever.
Furthermore, she developed the pilot for "Masters of Sex", starring Michael Sheen, and supervised the Emmy Award-winning and critically acclaimed original series "Nurse Jackie".
She shepherded Tracey Ullman's "State of the Union", Damon Wayans' "The Underground", Kirstie Alley's "Fat Actress" and the television adaptation of the hit feature film "Barbershop".
Additionally, she was also instrumental in the five-season run of the hit Showtime series "Soul Food", a two-time NAACP Image Award winner for Best Drama Series.
She became successful from a number of original movies she developed for 'Showtime', including the Humanitas Award-nominated Jasper, Texas, starring Academy Award winners Jon Voight and Louis Gossett Jr.; the Emmy-nominated Bojangles, starring the late Gregory Hines; and the Peabody Award-winning "Strange Justice".
She also began her Showtime career as Manager of Direct Response, Television Marketing, and earlier worked as an Associate at NBC in New York City.
Beside this,
She was named to the HRTS board of directors in the year 2017.
She also joined the NATPE board that same year.
She was named an executive committee appointee to the Television Academy Executive Committee in 2019.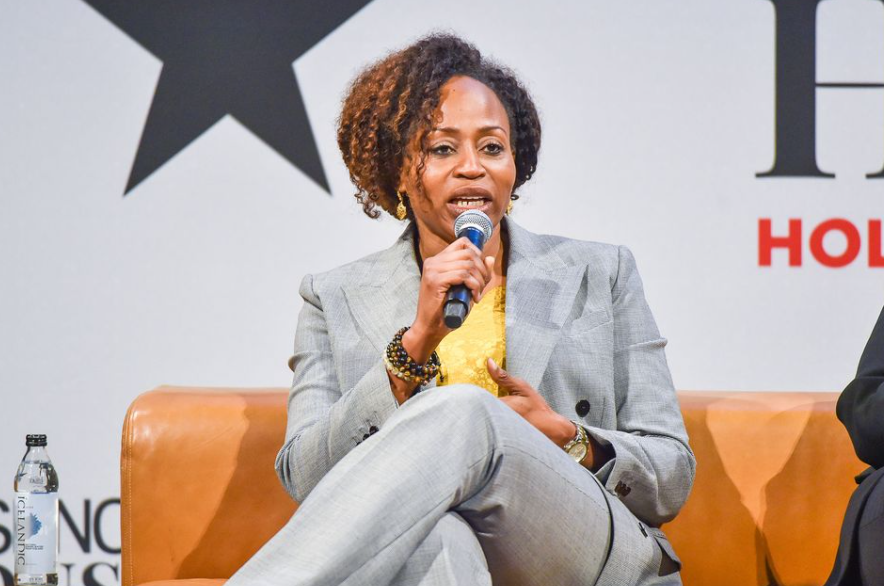 Source: @bloomberg
Awards, Achievements, and Recognition of Pearlena Igbokwe
Regarding her recognition, she has been featured in numerous industry trade magazines for her leadership, including The Hollywood Reporter (Women in Entertainment Power 100, Top 35 Under 35), Variety (Power of Women), Ebony (Top 50 Showbiz Players), and Essence, among others. She was instrumental in the five-season run of the hit Showtime series "Soul Food", a two-time NAACP Image Award winner for Best Drama Series.
Pearlena Igbokwe's Husband and Kids
Pearlena Igbokwe is a married woman. She is married to her handsome husband whose name has been publicized by her yet. The duo is also blessed with two children. She is currently residing in Los Angeles, California with her husband and kids. As a matter of fact, she does not speak openly about her personal life as much; she likes to keep it a secret from the media mongers. She's here to work and that is all she is concerned about for now. She is enjoying her present life happily without any disturbances. Her sexual orientation is straight.
Pearlena Igbokwe's Net Worth 2020
Pearlena Igbokwe is a strong vigorous woman. No matter whatever the world speaks about her, she never loses hope and let down her self esteem. She keeps on challenging every sort of issue that comes nearby her. She knows her job and does it to the best of her ability. She has accomplished much admiration but her journey does not end here. She has to go beyond the expanses and receive more gratitude and success that she deserves for. She has a great appearance that is well appreciated in the industry and she should casually utilize the gifted aspects that she is carrying within her. Pearlena is a famous media executive as well as the Chairperson of Universal Studio Group, a division of NBCUniversal. As per sources, the net worth of Pearlena is estimated to have $50 Million. Whereas the details about her salary are still to get unfold yet. Her major source of wealth comes from media executive career and she is satisfied with her earnings as of today. She is living a luxurious lifestyle.