About Piers Morgan
Piers Morgan is a British journalist, as well as a writer, turned TV presenter whose opinions and argumentative nature has famously annoyed several celebrities in the UK and the USA. He started his career in Fleet Street as a writer and editor for several tabloid papers. He is currently a co-presenter of the ITV Breakfast program Good Morning Britain from Monday to Wednesday each week. He is also a talk show host who starred on "America's Got Talent" and became the replacement for "Larry King". Previously, he worked as an editor for "The Sun" and "News of the World tabloids". He is known for serving as a host for "Piers Morgan Live" from 2011 to 2014. Piers has a large social media fan base with more than 1.2 million followers on Instagram and over 7.6 million followers on Twitter. In recent news, Good Morning Britain viewers have been left confused this week as Piers Morgan and Susanna Reid are absent from the show.
Famous For

Being an English broadcaster, journalist, writer, and television personality.
For starring on "America's Got Talent".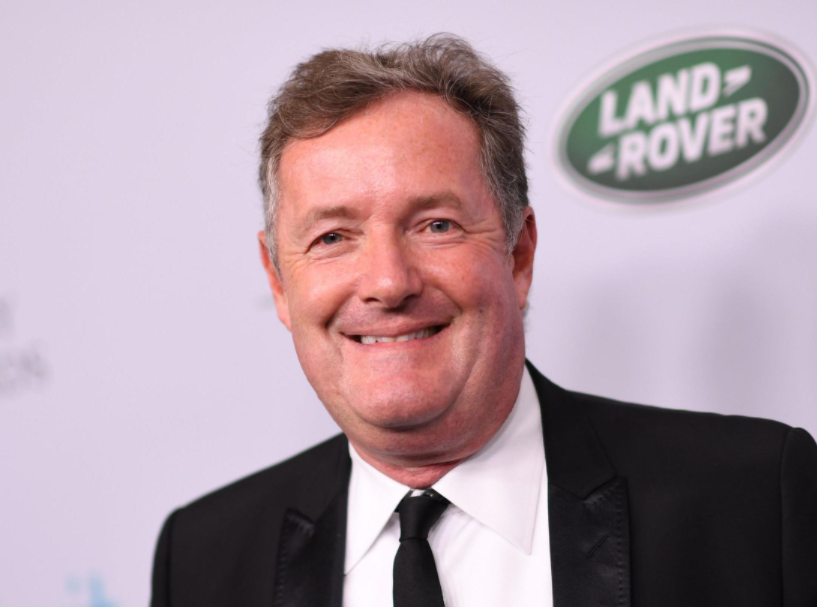 Source: @independent.co.uk
Early Life of Piers Morgan

Piers Morgan opened his eyes for the first time on 30th March 1965 with the real name or full name of Piers Stefan O'Meara in Surrey, England. He holds a British nationality and mixed ethnicity. He has Irish ancestry on his father's side and Irish, Scottish, English, and 1/16th Portuguese ancestry on his mother's side. Analogously, he is from the Roman Catholicism religion. Aries is his star sign and white is his race. He celebrates his birthday on 30th March of every year and he has celebrated his 55th birthday as of 2020. His father Vincent Eamonn O'Meara was a dentist who passed away when he was 11 months whereas his mother Gabrielle Georgina Sybille nee Oliver's profession is unknown. He has an older brother Jeremy Pughe-Morgan who is a Director Army Institutional Advisory Team at Resolute Support, Bath, UK / Served the British Army for nearly 33 years. Additionally, Piers studied at the independent Cumnor House preparatory school from the age of 11 to 13 followed by Chailey Comprehensive Secondary School in East Sussex where he developed an interest in English language, literature, and history. He also attended and graduated from Lewes Priory Sixth-Form College. He got an offer for admission to "Warwick University" for a Bachelor's Degree in History on the condition to re-take A-level French that he had failed and decided to take the year off and worked for 9 months in the insurance sector at Lloyd's of London. But, he quit that job due to boredom.
Career of Piers Morgan

Piers Morgan commenced his journalism career as a writer and editor for several tabloid papers in Fleet Street. In 1988, he started to work as a freelance at "The Sun", but he was personally recruited by "Sun" editor Kelvin MacKenzie to work on the newspaper's show business column "Bizarre", his first high-profile post.
After then, he became editor of the "News of the World" in January 1994 and become 29 the youngest national newspaper editor in more than half a century but left this post in 1995 shortly after publishing photographs of Catherine Victoria Lockwood, which was reported to have contributed to Morgan's decision to leave for the "Daily Mirror" editorship.
He has also written a book, "The Insider" which states that he left the "News of the World" for the "Mirror" of his own choice.
He was the subject of an investigation in 2000 after Suzy Jagger wrote an article for "The Daily Telegraph" revealing that he had bought 20,000 pounds worth of shares in the computer company Viglen soon before the Mirror's "City Slickers" column tipped Viglen as a good buy and was also found by the Press Complaints Commission to have breached the Code of Conduct on financial journalism, but kept his job.
He was sacked as editor of the "Daily Mirror" with immediate effect on 14th May 2004 in the wake of the Abu Ghraib torture scandal.
He also gained ownership in May 2005 of "Press Gazette" in partnership with Matthew Freud in a deal worth 1 million pounds. "Press Gazette" entered administrative receivership toward the end of 2006, before being sold to a trade buyer.
On 4th May 2006, he released "First News" where he was editorial director.
He also became the editor-at-large of the "MailOnline" website's US operation in September 2014 and wrote several columns a week.
Furthermore, he presented a three-part television documentary series for the BBC titled "The Importance of Being Famous" (2003) and co-hosted a current affairs interview show on Channel 4 "Morgan and Platell" which was dropped after three series reputedly because of poor viewing figures.
Then, he starred as a judge on the television show "America's Got Talent" throughout 2006 and was chosen by Simon Cowell as a replacement for himself because of the conditions of his "American Idol" contract.
Similarly, he also appeared on "Comic Relief Does The Apprentice" in 2007 as a celebrity contestant as well starred as a judge on "Britain's Got Talent" on ITV.
After that, he signed a two-year "golden handcuffs" deal with ITV in May, reportedly worth 2 million pounds per year in 2008, and continue as a judge on Britain's Got Talent for at least two more series and front a new chat show as a part of the deal.
He kicks off a three-part series, "Piers Morgan On..." in February 2009 as well as began hosting "Piers Morgan's Life Stories" on ITV as the subject of the first episode in 2009.
CNN announced on 8th September 2010 that he would replace Larry King in the network's evening line-up with his show, "Piers Morgan Live", beginning on 17th January 2011.
As well, he guest-hosted five episodes of "Good Morning Britain" on ITV from 133th to 17th April 2015 and starred as a cameo on "Hollyoaks" in October 2018.
Morgan announced in April 2020 that he would be taking a break from his television roles as he awaited a COVID-19 diagnosis. He tested negative for the disease, before returning to his presenting duties.
Moreover,
He was the winner of the U.S. celebrity version of "The Apprentice", in 2008.
In late January 2017, he starred on ITV's "Loose Women" panel show and was challenged to repudiate Trump.
He presented "President Trump - The Piers Morgan Interview" for ITV, which many thought of as "sycophantic" and a "love-in" for Trump in January 2018.
He interviewed Trump again in July 2018 during his official visit to the UK, this time on Air Force One during an internal flight, in a TV special entitled Piers, "The President and Air Force On".
During the COVID-19 pandemic, in April 2020, he wrote a highly critical article of Trump's handling of the crisis in his column for "MailOnline".
Furthermore, he was accused of racism and was hit by 1,095 Ofcom complaints about his comments relating to a Chinese dairy advert on 21st January 2020, in which he said "He's using ching chong ching milk". He also spoke over the advert, saying "ching chang Cho jo". He was accused online of using language which is used to antagonize Chinese people and for mocking the Chinese language.
As a piece of fresh news, Good Morning Britain viewers have been left confused this week as Piers Morgan and Susanna Reid are absent from the show. Last week, Piers said: "We've got half term off, really exciting. I'm going to move from the sofa downstairs to upstairs for my holiday." He added: "The good news is because I know you'll be missing us, we'll be back for the US election week. "We'll be there all week, all five days".
Personal Life of Piers Morgan

Reflecting on Piers Morgan's personal life, he is a married guy. He tied a knot with a hospital ward sister, Marion Shalloe in 1991. The couple had three sons, Albert, Spencer, and Stanley, but they divorced in 2008. Then, he married his second wife, journalist Celia Walden in June 2010 who is the daughter of the former Conservative MP George Walden. The couple gave birth to a daughter, Elise, her first child, and Morgan's fourth. They are having a blissful life sharing lots of love and they are very less likely to get a divorce. He is basically is leading a blissful family life and therefore it's far less likely for him to divorce his partner for any reason. He's strictly kept his personal and professional life separate. Furthermore, talking about his sexual orientation, he is straight.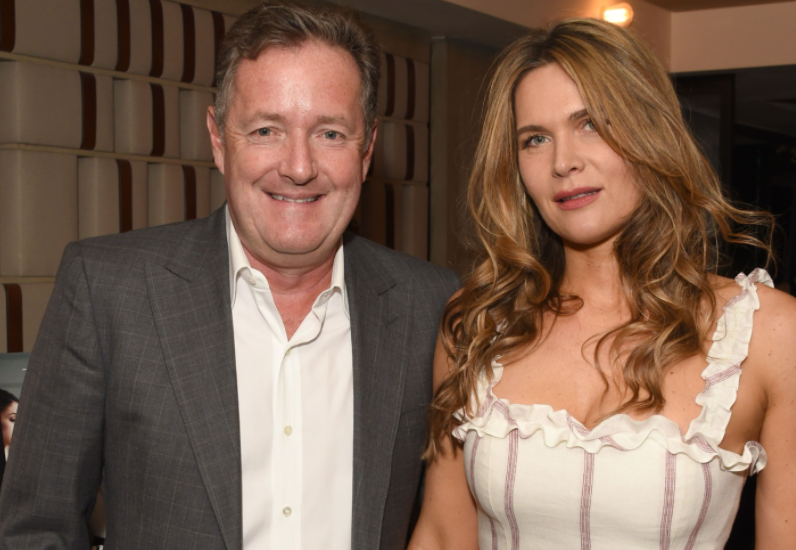 Source: @uk.finance.yahoo.com
Net Worth of Piers Morgan

Piers Morgan has established himself an identity already and also superbly ambitious and continues to work even harder to reach his set objectives. He has accomplished heights in his career that normally takes an individual a lifetime to achieve. Moving towards his net worth, his worth is around $20 Million as of 2020 though he has also a handsome amount of salary too which 1.1million pounds per year. He's living an Australian dream. He has the access to all the world's luxury and comfort. He couldn't have been more thankful to God for what he's blessed with. At the age of 55, he is one of the talked about and demanded journalist of the time. Furthermore, his main source of income is from journalism and TV personality career. He is sincere in his work. But, he is doing all the hard works in order to build a secure financial status for himself and his family.
Body Measurement of Piers Morgan

Piers Morgan has unarguably accomplished a decent height career-wise. He's got unconventional good looks and raw appeal about him. Reasons for his amazing personality could be his roots. Morgan has a tall height of 6 ft 1 in or 185.5 cm though his body weight is around 97 kg or 214 lbs and body build type is average. His usual exercise schedule has guided him to be in a marvelous body posture with appropriate body measurements. He has a fair complexion with blue eyes and light brown hair which has attracted a lot of people towards him. Furthermore, the journalist is very casual about getting his daily exercise and usually follows a sedentary routine.