About Quinn Cook; Basketball Player
"Quinn Cook" is an American professional basketball player who plays in the ''National Basketball Association'' (NBA). Currently, Cook is playing for the ''Los Angeles Lakers'' as their point guard. He has played for other teams like Canton Charge and Dallas Mavericks, New Orleans Pelicans, and Golden State / Santa Cruz Warriors. Quinn had played college basketball for Duke University and was one of the top-rated basketball recruits in the class of 2011. In 2015, he helped lead the team to an NCAA Championship in his senior season. Cook had signed his first NBA contract with the ''New Orleans Pelicans''. He had won an NBA Championship with the Golden State Warriors in 2018. Before becoming a professional basketballer, Quinn was a star at high school basketball powerhouse Oak Hill Academy, where he gained 19.1 points and 10.9 assists per game in his senior year and was named a ''McDonald's All-American''. In the recent news, he says the Lakers will need everyone on their roster to win in Orlando. Scroll down to know more information regarding his full biography including his personal life, net worth, family details, stats, career, awards, contract, injury, trade, age, facts, and more.
Famous For
For being a professional basketball player.
For winning an NBA championship with the Golden State Warriors (2018).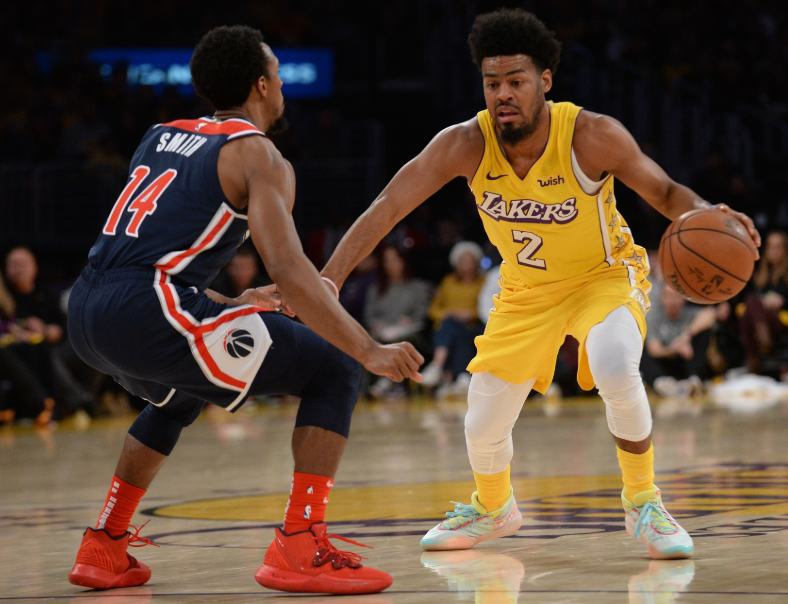 Source: @lebronwire.usatoday.com
Early life of Quinn Cook
Son of ''Ted Cook'' (father) and ''Janet Cook'' (mother), Quinn Cook was born on 23rd March 1993. Birthplace of Cook is Washington, D.C. And full name or his born name is ''Quinn Alexander Cook''. As per his nationality, Quinn is an American. He belongs to a black ethnic group. Zodiac sign of Quinn is Aries. Cook grew up along with his sibling, ''Kesley Cook''. His late father (2008) (Ted Cook) was a noted entrepreneur in the restaurant and fast food business, and a philanthropist too. Cook's parents are educated at Howard University. He is educated from Oak Hill Academy in Hyattsville, Maryland where he played for his high school basketball team. He had celebrated his 27th birthday until now.
Basketball Career of Quinn Cook
Quinn Alexander Cook jumps off his high school career at ''DeMatha Catholic High School'' in Hyattsville, Maryland where he played his freshman, sophomore, and junior, seasons there.
Cook's career at his high school, the Stags had an 85-18 record and finished as the number one ranked team in the state of Maryland during his junior season.
He announced that he would be transferring to Oak Hill Academy in Mouth of Wilson, Virginia during the summer prior to his senior season.
He was named the Washington Post All-Met Player of the Year for becoming the first junior in 30 years to receive the award as well as the only junior to be named 2010 All-Met first team in his junior season.
He was named to the Washington Post 2009 All-Met third team, the only sophomore to be listed among the 09 All-Met teams too.
Following his senior season at Oak Hill Academy, he was named a Second Team All-American by MaxPreps.
In 4th November 2010, he signed his letter of intent to play basketball at Duke because of Coach K, and his announcement was broadcast live on ESPNU.
He was ranked the 38th player by ESPNU, the 38th player by Rivals.com, and the 37th player by Scout.com while coming out of high school.
In 2011, Quinn was a part of a five-player recruiting class for Duke in which Duke's class was the second best-recruiting class in the entire country according to ESPNU.
He was forced to sit out all four exhibition games due to a lingering knee injury that he suffered during the summer before his freshman year although Duke traveled to China and Dubai during the summer prior to his freshman season.
On 14th October 2011, Quinn's debut with the Blue Devils at Duke's annual Countdown to Craziness, Cook scored 7 points and passed for 2 assists in his first game as a Blue Devil.
On 19th December 2011, his career-high during his freshman season was 14 points, which came against ''UNC Greensboro''.
He decided to go to the NBA draft in 2015 but unfortunately, he went undrafted and eventually joined Oklahoma City Thunder to play in the Orlando Summer League and also Las Vegas Summer League for the Cleveland Cavaliers.
Cook was named in the East All-Star team for the 2016 NBA D-League All-Star Game as a replacement for the injured DeAndre Liggins on 5th February 2016.
He joined the NBA D-League Select Team for the 2016 NBA Summer League in July 2016, whereas on 24th September 2016, he signed with the New Orleans Pelicans but was waived on 22nd October after appearing in three preseason games.
Cook was named the MVP of the 2017 D-League All-Star Game at the Mercedes-Benz Superdome after recording an 18-point, 12-assist double-double on 18th February 2017.
On 26th February 2017, he signed ten days agreement with Dallas Mavericks.
Quinn made his NBA debut the following day in a win of 96-89 over the Miami Heat, recording two points, two rebounds, and two assists in 17 minutes off the bench.
Cook had his best game as a Maverick, scoring 10 points in a 122-111 win over the Los Angeles Lakers on 7th March 2017.
On 19th Mach 2017, he signed a 10-day contract with the New Orleans Pelicans and he went to sign a second 10-day contract on 29th March and a rest of the season contract on 8th April.
Cook was waived by the Pelicans on 25th July 2017.
In 13th October 2017, he was signed by the Atlanta Hawks for training camp and was waived as one of the team's final preseason roster cuts.
Cook signed a two-way contract with the Golden State Warriors on 17th October 2017 and was recalled to the team on 13th November 2017.
On 6th December 2017, he got his first NBA start against the Charlotte Hornets and scored eight points with three assists and three rebounds in 22 minutes.
He scored a then career-high 25 points with three assists, three steals, and four rebounds in a 93-98 loss to the Sacramento Kings on 16th March 2018.
On 17th March 2018, he set another career-high 28 points in scoring along with four assists and four rebounds in a 124-109 win over the Phoenix Suns.
He made a debut in 14th April 2018, he made his debut in NBA playoffs, coming off from bench with five points, two assists, four rebounds plus a block in a 113-92 blowout win over the San Antonio Spurs.
The Warriors extended Cook with a qualifying offer, making him a restricted free agent in 28th June 2019, but rescinded the qualifying offer on 3rd July.
He signed with the Los Angeles Lakers on 6th July 2019.
In the recent news, he says the Lakers will need everyone on their roster to win in Orlando.
In the last season, he was the backup point guard on a champion-contending Golden State Warriors team, with averages of 6.9 points in 14.3 minutes per game.
And this season with the Los Angeles Lakers, he has averaged a career-low 10.8 minutes per game and has appeared in just 38 of the 62 games he's been available for.
In an interview with Mike Trudell of Lakers.com, he talked about the team-first mentality the Lakers' locker room has bought into this season, and why it's been so easy for them to buy into it: And everybody has helped this year in some form, and we're definitely going to need that in Orlando. We really can go one through 15 (on the roster). That's what makes this team so special. Everybody is all into winning. We have the superstars, we have guys who have won that understand the team concept. We have a team where a guy can go 1 for 8 (shooting) but if the team wins, everybody is happy. Our coaches find ways to build us up and make us feel important, and so do our leaders.
He might not play a ton of minutes in the postseason or in the final eight games of the regular season, but he's still a valuable piece of the roster because of his experience on the NBA's biggest stage-a stage he was on just last year. Anything he provides beyond just being a "glue guy" is a plus at this point.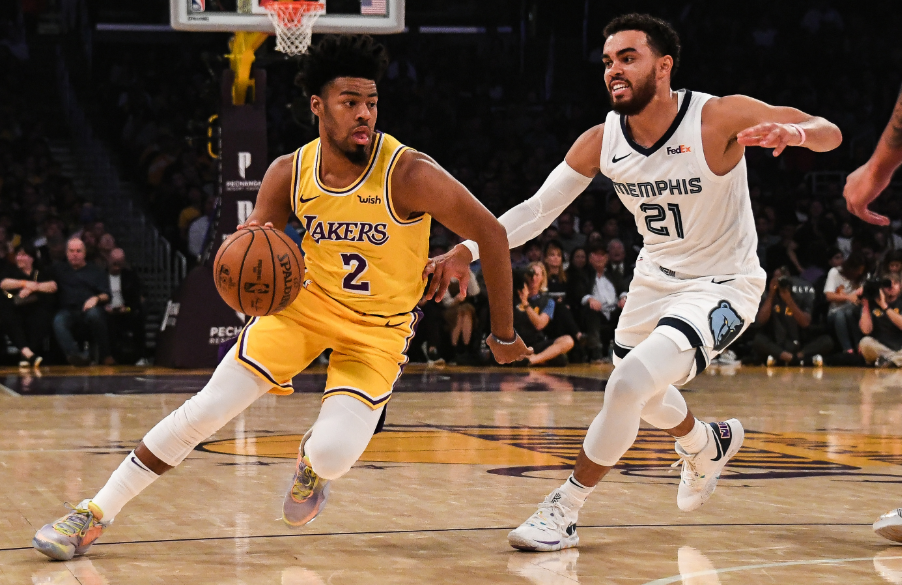 Source: @hoopshype.com
National Team Career of Cook
On 28th May 2009, he was named to the 2009-10 USA Basketball Men's Developmental National Team.
Quinn was a member of the 2009 USA U16 National Team that posted a 5-0 mark, captured the 2009 FIBA Americas U16 Championship gold medal and qualified the U.S. for the ''2010 FIBA Under-17 World Championship''.
Cook was also a member of the 2010 USA U17 World Championship Team.
He was named to the 2011 USA Basketball Junior National Select Team which competed against a World Select Team in the annual ''Nike Hoop Summit'' on 16th January 2011.
Awards and Achievements gained by Quinn Cook
NBA champion (2018)

NBA D-League All-Star Game MVP (2017)
NBA D-League Rookie of the Year (2016)
2 times First-team All-NBA G-League (2017, 2018)
Third team All-NBA D-League (2016)
NBA D-League All-Rookie Team (2016)
2 times NBA G-League All-Star (2016, 2017)
NCAA champion (2015)
Second-team All-American SN (2015)
Second-team All-ACC (2015)
Third-team All-ACC (2013)
McDonald's All-American (2011)
Personal Life of Quinn Cook
Talking about his personal life he is currently in a relationship with Daffini Evans. Evans is a fitness model by profession. Other than being a famous NBA point guard, Cook is pretty famous in social media. About his sexual orientation, he is straight. Their relationship status is good until now. They are enjoying their daily life happily. Wish it will be in the future too.
Net Worth of Quinn Cook
As of 2019, professional basketballer Cook's net worth is estimated at around $1 million-$5 million USD and as of 2020 his net worth is unknown but it will be surely in millions. From 2019-2020, he earned a base salary of $3,000,000, while carrying a cap hit of $3,000,000 and a dead cap value of $3,000,000. He is satisfied with his salary and enjoying it. His source of income is from a basketball game.
Body Measurement of Quinn Cook
The height of Quinn Cook is 6 ft and 1inch or 1.8 m. His listed weight is about 82 kg or 180 pounds. Talking more about his body measures like chest size, biceps size, and many others are under review. Quinn Cook is healthy, fit, and fine up to the date.