About Saweetie; Rapper and Girlfriend of Quavo
Diamonte Quiava Valentin Harper well-recognized as Saweetie is an American rapper who came to limelight after the release of her debut single, "Icy Grl". She was 14 years old when she started writing music. She released her debut extended play, "High Maintenance", on 16th March 2018. Her second EP "Icy" was released in March 2019, and spawned the hit single "My Type." She also appeared on Nick Cannon Presents: Wild 'N Out as a guest performer, performed single, "My Type" which aired on VH1 on 28th January 2020. Saweetie was born on 2nd July 1993 in Santa Clara, California, the USA. Her nationality is American and her ethnicity is Mixed. Her religion is Christian and her race is Black. She is of African-American descent on her father's side and has Filipino-Chinese roots on her mother/mom's side. Her horoscope sign is Cancer. As of 2020, she celebrated her 27th birthday. Her birth name/real name is Diamonte Quiava Valentin Harper. She was born to her parents and was raised with her younger sister, Maya, and Milan. She is the cousin of actress Gabrielle Union. Her grandfather, Willie Harper, played football for the San Francisco 49ers. She is a fan of the Sacramento Kings basketball team. As of her education, she studied at Monterey Trail High School located in Elk Grove, California, and then got enrolled at the San Diego State University. However, she later got transferred to the University of Southern California and studied Communications and Business. After graduating, she began to focus on her rap career. Scroll more to know about her full biography including her career start, albums, songs, net worth, personal life, dating, boyfriend, university, family details, age, wiki, facts, birthday, and more.
Quavo and Saweetie's Couple LOVE
Quavo and Saweetie are two of the most iced-out rappers in the game, but once they found each other, their cold hearts couldn't help but melt. "He's always been fine to me," Sweetie told. "In a group chat [with friends], I would screenshot his picture and be like, 'Damn, this nigga is fine'". The de facto leader and production savant of the multiplatinum, Grammy-nominated rap trio Migos-first started dating is a story that began the way many modern young romances tend to. Which is to say, it started over the Gram. "I seen her on my Explore page," remembers Quavo, who joins us to pick at a burger and fries. "I was like, 'Damn! Who is this?' So I did my research and I DM her. I was like, 'How she going to call herself icy and she don't talk to me?' " "So I slid in her DM," he adds. "I told her, 'You an icy girl, you need a glacier boy.' " Flirting over direct messages turned into hours on the phone. This went on for months. It was 2018. Saweetie was just starting to take off after "ICY GRL" and Migos were busy promoting their album Culture II when Quavo took a shot and invited her to a kickback in Los Angeles-which turned out to be a rowdy backyard function that, she says, "looked like [the video to Tupac's] 'I Get Around.' " When I ask Quavo about their first actual date, he tells me a wild story about a night that sounds more like an episode of Donald Glover's Atlanta. Having persuaded Saweetie to come to his city, Quavo had an entire day planned for them. He brought her to one of his favorite steak houses, Stoney River, where he nearly choked to death on a crab cake. After dinner, Quavo took Saweetie to the headquarters of Quality Control Music to give her a tour of the studio. Quavo is as magnetic a storyteller as he is on record, much to the chagrin of his lady. Especially when he reveals that their chaotic first date concluded with another, more intimate first. "Whaaaaat! Brooooooo! Whaaaaat! I could fight you right now," she yells, leaping onto his lap and shaking his shoulders. We all laugh so loudly that a group of people soaking in the hot tub glance in our direction. "And we ain't look back since," says Quavo, planting her with a kiss.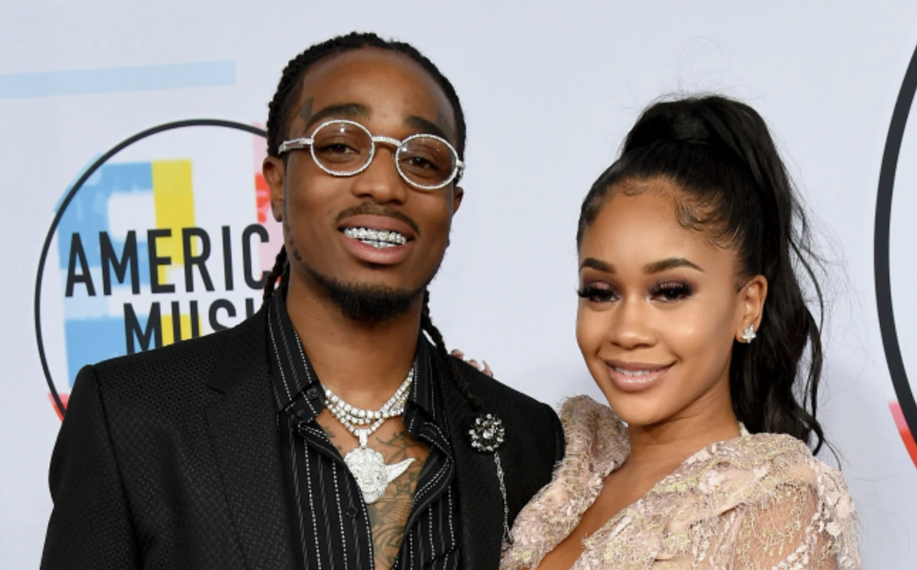 Source: @complex.com
Saweetie's Rap Career
Beginning with short raps on her Instagram account since 2016, she has reached a great height in her career at present.
She got her attention when her one rapping video featured over the beat from Khia's "My Neck, My Back (Lick It)", which would eventually turn into "Icy Grl". The song was even released on her SoundCloud in 2017. The video for the song went viral on the Internet and went on to accrue 100 million views on YouTube as of June 2020.
This brought her to the attention of Max Gousse, a well-known producer and A&R executive, who became her manager.
She also released a freestyle rap called "High Maintenance".
In October 2017, she released a video for her song, "Focus", which samples DRAM's "Gilligan".
She was named Tidal's Artist of the Week and one of Pigeons & Planes' Best New Artists of the Month in January 2018.
She was also featured in an ad for Rihanna's cosmetic company, Fenty Beauty during Super Bowl LII in February 2018.
After that, she signed to Warner Records and her manager Max Gousse's record label Artistry Worldwide.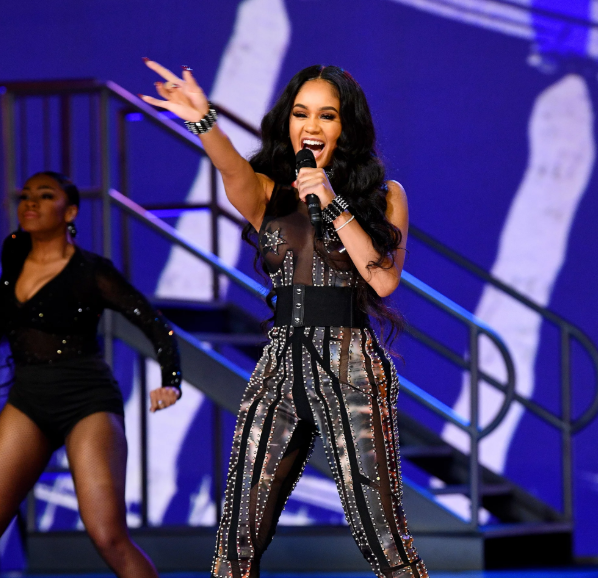 Source: @popsugar.com
On 16th March 2018, she released her major-label debut, "High Maintenance" which is composed of nine tracks and was produced by CashMoneyAP, Nyrell, and Saweetie's cousin, Zaytoven.
Her single, "Icy Grl" was certified Gold in June 2018, for sales of 500,000 in the US and was certified platinum in September 2019.
On 29th March 2019, she released her second major-label EP, "Icy". The EP's first single, "My Type", written by Saweetie and produced by London On Da Track, debuted on the Billboard Hot 100 at number 81. This was her first song to enter the Hot 100.
Moreover, in September 2019, "My Type" hit number 1 on the Rhythm Radio charts, and was certified gold.
She also collaborated with PrettyLittleThing to launch a 59-piece clothing collection, PrettyLittleThing x Saweetie, in September 2019 which debuted during New York Fashion Week.
On 28th January 2020, she appeared on "Nick Cannon Presents: Wild 'N Out" as a guest performer, performed single, "My Type" which aired on VH1.
Saweetie is DATING Quavo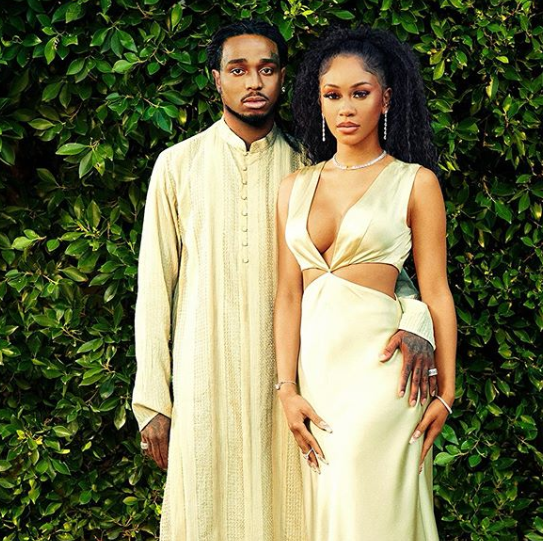 Source: @saweetie
Regarding the marital status of Saweetie, she is not married yet and she is still to get married. At present, she is in a relationship and she is dating Quavo since mid-2018. The duo has been together ever since. They can also often be seen together during several public events. Quavo is a famous rapper by profession. The couple is enjoying their life a lot without any disturbances. Her sexual orientation is straight.
Previously, she dated Justin Combs and Keith Powers.
Saweetie's Net Worth 2020
Saweetie is a famous rapper and with her profession, she surely must have accumulated a huge amount of money. Her major source of earning is from the singing industry which includes sales records, albums, tours, concerts, tickets, and more. As of 2020, the net worth of Saweetie is estimated to have $1 Million - $5 Million. Without a doubt, she is earning a considerable amount of salary from her work. As of now, she is living a cool lifestyle from her earnings. She has done endorsement work for several brands such as Fenty Beauty, PrettyLittleThing, etc.