About Shane Dawson; YouTuber
Shane Lee Yaw famed as Shane Dawson is an American YouTuber, Writer, Comedian, Actor, Director, Musician as well as a media personality. He became popular for being a writer and the subject of the internet series 'Shane Dawson TV'. According to Forbes, he is on #25 in the list of the most famous web celebrity. He was one of the first people to rise to fame on the video-sharing website YouTube and has since maintained an online presence. As of 2018, he has released two New York Times best-selling books, I Hate Myselfie and It Gets Worse, and his three YouTube channels have accumulated over 5 billion views. Shane Dawson was born on 19th July 1988, in Long Beach, California, United States of America. His nationality is American and his ethnicity is North American. He was born to American parents Teresa Yaw, mother, and was raised in the same place where he was born. His birth sign is Cancer and his birth name is Shane Lee Yaw. He has two older brothers, Jacob Yaw (born 1980) and Jerid Yaw (born 1985). He attended Lakewood High School. As of 2019, he celebrated his 31st birthday. Scroll down to know about his full biography including his family details, birthday, wiki, personal life, career, net worth, age, facts, shows, cat, and many more.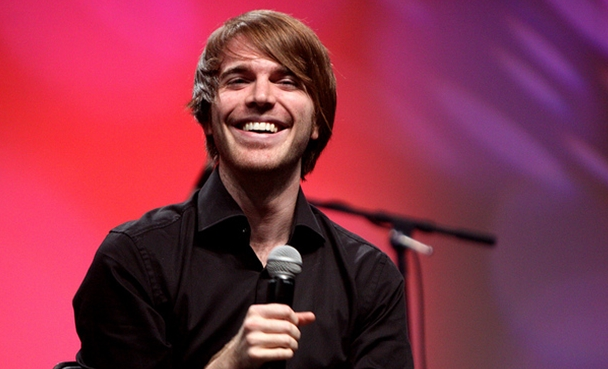 Source: @tubefilter.com
Jaden and Jada Pinkett Smith Call Out Shane Dawson for Sexualizing Willow Smith
Following Shane's recent apology video, he is now under fire by the family of Willow Smith for a resurfaced clip that showed Dawson pretending to masturbate to a poster of the 11-year-old Smith. "To Shane Dawson … I'm done with the excuses," Jada Pinkett Smith, Willow's mother, tweeted. Jaden Smith, Willow's brother, also addressed the video on Twitter. "SHANE DAWSON I AM DISGUSTED BY YOU. YOU SEXUALIZING AN 11-YEAR-OLD GIRL WHO HAPPENS TO BE MY SISTER!!!!!! IS THE FURTHEST THING FROM FUNNY AND NOT OKAY IN THE SLIGHTEST BIT," he tweeted. His apology video, in which the YouTuber expressed regret over using blackface and the n-word, did not address the clip of Smith. Dawson instead claimed he would "never talk about a child in any way that is inappropriate." In the video, Dawson continued, "That is disgusting, that is gross, it is not something I would ever do. It is something I did for shock value or because I thought it was funny or, like 'Oh my god, my child molester character,' or whatever. It's all gross, and I promise that is not real, that is not me." He also claimed that the jokes were a result of past abuse from his childhood. "I took that pain and I turned it into jokes," Dawson said. Dawson has not yet responded to the resurfaced clip or Jaden and Jada Pinkett Smith's tweets.
Career of Shane Dawson

Shane Dawson initiated his career as a YouTuber during the year of 2007 when he was in high school and was very fond of posting videos on YouTube.
He made his YouTube channel, called "ShaneDawsonTV" on 10th March 2008.
Later, his YouTube channel started getting popularity which increased his subscribers to a decent peak value.
In September, he uploaded a video called "Fred is Dead!", which has since received over 25 million views.
He occasionally posts new videos on his channel "ShaneDawsonTV" (mainly short web films, music video parodies, film trailer parodies, and original music) and formerly posted other videos on his second channel "ShaneDawsonTV2", now called "Human Emoji" however the use of this channel has mostly been discontinued as of 2012.
He was featured on Attack of the Show!.
Currently, he has over 7 million subscribers on his YouTube channel which led him to be named the 25th most famous web celebrity by Forbes in 2010.
Apart from his career as an internet sensation, he is the writer and the subject of the internet series 'Shane Dawson TV'.
Also, he was named the Choice Web Star at the 2010 Teen Choice Awards which was followed by his nomination of the 2011 Choice Web Star Teen Choice Award.
In October 2012, a film called Smiley was released to theaters starring Dawson.
He recorded a single titled "F**K Up" on 5th February 2013.
He released a parody of Taylor Swift's song "Blank Space" on YouTube on December 2014.
He announced that he had directed and starred in a comedy film in Pittsburgh on 4th April 2014.
He released a memoir titled I Hate Myselfie: A Collection of Essays in 2015 and he released another memoir entitled It Gets Worse: A Collection of Essays.
In August 2018, he continued the documentary format and covered Internet sensation Jeffree Star in a five-part series called The Secret World of Jeffree Star and also received high amounts of media attention as well as garnering 70 million views in the first two weeks.
He covered Internet sensation Jake Paul in an eight-part series called The Mind of Jake Paul in September 2018.
In 2019, he denied that he sexually assaulted his cat, backtracking on a story he told four years ago. ... "One time, I laid my cat down on her back and then moved her little chicken legs spread open," he said in the podcast. "I came all over the cat."

In January and February 2019, Shane released a two-part series on conspiracy theories called Conspiracy Series with Shane Dawson.
Shane Dawson is ENGAGED to Ryland Adams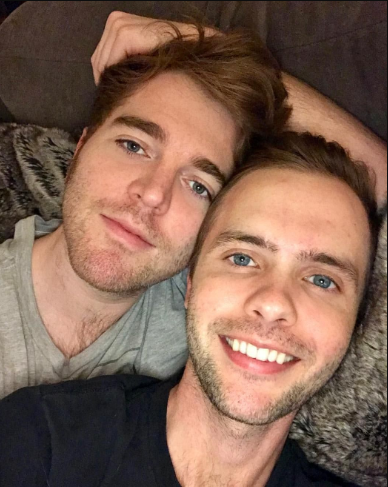 Source: @pinterest.com
Shane Dawson is currently an unmarried person. He is currently believed that he is in an open relationship with Ryland Adams since 2016. Talking about the past relationships of Shane Dawson, it is believed that he dated the beautiful Lisa Schwartz before his love affair with Ryland Adams. Thus, the YouTube Sensation, Shane Dawson is currently dating Ryland and is making love with her at the present time. The couple also got engaged. He is enjoying with his fiance in California. The couple is living a happy life as of today without any disturbances. His sexual orientation is Bisexual. He also has two dogs; Uno and Honey. Moreover, he has a cat named Cheeto.
Shane Dawson's Net Worth 2020
The net worth of this famous YouTuber will be surely in millions as he is one of the famous YouTuber worldwide and he has accumulated a huge fortune from his YouTuber career. He has an estimated net worth of $12 Million as of 2019 but there is no information about his salary. There is no doubt in the mind of his follower that he is earning a considerable amount of salary from his work. He is satisfied with his earnings.