Terry Funk was an iconic American professional wrestler. He was best known for his remarkable career that spanned over half a century, punctuated by several short-lived retirements, and his pioneering influence on hardcore wrestling. Throughout his illustrious career, he clinched prestigious championships, including the ECW World Heavyweight Championship, NWA World Heavyweight Championship, USWA Unified World Heavyweight Championship, WWF World Tag Team Championship, and ECW World Television Championship. Funk has earned inductions into multiple wrestling halls of fame, including WWE, WCW, NWA, and Hardcore. Sadly, he died on 23rd August 2023 at the age of 79.
Terry Funk Family Background
Terry Funk was born on June 30, 1944, in Hammond, Indiana, USA. Terry Funk, whose real name was Terrence Funk, was the son of Dorothy (Culver) and Dory Funk, a professional wrestler and promoter. He held American nationality and identified with American-White ethnicity. After World War II, the family relocated to Amarillo, Texas, where Terry and his brother, known professionally as Dory Jr., grew up in the professional wrestling business.
Regarding his education, Terry Funk pursued higher education at West Texas State University (now West Texas A&M University), where he engaged in amateur wrestling and football.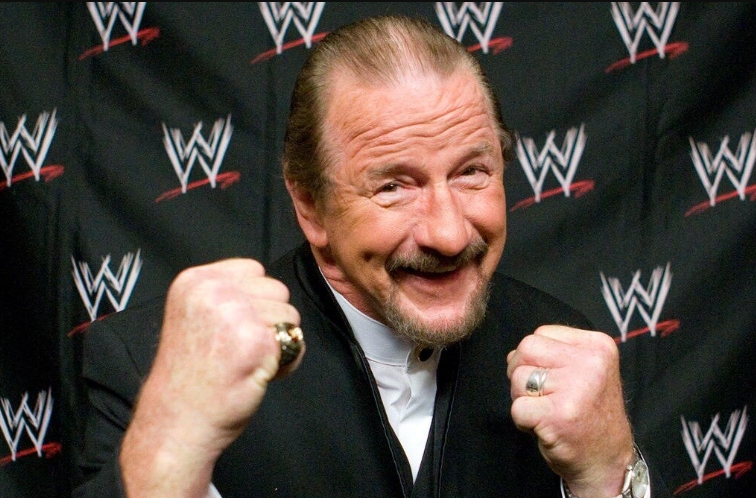 Terry Funk Wrestling Career
In 1965, Terry Funk started his wrestling career in Amarillo, Texas, under his father's promotion, debuting against Sputnik Monroe on December 9.
Alongside his brother Dory Funk Jr., they rapidly ascended the wrestling ranks, challenging esteemed opponents such as Ernie Ladd and Hank James.
In 1975, he became NWA World Heavyweight Champion by beating Jack Brisco in Miami due to Dory's absence.
His 14-month reign included defenses against top names like Dusty Rhodes and Giant Baba, ending dramatically in Toronto when "Handsome" Harley Race defeated him.
In 1981, a memorable feud with Jerry Lawler led to an empty arena match where Funk inadvertently injured himself while trying to harm Lawler's eye, a match aired on April 25, 1981.
Terry and Dory, Jr. made a name for themselves in Japan, where Terry became a star with his over-the-top style, colorful attire, and brawling prowess.
In Japan, they initially played heels until facing The Sheik and Abdullah The Butcher in Tokyo. They also had memorable feuds against Stan Hansen, Bruiser Brody, and Giant Baba.
He joined the World Wrestling Federation (WWF) in 1985, known for his antics like attacking ring announcer Mel Phillips for wearing his cowboy hat and using a branding iron on opponents. He feuded with Junkyard Dog and had title matches against Hulk Hogan.
Funk left WWF in April 1986. He then joined World Championship Wrestling (WCW) in 1989, feuding with Ric Flair and engaging in an "I Quit" match at Clash of the Champions IX.
In 1994, he returned to WCW, becoming part of Colonel Robert Parker's Stud Stable and participating in a War Games match at Fall Brawl.
In 1994, he ventured into Japan to compete in the renowned King of the Death Match Tournament, ultimately falling to Cactus Jack in a brutal finale.
He then embraced the hardcore wrestling style, finding his niche in Eastern Championship Wrestling (later ECW), engaging in memorable feuds with the likes of Cactus Jack, Shane Douglas, The Sandman, Sabu, and Tommy Dreamer.
His crowning moment came when he headlined ECW's inaugural pay-per-view, Barely Legal, capturing the ECW World Heavyweight Championship from Raven.
Following this, he embarked on a brief stint in the WWF as "Chainsaw Charlie," securing the WWF Tag Team Championship alongside Mick Foley at WrestleMania XIV, before returning as himself.
Funk also briefly partnered with 2 Cold Scorpio and Justin Bradshaw. In 1998, he had a short-lived feud with Tommy Dreamer in ECW and temporarily retired in 1999.
Funk later resurfaced in WCW in 2000 and 2001, claiming the WCW Hardcore Championship thrice and the WCW United States Heavyweight Championship for the second time.
He additionally took on the role of WCW Commissioner and led the Old Age Outlaws stable in a feud against the nWo faction.
From 2002 to 2004, he became a prominent figure in Ring of Honor Wrestling and Major League Wrestling, engaging in fierce battles with CM Punk and the Extreme Horsemen in matches like No Ropes Barbed Wire Death Match and a 5 on 5 WarGames match.
In 2004, he participated in FWA's British Uprising event in the UK, where he and his team secured victory in a 6-Man Tag Team match.
Funk was offered a spot at WWE's ECW reunion show One Night Stand in 2005 but opted for ECW nostalgia show Hardcore Homecoming.
In 2006, he briefly returned to WWE and was inducted into the WWE Hall of Fame in 2009.
He also made appearances in TNA in 2004 and 2009. He later rejoined the independent circuit, including Japan, and semi-retired in 2006 but continued sporadic wrestling until his official retirement in 2017.
Media Career
Terry Funk made appearances in various movies, including "Road House" in 1989, "Paradise Alley," "The Ringer," and "Over the Top."
He was featured in the wrestling documentary "Beyond the Mat" in 1999, showcasing his legendary toughness.
Funk also choreographed the street fight scene in the movie "Rocky V."
Additionally, he dabbled in music with the release of the album "Great Texan" in 1984.
In 2022, Funk released a biographical comic book titled "Terry Funk" through Squared Circle Comics.
His multifaceted career extended to WWE video games, where he appeared in titles like WWE SmackDown vs Raw 2008, WWE SmackDown vs Raw 2011, and WWE '13, portraying himself and his Chainsaw Charlie gimmick.
Terry Funk Death
In June 2021, wrestling legend Terry Funk was diagnosed with dementia and resided in an assisted living facility, as reported by Don Muraco. However, there was a glimmer of hope when, on December 29, 2021, Ric Flair shared on his podcast that Funk had returned home and was on the road to recovery. Tragically, on August 23, 2023, at the age of 79, Funk passed away at a hospital in the Phoenix area. Two days later, the August 25, 2023 episode of SmackDown paid tribute to both Funk and Bray Wyatt, who had also recently passed away, through touching tributes and exclusive behind-the-scenes footage. The episode also featured a hardcore tag team match named in honor of Funk between The Brawling Brutes and the Street Profits, celebrating the wrestling icon's enduring legacy.

Terry Funk Net Worth
Terry Funk, a highly successful wrestler, boasted an estimated net worth of $2 million as of 2023, primarily amassed through his illustrious wrestling career. With an annual income exceeding $500,000, Funk was one of the wrestling industry's foremost talents, enjoying one of the longest and most storied careers spanning over 50 years.
Terry initiated his professional wrestling journey in 1965 and ventured across various prestigious platforms, often signing contracts as a free agent. Some of his notable wrestling contracts included stints with Western States Sports (1965-1979), All Japan Pro, World Wrestling Federation, and World Championship Wrestling. His financial success enabled him to lead a comfortable and cool lifestyle.
Terry Funk Wife
Terry Funk was a married man who wed his wife, Vicky Ann, on August 14, 1965. They shared a life together, raising two daughters named Stacy and Brandee. The couple also owned a ranch in Canyon, Texas, for several years before eventually selling it. Tragically, Vicky passed away on March 29, 2019, a loss confirmed by Ted DiBiase on Twitter. Terry Funk's sexual orientation was straight.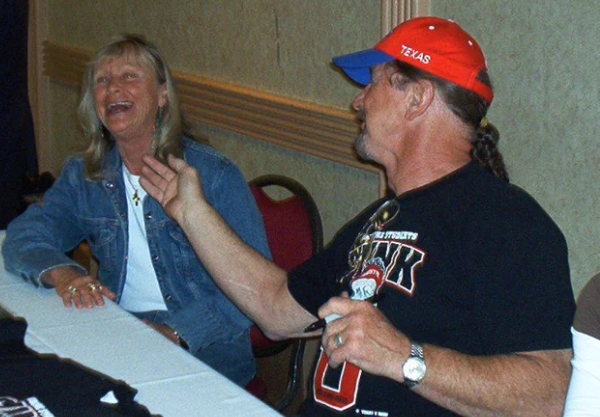 Terry Funk Surgery
Terry Funk was a renowned and charismatic wrestler known for his rugged appearance. Standing at 1.85 meters tall and weighing 112 kilograms, he possessed a formidable physique that contributed to his wrestling prowess. He had striking black eyes and a head of black hair, which added to his distinctive and memorable look inside the wrestling ring.
In the documentary film Beyond the Mat, Funk is told by a doctor he needs a knee replacement. Years later, he had the operation. On September 12, 2016, Funk underwent surgery for an inguinal hernia, and was supposed to be resting and in bed for a couple of weeks, but chose to attend Tommy Dreamer's House of Hardcore shows.