About Timothy Olyphant
Timothy Olyphant is a successful American actor with a diverse career spanning theater, film, and television. He made his debut theatrical film appearance as Brett Artounian in "The First Wives Club" in 1996. As a voice actor, he made his theatrical film debut as The Spirit of the West in the hit animated film "Rango" in 2011. He made his first TV show appearance as Scooby in "Mr. & Mrs. Smith" in 1996. He gained recognition for his villainous supporting roles in movies like "Scream 2", "Go", "A Man Apart", "Gone in 60 Seconds", and "The Girl Next Door". However, it was his portrayal of Sheriff Seth Bullock in HBO's "Deadwood" that brought him widespread acclaim and a dedicated following. He continued to impress as Deputy U.S. Marshal Raylan Givens in FX's "Justified", earning an Emmy nomination for his performance. Olyphant's talent and charisma also shined in films like "Catch and Release", "Hitman", "A Perfect Getaway", "The Crazies", and "Once Upon a Time in Hollywood". He showcased his comedic skills in guest appearances on sitcoms and won a Critics' Choice Award for his role in "The Grinder". He demonstrated his versatility with his leading role in the Netflix comedy series "Santa Clarita Diet". In 2020, he made notable appearances in "The Good Place", "Curb Your Enthusiasm", and "Fargo", and he further delighted fans as Cobb Vanth in "The Mandalorian" and its spinoff series, "The Book of Boba Fett".
Timothy Olyphant Early Life & Family
Timothy Olyphant was born on 20th May 1968 in Honolulu, Hawaii, but relocated to Modesto, California, at the age of two. Timothy David Olyphant is his birth name. As of 2023, he celebrated his 55th birthday and belongs to the zodiac sign Taurus. Embracing Christianity, he is the son of Katherine (née Gideon) and John Vernon Bevan Olyphant, with his father serving as the vice president of production at Gallo Winery. He has two siblings: an older brother named Andrew and a younger brother named Matthew. Timothy's parents divorced during his teenage years, and both went on to remarry. Proudly American by nationality, he has a mixed ethnicity, with English, German, Scottish, Dutch, Irish, and one-eighth Russian-Jewish ancestry. Fascinatingly, Timothy is a descendant of the renowned Vanderbilt family of New York, with ancestors including family patriarch Cornelius Vanderbilt, William Henry Vanderbilt, who expanded the family's railroad fortune, and socialite Emily Vanderbilt Sloane. Additionally, his great-uncle was the music producer John Hammond. The surname "Olyphant" originates from Scotland, where his paternal fourth great-grandfather, Dr. David Olyphant, was born and served as the director-general of Southern hospitals during the American Revolutionary War. Moreover, his third great-grandfather, David Olyphant, and great-great-grandfather, Robert Morrison Olyphant, both held prominent positions in the business world.
During his education, he attended Fred C. Beyer High School in Modesto. Although he initially felt "embarrassed" by the idea of acting, he had a passion for art and drawing. Throughout his childhood, he pursued competitive swimming and achieved recognition as a finalist in the 200m Individual Medley at the 1986 Nationals. His talent caught the attention of USC Trojans swimming coach Peter Daland, who recruited him to the University of Southern California. While Timothy aspired to study architecture, he realized it was incompatible with his rigorous training schedule, leading him to pursue a Bachelor of Fine Arts instead. However, he left the university one elective short of the degree and only completed it 30 years later during the COVID-19 pandemic through an online course. In 1990, contemplating a career in commercial art, he decided to explore other opportunities and moved to New York, where he briefly ventured into stand-up comedy. Eventually, he wholeheartedly chose to become an actor after finding joy in an acting class he took during his final year of college at UC Irvine. He honed his skills by completing a two-year acting program at William Esper Studio in New York and began auditioning for roles, marking the beginning of his successful acting career.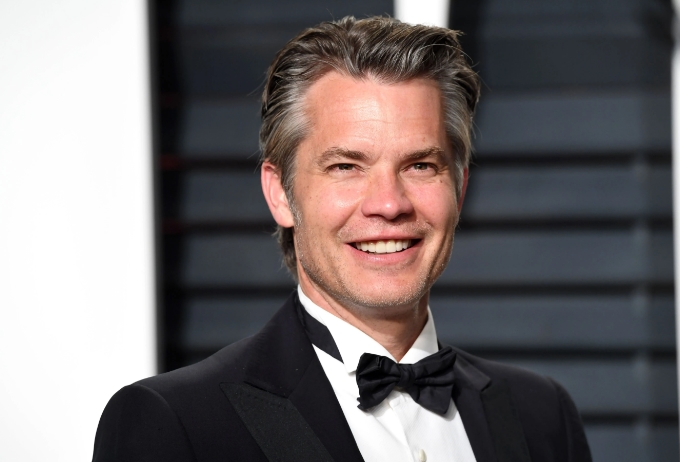 Timothy Olyphant Acting Career
Timothy Olyphant's acting journey began with his first paid acting job in a 1995 WB television pilot based on "77 Sunset Strip". Cast by Phyllis Huffman for the role, he missed the opportunity to meet the show's producer, Clint Eastwood, who left the project just before filming began.
Later that year, he made his Off-Broadway debut in Playwrights Horizons' production of "The Monogamist" and received the Theatre World Award for Outstanding Debut Performance.
He also showcased his talent in the world premiere of "The SantaLand Diaries" at the Atlantic Theater Company in 1996, earning praise for his charming portrayal.
The same year marked his feature film debut in "The First Wives Club" and his television debut in the pilot of the CBS spy series "Mr. & Mrs. Smith".
He continued to make guest appearances in various shows like "High Incident" and "Sex and the City".
In 1997, he garnered attention for his role as one of the killers in the successful horror film "Scream 2".
His versatility shone through in films like "A Life Less Ordinary, Ellen Foster", and "Go".
While he was set to star in the fantasy film "Practical Magic", he was replaced before filming began.
After his notable performance in "Go", he was offered a leading role in the romantic comedy "The Broken Hearts Club" (2000), which he successfully portrayed as a charismatic gay friend living in West Hollywood. The Village Voice praised his leading performance, while the San Francisco Chronicle had mixed views.
He later played a detective in the action film "Gone in 60 Seconds" (2000) and declined the role of Dominic Toretto in "The Fast and the Furious", which went on to become a massive success with multiple sequels.
Despite missing out on some roles earlier in his career, he continued to impress with supporting roles in various films, such as "Rock Star", "Auggie Rose", and "Head Over Heels" (all 2001).
In 2002, he starred in the independent drama "Coastlines", where his commanding presence was applauded.
In 2003, he showcased his versatility in the action film "A Man Apart" and the horror film "Dreamcatcher", receiving accolades for his performances.
The comedy "The Girl Next Door" (2004) brought him widespread praise, with critics commending his inventive and magnetic portrayal of the character Kelly.
He gained broader recognition when he portrayed Sheriff Seth Bullock in HBO's acclaimed western series "Deadwood", which aired from 2004 to 2006.
In the years that followed, he took on various roles, including those in the romantic comedy "Catch" and Release" and action films like "Live Free or Die Hard" and "Hitman".
He continued to impress audiences with his performances, including in the independent heist comedy "High Life" and the thriller "A Perfect Getaway".
In 2009, he appeared in 11 episodes of the FX legal thriller "Damages", as a morally ambiguous love interest for Rose Byrne's character.
He also appeared in the independent comedy "Elektra Luxx" (2010) and in the horror film "The Crazies" (2010).
Olyphant's defining role in his career came as Deputy U.S. Marshal Raylan Givens in FX's modern-day western series, "Justified". His portrayal earned him critical acclaim and an Emmy nomination, although the show was often perceived as "snubbed" by award voters.
The character of Raylan Givens was created by novelist Elmore Leonard, appearing in his short story "Fire in the Hole" (2001) and the novels Pronto (1993) and Riding the Rap (1995).
He also served as a co-executive producer on "Justified", working with Graham Yost and the writing team on some of the show's storylines and coming to the set on his days off to work with guest stars. He made occasional guest appearances on comedy television shows during Justified's six-season run.
He played a paper salesman in two episodes of the NBC comedy "The Office" (2010).
In 2012, he played a character billed as White Sushi Chef in an episode of the FX sitcom "The League" (2012) and voiced a character in an episode of the FX animated series "Archer".
In 2013, he appeared as a love interest on the Fox comedy "The Mindy Project."
In the animated film "Rango" (2011), he voiced the Spirit of the West. In the same year, he voiced a character called Sergeant First Class "Grinch" in the video game, Call of Duty: Modern Warfare 3.
In 2013, he appeared as Jeff Garlin's father in the independent comedy "Dealin' with Idiots".
He took part in a one-off LACMA Live Read of the black comedy "Raising Arizona" (1987); he played Nicolas Cage's character while Amy Poehler played Holly Hunter's character.
He starred with Tina Fey in the ensemble comedy-drama "This Is Where I Leave You" in 2014.
He showcased his versatility and received critical acclaim for his recurring guest role as a fictionalized version of himself in the Fox comedy series, "The Grinder" (2015-2016).
In early 2016, he impressed audiences with his portrayal of self-absorbed country singer and actor, Strings McCrane, in Kenneth Lonergan's comedy "Hold On to Me Darling" at the off-Broadway Atlantic Theater Company.
He also appeared in the ensemble romantic comedy "Mother's Day" and portrayed a CIA agent in Oliver Stone's "Snowden."
In 2017, he starred in the Netflix horror-comedy "Santa Clarita Diet", serving as an executive producer for the series, which was well-received and continued for three seasons.
He reprised his iconic role as Sheriff Seth Bullock in the long-awaited film continuation of Deadwood, titled "Deadwood: The Movie", which premiered in 2019 on HBO.
He showcased his voice acting skills in "Missing Link" and was part of the ensemble cast in Quentin Tarantino's "Once Upon a Time in Hollywood".
He continued to impress with his role as Cobb Vanth in the Disney+ series "The Mandalorian" and its spinoff, "The Book of Boba Fett", in 2020 and 2022, respectively.
He will return to the role of Raylan Givens in the 2023 miniseries "Justified: City Primeval".
Timothy Olyphant Awards and Achievements
1996 Theatre World Award for Outstanding Debut Performance for "The Monogamist" - Won
2000 Young Hollywood Award for Best Bad Boy for "Go" - Won
2011 Satellite Award for Best Actor in a Series, Drama for "Justified" - Won
2016 Critics' Choice Television Award for Best Guest Actor/Actress in a Comedy Series for "The Grinder" - Won
Timothy Olyphant Net Worth
Timothy Olyphant is a successful actor with a notable presence in films and TV series. His journey in the film industry began with the movie "The First Wives Club" in 1996. As of 2023, he has amassed an impressive net worth of $22 million, with an annual income of over $2 million. His primary source of wealth stems from his successful career in the entertainment industry, where he has garnered acclaim for his performances. Additionally, he boosts his earnings through appearances at events and brand promotions. Notably, he has been associated with brands like Cingular Wireless, lending his charisma to endorsement work. He is living a lavish lifestyle at present and he is satisfied with his earnings.
Timothy Olyphant Wife & Children
Timothy Olyphant has been happily married to his wife, Alexis Knief, since July 1991. The couple first met at the University of Southern California in 1990. Together, they have been blessed with three children. Their eldest is a daughter named Grace Katherine, born in 1999, followed by a son named Henry, born in 2001, and a younger daughter named Vivian, born in 2003. The family resides in the picturesque neighborhood of Westwood in Los Angeles, enjoying their life together. He is straight when it comes to his sexual orientation.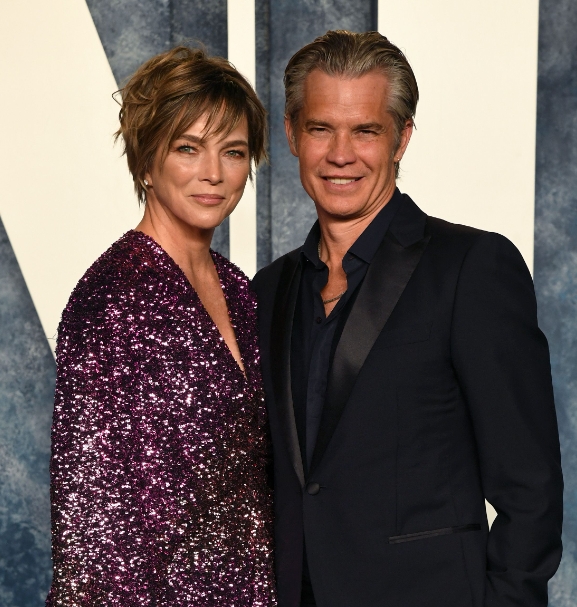 Everything To Know About Vivian Olyphant
Timothy Olyphant Height & Weight
Timothy Olyphant is a handsome actor with an athletic build standing tall at 6 ft or 183 cm and weighing 80 kg or 176 lbs. His salt and pepper hair and hazel eyes add to his charismatic appeal, while his distinctive features, including thin lips and a perfect jawline, set him apart. One striking feature is a mole just below his left eye, which adds a touch of uniqueness to his appearance. Timothy's dedication to fitness can be traced back to his teenage years when he was a professional swimmer, leading him to develop a lean and muscular physique. Throughout his career, he has maintained a perfectly toned and conditioned body. He has got a healthy body and he is very conscious about his food intake.