Thomas Jeffrey Hanks famed as Tom Hanks is a famous actor as well as a filmmaker who is famous for his role in films such as Splash (1984), Big (1988), Turner & Hooch (1989), A League of Their Own (1992), Sleepless in Seattle (1993), Forrest Gump (1994), Apollo 13 (1995), You've Got Mail (1998), The Green Mile (1999), Cast Away (2000), Road to Perdition (2002), Cloud Atlas (2012), Captain Phillips (2013), Saving Mr. Banks (2013), Sully (2016) and A Beautiful Day in the Neighborhood (2019). Moreover, he has voiced in the Toy Story film series. His films have grossed more than $4.9 billion at U.S. and Canadian box offices and more than $9.96 billion worldwide. Overall, he is a very talented and award-winning actor. Recently, Tom Hanks discovers he's related to Fred Rogers. It turns out, Tom Hanks may have family ties to his latest film, "A Beautiful Day in the Neighborhood." Before a special screening of the film in New York, Access discovered that the 63-year-old actor and television host Fred Rogers, who Hanks plays in the film, is reportedly related. "No, impossible," Hanks' wife Rita Wilson quickly said. "No, you're pulling our leg." Access displayed a chart showing Hanks' family history, revealing that he and Rogers shared a relative names Johannes Meffort, born in 1732. Hanks recently opened up about how the role has made its way into his personal life, even helping with his marriage to Wilson, 63.
Tom Hanks coronavirus: Actor and wife Rita Wilson test positive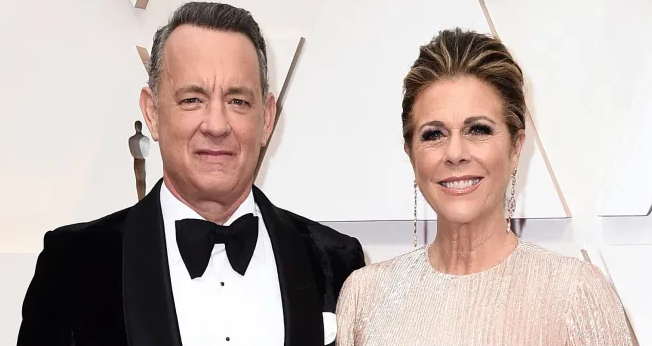 Source: @deadline.com
Oscar-winning actor Tom Hanks has revealed that he and wife Rita Wilson have tested positive for the new coronavirus in Australia. Hanks and Wilson, both 63, sought medical advice after experiencing the symptoms of a cold in Queensland, the actor wrote on Instagram. The couple was on the Gold Coast as Hanks made a film about Elvis Presley.
Tom Hanks: Bio, Early Life, Birthday, Birth Name, Parents, Education
On 9th July 1956, Tom Hanks was born as Thomas Jeffrey Hanks. His birthplace is in Concord, California, the USA. He is the son of Janet Marylyn, a hospital worker, and Amos Mefford Hanks, a traveling cook. His mother died in 2016. His parents divorced in 1960. He has also three elder siblings and a younger brother. His nationality is American and he is of mixed ethnicity; English, Cornish, German, and Portuguese ethnicity. He is Christian by religion. Discussing his education, he attended Skyline High School in Oakland, California. After that, he studied theater at Chabot College in Hayward, California. Later, he transferred to California State University, Sacramento. He later dropped out of college to focus on acting. Time Magazine named him one of the 'Top 10 College Dropouts'. As of 2019, he celebrated his 63rd birthday with his friends.
Tom Hanks: Height, Weight, Body Stats
Tom Hanks is a very handsome actor. Being at the age of sixty-three, he still looks very young. He has got a very charming smile attracting a lot of ladies towards him. He stands at the tall height of six feet with a balanced bodyweight of 78 kg. He has brown hair and blue eyes. His shoe size is 11. His other body measurements have not been revealed yet but it will be added soon once we get details about it. He maintains his body a lot to keep himself young and healthy. Overall, he has got a healthy body.
Tom Hanks: Career (Beginning-Present)
From the time, when Tom was in college, he started his acting career.
In the year 1978, he played Proteus in Shakespeare's The Two Gentlemen of Verona which earned him the Cleveland Critics Circle Award for Best Actor for his role in the play.
In the year 1979, he moved to New York City and he made his film debut in the low-budget film He Knows You're Alone (1980).
After that, he made his role in the television movie Mazes and Monsters.
In 1984, he had a sizable hit with the sex comedy Bachelor Party.
He made three guest appearances on Family Ties during 1983-1984.
1989's Turner & Hooch was Hanks' only financially successful film of the period.
He climbed back to the top again with his portrayal of a washed-up baseball legend turned manager in A League of Their Own (1992).
In Philadelphia, he played a gay lawyer with AIDS who sues his firm for discrimination.
He made his next role in the 1995 film Apollo 13.
The movie also earned nine Academy Award nominations, winning two.
He starred in Disney/Pixar's CGI-animated hit film Toy Story.
He then made his directing debut with his 1996 film That Thing You Do!
He also produced, co-wrote, and co-directed the HBO docudrama From the Earth to the Moon.
He starred in an adaptation of the Stephen King novel The Green Mile in 1999.
He also returned as the voice of Woody in Toy Story 2, the sequel to Toy Story.
In the year 2001, he helped direct and produce the Emmy-Award-winning HBO miniseries Band of Brothers.
He also appeared in the September 11 television special America: A Tribute to Heroes and the documentary Rescued From the Closet.
He collaborated once again with director Spielberg, starring opposite Leonardo DiCaprio in the hit biographical crime drama Catch Me If You Can.
He also had roles in the films The Terminal (2004), The Ladykillers, The Polar Express, The Da Vinci Code, The War, The Simpsons Movie, Starter for Ten, Charlie Wilson's War, Angels & Demons, The Great Buck Howard (2008), Where The Wild Things Are, The Pacific, Larry Crowne, Extremely Loud and Incredibly Close, Cloud Atlas, Captain Phillips and Bridge of Spies (2015).
He reprised his voice role of Woody in Toy Story 3 in 2010.
He voiced the character Cleveland Carr for a web series he created titled Electric City in 2012.
He then starred as Alan Clay in the comedy-drama A Hologram for the King.
starred as airline captain Chesley Sullenberger in Clint Eastwood's Sully (2016).
He next reprised his role as Robert Langdon in Inferno (2016) and The Circle (2017).
He voiced David S. Pumpkins in The David S. Pumpkins Animated Halloween Special.
He reprised his voice role as Sheriff Woody in Pixar's Toy Story 4, which was released on June 21, 2019.
He portrayed Fred Rogers in Marielle Heller's biographical film A Beautiful Day in the Neighborhood which will be released on November 22, 2019, by Sony Pictures.
He will star as Commander Ernest Krause in Greyhound in 2020 and he will star in News of the World in 2020.
Tom Hanks: Awards And Achievements
Tom Hanks is an award-winning actor. He has won a Golden Globe Award and an Academy Award for Best Actor for his role in Philadelphia. For his role in Forrest Gump, he won a Golden Globe, an Academy Award, a Screen Actors Guild Award, and a People's Choice Award. In 2004, he received the Stanley Kubrick Britannia Award for Excellence in Film from the British Academy of Film and Television Arts (BAFTA). In 2014, he received a Kennedy Center Honor. After that, he received a Presidential Medal of Freedom from President Barack Obama in 2016.
Tom Hanks: Net Worth, Salary, Source Of Earnings
Tom Hanks is one of the recognizable faces from the world of acting. The net worth of this famous actor is estimated to have $390 Million as of May 2014. He is sincere towards his work. He is a professional and he never takes his work for granted. He is satisfied with whatever he is receiving. He has accumulated a fair amount of wealth over the years. He has managed to amass a fortune worth million dollars through his several highest-grossing films and series and endorsement deals. With all the fortune in a million dollars, he must be living a lavish and luxurious lifestyle. He has achieved great heights in his career life. His exact salary has not been revealed yet as of now but it will be added soon.
Tom Hanks: Marital Status, Wife, Children's
Tom Hanks is a married person. He has been married twice in his life. He married his first wife, Samantha Lewes on 24th January 1978. Samantha Lewes is an actress. They together had two children named Colin Hanks and Elizabeth Hanks. Later, in the year 1987, Tom and Samantha divorced. Samantha Lewes died on 12th March 2002.
After that, he married his second wife on 30th April 1988, with actress Rita Wilson. The couple together has two sons named Chester Marlon Hanks and Truman Theodore. The dup has been married for over 29 years now and their relationship is going very well without any disturbances. Both are living a happily married life. They both respect and supports each other very well. His sexual orientation is straight and he is not gay.