About Tom Seaver
George Thomas Seaver professionally named Tom Seaver was an American former baseball pitcher. His media nickname referred to the cartoon character Tom Terrific. He played 20 seasons in Major League Baseball (MLB) for New York Mets, Cincinnati Reds, Chicago White Sox, and Boston Red Sox from the year 1967 to 1986. During the 1969 World Series, he played a vital role in their victory. Not only this but also he had won the National League's (NL) Rookie of the Year Award in 1967, and won three NL Cy Young Awards as the league's best pitcher. Moreover, he was inducted into the National Baseball Hall of Fame by the highest percentage of votes ever recorded at the time in the year 1992. He was also inducted into the New York Mets Hall of Fame, the Marine Corps Sports Hall of Fame, and the Cincinnati Reds Hall of Fame. He was also ranked 32nd on The Sporting News' list of the 100 Greatest Baseball Players in the year 1999 who became the only player to have spent the majority of his career with the Mets to make the list. He was chosen as the "Hometown Hero" for the Mets franchise by ESPN in 2006. In 2019, the Mets renamed the street outside of Citi Field stadium to 41 Seaver Way in his honor. His #41 jersey was the third number ever retired by the Mets. On 31st August 2020, he died in his sleep in the early hours, as a result of complications of Lewy body dementia and COVID-19.
Baseball pitcher Tom Seaver, USC's first member of the National Baseball Hall of Fame, died on 31st August 2020 (Monday) in Calistoga, California. His cause of death/death cause was due to complications from Lewy body dementia and COVID-19. He was 75 years old at the time of his death. He was survived by his wife, Nancy, and daughters Sarah and Anne. He was a three-time Cy Young Award winner and 12-time all-star. "We are heartbroken to share that our beloved husband and father has passed away," said his wife, Nancy Seaver, and daughters Sarah and Anne, according to the Hall of Fame website. "We send our love out to his fans, as we mourn his loss with you." He was elected to the Hall of Fame in 1992 when he was named on 98.8% of ballots cast.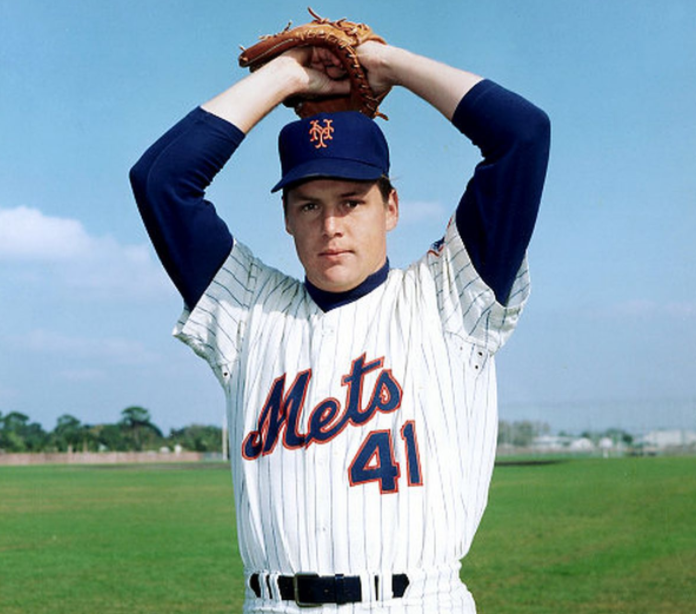 Source: @nydailynews
Tom Seaver is famous for being a former baseball player and a broadcaster who worked for the Mets the New York Yankees, and with Vin Scully in 1989 for NBC, and more. He is best known for his "drop and drive" overhand delivery, powered by his legs and trunk with his knee sinking to the ground.
On 17th November 1944, Tom Seaver was born in Fresno, California. His birth name/real name was George Thomas Seaver. He held American nationality and he was American-White by ethnicity. His race was White. Scorpio was his Zodiac sign and he was Christian by religion. He was born to his parents; Betty Lee (mother) and Charles Henry Seaver (father). As per his education, he attended Fresno High School and was a pitcher for the school's baseball team. He also joined the United States Marine Corps Reserve on 28th June 1962. Later, he enrolled at Fresno City College. The University of Southern California (USC) recruited him to play college baseball for the USC Trojans. As a sophomore, he posted a 10-2 record, and he was drafted in the 10th round of the 1965 Major League Baseball draft by the Los Angeles Dodgers. When he asked for $70,000, however, the Dodgers passed. After that, he signed a professional contract with the Atlanta Braves in the year 1966, who had drafted him in the first round of the secondary January draft (20th overall). But the contract was voided by Baseball Commissioner William Eckert because his college team had played two exhibition games that year (although Seaver himself hadn't played). Later, the Mets awarded his signing rights in a lottery drawing among the three teams (the Philadelphia Phillies and Cleveland Indians being the two others). He lastly celebrated his 75th birthday.
Tom Seaver was a very charming person with an attractive personality. His tall height was 1.85 m and his balanced weight was 93 Kg. His body build was average and he maintained his body a lot. Whereas his other body details are unavailable at the moment. He had a lot of injuries during his baseball career. In the year 2013, it was reported that he suffered from memory loss-not even remembering long term acquaintances; "sleep disorder, nausea, and a general overall feeling of chemical imbalance." On 7th March 2019, his family announced that he was suffering from Alzheimer's dementia and retiring from public life.
Tom Seaver's Baseball Career
Beginning the professional baseball career with Jacksonville Suns in the year 1996, Tom Seaver was 12-12 with a 3.13 ERA pitching in Class AAA.
Playing for one season with Jacksonville, he made his move to New York Mets. It was in the year 1997.
He became successful to be named to the 1967 All-Star Game and got the save by pitching a scoreless 15th inning.
He was 16-13 for the last-place Mets, with 18 complete games, 170 strikeouts, and a 2.76 earned run average in his rookie season and was also named the 1967 National League Rookie of the Year.
In the 1968 season, he won 16 games again during that season and recorded over 200 strikeouts for the first of nine consecutive seasons.
He also won a league-high 25 games and his first National League Cy Young Award in the 1969 season and also finished runner-up to Willie McCovey for the League's Most Valuable Player Award.
He threw ​8 1⁄3 perfect innings against the division-leading Chicago Cubs in New York's Shea Stadium.
After that, he outlasted Atlanta's Phil Niekro in the first game a 9-5 victory during the 1969 National League Championship Series.
In the 1969 World Series, he was the starter for Game One but lost a 4-1 decision to the Baltimore Orioles' Mike Cuellar and in Game Four, he pitched a 10-inning complete game for a 2-1 win and subsequently won the series.
In addition to his 10 consecutive strikeouts, he tied Steve Carlton's major league record, at the time, with 19 strikeouts in a nine-inning game.
His record was 17-6 by mid-August. But he only won one of his last ten starts, including four on short rest, to finish 18-12. Nonetheless, Seaver led the National League in both earned run average (2.82) and strikeouts (283).
He led the league in earned run average (1.76) and strikeouts (289 in 286 innings) while going 20-10 in the 1971 season where he finished second in the Cy Young balloting to Ferguson Jenkins of the Chicago Cubs. He then won two more Cy Young Awards (1973 and 1975, both with the Mets).
Additionally, he had four more 20-win seasons (20 in 1971, 21 in 1972, 22 in 1975, and 21 in 1977).
He also led the National League in strikeouts five times, finishing second in 1972 and third in 1974.
As a free agent, he asked McDonald to immediately trade him and was traded to the Cincinnati Reds at the trading deadline, 15th June 1977 for pitcher Pat Zachry, minor league outfielder Steve Henderson, infielder Doug Flynn, and minor league outfielder Dan Norman.
He then began playing for Cincinnati Reds where he went 14-3 with the team. He also successfully won 21 games including an emotional 5-1 win over the Mets in his return to Shea Stadium.
He also received a lengthy ovation at the 1977 All-Star Game, which was held in New York's Yankee Stadium.
After that, he led Cincinnati to win the Western Division, and again in the strike-shortened 1981 season, when the Reds had the best record in the major leagues.
He recorded his 3,000th strikeout against Keith Hernandez of the St. Louis Cardinals in 1981.
During the 1982 season, he suffered an injury finishing 5-13.
He was 75-46 with a 3.18 ERA and 42 complete games in 158 starts in six seasons with the Reds.
After that, he was traded back to his former team, the Mets on 16th December 1982.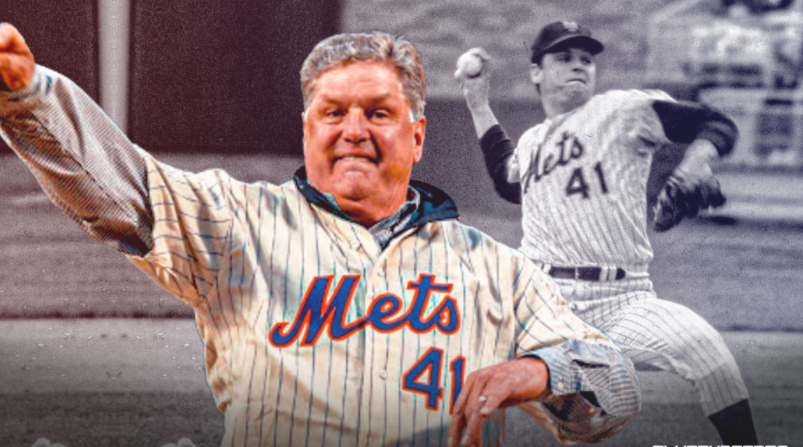 Source: @clutchpoints
He tied Walter Johnson's major league record of 14 Opening Day starts, shutting out the Philadelphia Phillies for six innings in a 2-0 Mets win on 5th April 1983 and had 9-14 records in the 1983 season.
In the 1994 season, his contract was made with the worth $750,000.
He was 198-124 with a 2.57 ERA in 3,045 innings with 171 complete games in 12 seasons, winning three Cy Young awards, the 1969 World Series, and the 1967 NL Rookie of the Year Award.
Later, he was acquired by Chicago White Sox on 20th January 1984 in a free-agent compensation draft.
He then pitched two and a half seasons in Chicago and recorded his last shutout on 19th July 1985.
He also recorded his 300th victory at Yankee Stadium against the Yankees, throwing a complete game 4-1 victory on 4th August 1985.
He had 33-28 with a 3.67 ERA and 17 complete games in 81 appearances in three seasons with the team.
After that, he was traded to the Boston Red Sox and his 311th and final win came on 18th August 1986, against the Minnesota Twins.
Due to knee injury, he missed many games.
His 1986 salary was $1 million; the Red Sox offered $500,000, which he declined and he was granted free agent on 12th November 1986.
He then joined with Mets in 1987 and hit hard in an exhibition game against the Triple-A Tidewater Tides on June 11.
After that, he retired from his baseball career. The Mets retired Seaver's uniform number 41 in 1988 in a Tom Seaver Day ceremony, making him the franchise's first player to be so honored.
Tom Seaver's Broadcasting career
After his retirement, he became a television color commentator, working variously for the Mets, the New York Yankees, and Vin Scully in 1989 for NBC.
Not only this but also he replaced Joe Garagiola as NBC's lead baseball color commentator, which led to him calling the 1989 All-Star Game and National League Championship Series.
He worked as an analyst for Yankees' telecasts on WPIX from 1989 to 1993 and for Mets telecasts on WPIX from 1999 to 2005.
Awards and Life Achievements of Tom Seaver
12× All-Star (1967-1973, 1975-1978, 1981)
World Series champion (1969)
3× NL Cy Young Award (1969, 1973, 1975)
NL Rookie of the Year (1967)
3× NL wins leader (1969, 1975, 1981)
3× NL ERA leader (1970, 1971, 1973)
5× NL strikeout leader (1970, 1971, 1973, 1975, 1976)
Pitched a no-hitter on June 16, 1978
New York Mets No. 41 retired
New York Mets Hall of Fame
Cincinnati Reds Hall of Fame
MLB Stats of Tom Seaver
Win-loss record

311-205
Earned run average

2.86
Strikeouts

3,640
Who was Tom Seaver married to?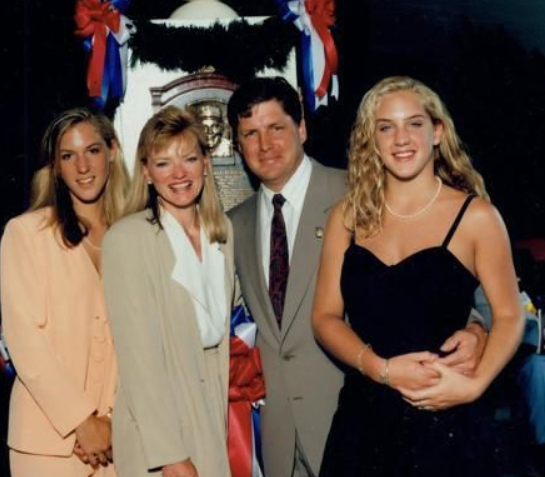 Source: @pinterest
Tom Seaver was a married man. He was married to his pretty wife, Nancy Lynn McIntyre. The duo got married on 9th June 1966. They were married for a record of 54 years. The couple met when they were children, they started dating until they were in college; eventually, Tom proposed in Florida while he was playing with a minor league team. The duo is also blessed with two kids/children, their first daughter Sara E. Seaver now Sara Zaske was born on September 16, 1972; their second daughter Anne Elizabeth Seaver now Anne Buckle was born on October 29, 1975. They lived in their home where they ran Seaver Vineyards in Calistoga, California. They lived in Calistoga, California, where he started his own 3.5-acre (14,000 m2) vineyard, Seaver Family Vineyards, on his 116-acre (0.47 km2) estate in the year 2002. His first vintage was produced in the year 2005. He has also presented his two cabernets, "Nancy's Fancy" and "GTS", at an April 2010 wine-tasting event in SoHo, to positive reviews. Prior to his death, the duo was enjoying their life happily without any disturbances.
Tom Seaver's Net Worth 2020
Tom Seaver is a former Major League Baseball player. After retiring from baseball career, he began his career as a broadcast. As of 2020, his net worth is estimated to have $10 Million. Whereas his exact salary details are unavailable at present. Only it is known that he was receiving a salary of $1 Million as of 1996. He had made a huge amount of money from his baseball career. His major source of income was from his baseball career and from a broadcasting career. He was living a luxurious and happy life before his death.