About Susan Rice
Susan Rice is a former public official and foreign policy analyst. Moreover, she is also a democratic policy advisor who has served as the 27th United States ambassador to the United Nations from 2009 to 2013 and as the 24th United States national security advisor from 2013 to 2017. She said that her parents taught her to "never use race as an excuse or advantage," and as a young girl she "dreamed of becoming the first U.S. senator from the District of Columbia." Starting her career by serving on President Bill Clinton's National Security Council staff from 1993 to 1997 and being the assistant secretary of state for African Affairs at the State Department from 1997 to 2001; she became the youngest person in U.S. history to serve as an Assistant Secretary of State. She has even defended Israel at the Security Council, pushed for tough sanctions against Iran and North Korea, and advocated for U.S. and NATO intervention in Libya in 2011. She was on the shortlist to become Joe Biden's vice-presidential running mate as of 2020 but Kamala Harris was announced as Biden's running mate on 11th August 2020.
Susan Rice is a top contender to be Joe Biden's running mate. Even if she is not chosen as the vice-presidential nominee, she is likely to be a key player if he wins. She is on the shortlist of candidates to become the Democratic vice-presidential nominee. If she is not chosen as vice-president and Mr. Biden wins the election, she could potentially become secretary of state. While working for Mr. Obama, Ms. Rice became a lightning rod for controversy. After US outposts in Benghazi, Libya, were attacked in September 2012, she spoke about the melee on television, describing the attacks as "spontaneous violence" rather than as assaults that had been organized by militant groups. Choosing to not run could work in her favor as she might now be the first black woman to run for vice president on a major party ticket. If she and Mr. Biden were to win against the Trump/Pence ticket, Ms. Rice would become the first woman and first person of color to hold the position of vice president, with the opportunity to propel her political career for years to come.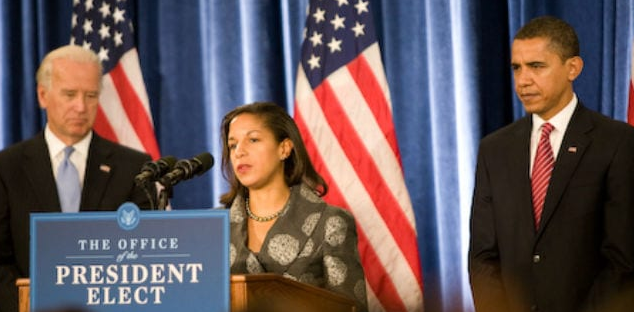 Source: @breakingisraelnews
Susan Rice is famous for being an American diplomat, academic, Democratic policy advisor, and former public official. She is best known for being an Assistant Secretary of State for African Affairs during President Bill Clinton's second term as well as being the board of directors at Netflix.
Susan Rice was born with the birth name/real name of Susan Elizabeth Rice on 17th November 1964. Her birthplace/hometown is in Washington, D.C., the USA. She holds the American nationality and she belongs to African-American ethnicity. She is of Jamaican descent. Her race is black. Her religion is Christianity and Scorpio is her zodiac sign. As of 2019, she celebrated her 55th birthday. She was born to her parents; Emmett J. Rice (father), a Cornell University economics professor and the second black governor of the Federal Reserve System, and Lois Rice (mother), education policy scholar. Her parents divorced when she was only ten. In 1978, her mother married Alfred Bradley Fitt, an attorney, who at the time was general counsel of the U. S. Congressional Budget Office. Talking about her siblings, she has a brother named John. She said that her parents taught her to "never use race as an excuse or advantage," and as a young girl she "dreamed of becoming the first U.S. senator from the District of Columbia." Regarding her educational qualification, she went to National Cathedral School where she served as student council president and valedictorian. She earned a BA degree in History from Stanford University in 1986. She completed her MA and Ph.D. in international relations from New College at Oxford University in 1988 and 1990. Her doctoral dissertation was entitled Commonwealth Initiative in Zimbabwe, 1979-1980: Implications for International Peacekeeping. Chatham House, the Royal Institute of International Affairs, honored her dissertation as the UK's most distinguished in international relations.
Susan Rice is a gorgeous woman with a charismatic nature. She stands at a tall height of 5 ft 4 in. She has a balanced weight of 65 Kg matching with her height. As of now, she has got a healthy body. She maintains her body a lot and she is very conscious regarding her health.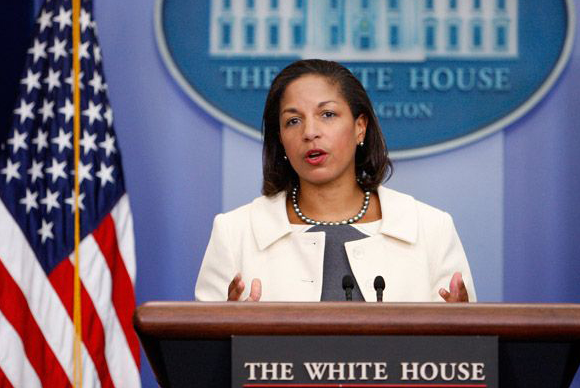 Source: @news.stanford.edu
Susan Rice's Political Career
Prior to her full-time career in politics, Susan Rice served as a foreign policy aide to Michael Dukakis.
It was during the 1988 presidential election.
Moreover, Susan was also a management consultant at McKinsey & Company, a global management consulting firm.
She then worked in McKinsey's Toronto office from the year 1990 for two years.
After that, she began serving in the Clinton administration in various capacities: at the National Security Council (NSC) from 1993 till 1997; as special assistant to the president and senior director for African affairs from 1995 till 1997; and as Assistant Secretary of State for African Affairs from 1997 till 2001.
Later, the allegations against her were determined to be unfounded by the Joint Congressional Inquiry into 9/11 and the 9/11 Commission, which found no evidence that Sudan ever made an offer to share intelligence on bin Laden.
She was then placed as Assistant Secretary of State for African Affairs in the year 1997.
After a year, she also a member of an American delegation to visit detained Nigerian president-elect Basorun Moshood Kashimawo Olawale Abiola.
She also made her vital role in peace negotiations between Ethiopia and Eritrea during the Eritrean-Ethiopian War, leading to the Algiers Agreement in 2000 ending the conflict for which she was named a co-recipient of the White House's Samuel Nelson Drew Memorial Award for "distinguished contributions to the formation of peaceful, cooperative relationships between nations," alongside Gayle Smith and Anthony Lake.
From the year 2001, she became a managing director and principal at Intellibridge for a year.
Additionally, she was also a senior fellow at the Brookings Institution where served for seven years. There, she focused on U.S. foreign policy, weak and failing states, the implications of global poverty, and transnational threats to security.
She even served as a foreign policy adviser to John Kerry during the 2004 presidential campaign.
She also left Brookings Institution to serve as a senior foreign policy adviser to Barack Obama in his 2008 presidential campaign and she was one of the first high-profile foreign policy staffers to sign onto Obama's campaign, as most of her peers had supported Hillary Clinton during the presidential primaries.
She was named to the advisory board of the Obama-Biden Transition Project on 5th November 2008.
It was announced on 1st December 2008 by Obama that he would nominate her to be the United States ambassador to the United Nations, a position which he restored to cabinet-level but she had wanted the post of National Security Advisor, which instead went to retired the United States Marine Corps general James L. Jones.
Later, she was confirmed by the Senate by voice vote on 22nd January 2009 becoming the second youngest person and the first black woman to represent the U.S. at the UN.
After that, she championed a human rights and anti-poverty agenda, elevated climate change and women's rights as global priorities, and committed the U.S. to agreements such as the Nuclear Non-Proliferation Treaty, Convention on the Rights of Persons with Disabilities, and the U.N. Millennium Development Goals. Rice led the fight to advance LGBT rights at the U.N. Human Rights Council.
Meanwhile, she won praise for leading the Security Council to impose the toughest sanctions to date on Iran and North Korea over their nuclear programs, and for reaffirming U.S. commitment to the UN and multilateralism.
She has also given strong statements during the Libyan Civil War, the Syrian Civil War, 2012 Benghazi attack.
On 13th December 2012, in a letter to President Obama, she asked him to remove her name from consideration for Secretary of State.
After being removed her name, she was picked to succeed Tom Donilon as National Security Advisor following Donilon's resignation on 5th June 2013.
She was sworn in as the 24th National Security Advisor on 1st July 2013.
In releasing the 2015 National Security Strategy, Rice said that the United States was pursuing an "ambitious yet achievable agenda" overseas.
On a visit to Pakistan in 2015, she warned Pakistani political and military leaders that attacks in Afghanistan by militants based in Pakistan threatened regional security.
She joined American University as a distinguished visiting research fellow in the School of International Service (SIS) at the university on 8th March 2017. In her residency, she planned to work on her next book and mentoring young SIS students.
In August 2017, Eli Lake reported in Bloomberg View that Rice's successor as National Security Adviser, H. R. McMaster, "has concluded that Rice did nothing wrong."
On 28th March 2018, she was appointed to the board of directors at "Netflix".
After U.S. Senator Susan Collins from Maine voted in favor of Brett Kavanaugh for the Supreme Court, Rice publicly considered a challenge to Collins in 2020.
On 11th April 2018, she announced that she would not seek a Senate run against Susan Collins in 2020.
In July 2020, it was widely reported that she was under consideration to be Joe Biden's vice presidential running mate in the 2020 general election but Kamala Harris was selected as Biden's running mate on 11th August 2020.
Everything To Know About Joe Biden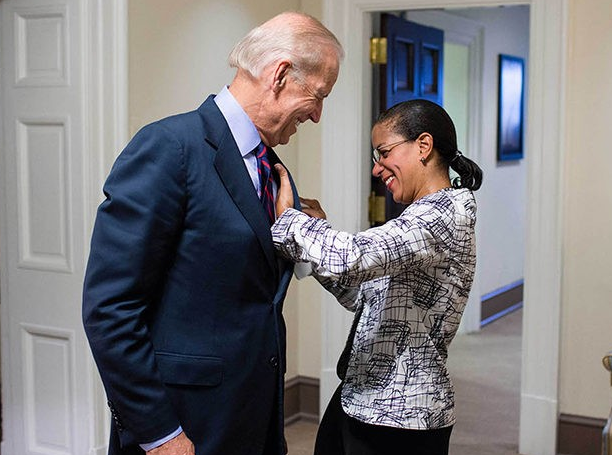 Source: @breitbart
Susan Rice's Awards and Life Achievements
Being a politician, Ѕuѕаn Rісе has reached a great height in her career. Іn 2002, she wаѕ іnduсtеd іntо Ѕtаnfоrd'ѕ Вlасk Аlumnі Наll оf Fаmе. She was presented with the award of Commander of the Legion of Honour of France, by French President François Hollande for her contributions to Franco-American relations as of 2017.
Susan Rice's Books
Rice, Susan Elizabeth. 1990. The Commonwealth Initiative in Zimbabwe, 1979-1980: Implications for International Peacekeeping, doctoral thesis, New College, Oxford University.
Rice, Susan E., Corinne Graff, and Carlos Pascual, editors. 2010. Confronting Poverty: Weak States and U.S. National Security, Brookings Institution Press, Washington, D.C.
Rice, Susan. 2019. Tough Love: My Story of the Things Worth Fighting For, memoir, Simon & Schuster, New York, NY
Susan Rice's Net Worth and Salary 2020
Susan Rice is a diplomat, academic, Democratic policy advisor, and former public official. Being engaged in a political career, she has accumulated a huge amount of money. As of 2020, the net worth of Susan Rice is believed to have $30 million. Whereas she is receiving a basic salary of around $170,000. Her primary source of income is from a political career and she is satisfied with whatever she is receiving as of now. Besides this, she also earns money from the various field as she is a member on the boards of several organizations, including the advisory board of Freeman Spogli Institute for International Studies at Stanford University, the board of directors of the Bureau of National Affairs, Inc. (Bloomberg BNA), and the board of directors of Partnership for Public Service. She is living a lavish lifestyle from her earnings.
Susan Rice's Husband, Ian Officer Cameron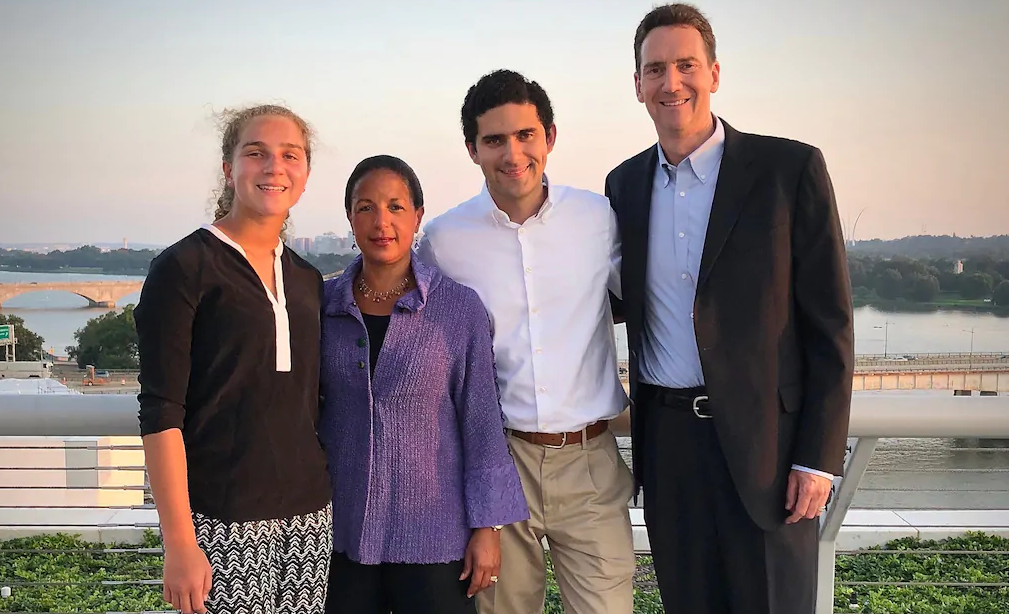 Source: @cbc.ca
Moving towards Susan Rice's marital status, she is a married woman. She is married to her husband Canadian-born ABC News producer, Ian Officer Cameron. Their married date was 12th September 1992, at the St. Albans School chapel. They met each other as students at Stanford. With their marriage, the duo is blessed with two kids/children; son John David Rice-Cameron (known as Jake and president of the Stanford College Republicans or SCR) and daughter Maris. As of today, the couple and their children live in Washington, D.C. There is no sign of divorce between them as their relationship is getting stronger with the passage of time. Talking about her sexual orientation, she is straight. She is fond of playing tennis.