Zac Efron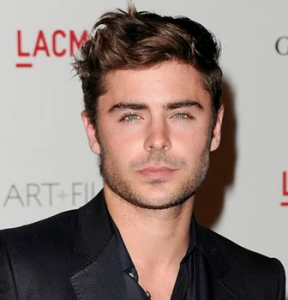 Full Name
Zac Efron
Age
32 Years Old
Nick Name
Zefron
Gender
Male
Famous As
Actor
Birth Date
October 31, 1987
Birth Place
San Luis Obispo, California, U.S
Zac Efron on Ted Bundy
When Zac Efron first heard about a chance to play "Ted Bundy, he was wary". This was a few years before he signed on for the new film about the serial killer, and it involved a different script. "I didn't want to jump in too early to what could have potentially been the wrong version of this movie," he says. "I was very hesitant to go into a darker genre in what could be perceived as an effort to change my perceived image." The script for his new film Extremely Wicked, Shockingly Evil and Vile felt, to him, like the right version: "A movie that could have been procedural and boring now explores a brand-new perspective, and is told through the eyes of Liz, the girl closest to Ted."
Zac Efron is playing Ted Bundy, one of the most violent misogynists in recorded history, who raped, murdered and sometimes decapitated women; at his 1979 trial in Florida, key evidence included a deep bite mark on a woman's buttocks. He was convicted at that trial of two murders and three attempted murders, and later that year was given another death sentence for the killing of 12-year-old Kimberly Leach. Before his execution in 1989, he admitted to murdering 30 women, and it's been suggested that he may have killed as many as 100.
When Is Netflix's Ted Bundy Movie Coming Out?
Netflix bought the rights to the Ted Bundy biopic Extremely Wicked, Shockingly Evil and Vile, reportedly for a whopping $9 million. The trailer that came out earlier this year was also deeply unsettling, with the former heartthrob channeling the remorseless sociopath with absolutely meticulous precision. It's unclear whether Netflix is trying to distance itself from its own Ted Bundy documentary, Conversations with a Killer: The Ted Bundy Tapes. For whatever reason, Netflix hadn't officially set a release date yet (as of 3/29/19), although rumor is it'll get a theatrical run at some point. So in essence, we don't totally know yet.
Famous For:
For his films done in 2006, 2007 and 2008 year after year. This movie was "High School Musical" series. He portrayed the role of Troy Bolton and achieved a number of awards for this movie.
Who has dated Zac Efron?
Zac Efron was previously in a serious relationship with the beautiful American actress Vanessa Hudgens for several years in her past. They began dating in 2005 during the filming of High School Musical. After five years of their relationship, the couple broke up in December 2010.
After Vanessa, he began dating the British actress Lily Collins in 2012. They were together for two years and they broke up in 2013.
He then began a romantic relationship with model and entrepreneur Sami Miro in September 2014. They split in April 2016.
After his breakup with Sami, Zac has not been in any relationship till now and he is single as of today.
From where Zac Efron came?
On 18th October 1987, Zac Efron was born with the nationality of American in San Luis Obispo, California, USA. His ethnicity/race is mixed of Ashkenazi Jewish, English, German, Scottish. His real name is Zachary David Alexander Efron. He is the son of David Efron and Starla Baskett. His father is an electrical engineer at a power station and his mother is a secretary who worked at the same power plant. Talking about his siblings, he has a brother named Dylan. He spent his childhood in a middle-class family. He is Jewish by religion and his horoscope sign is Libra. As of today, his age is 31 but his age will be turning to 32 on his upcoming birthday in October as of 2019. As per his education, he was educated at Arroyo Grande High School. He also attended Pacific Conservatory of the Performing Arts for two years. He was interested in acting from an early age.
How much is Zac Efron's worth?
Zac Efron is a very successful and well-recognized actor in the field of acting. He has accumulated a net worth of 18 million dollars from his acting career which is his major source of earning. But his exact salary is not revealed.
How tall (height) is Zac Efron?
The charming and handsome actor, Zac Efron has a good height of 5 Feet and 8 Inches (1.73 m)and he has a weight of 75 kg. He has light brown hair and his eyes are blue. His chest size is 44 inch, his arms size is 16 and his waist size is 34. His other body measurement will be added quickly.
What makes Zac Efron famous?
Zac Efron began acting career in the early 2000s with a guest role on the television series Firefly, ER, and The Guardian.
In the year 2004, he began appearing as a recurring character in the first season of the WB series "Summerland". Later, he was promoted to the main cast in the series.
In 2004, he appeared in "Miracle Run", for which he earned a Young Artist Award nomination that year.
His career reached a turning point with the teen musical television film "High School Musical" (2006) where he played Troy Bolton in the film.
His performance was appreciated by the audience and fans and he won several awards for his performance in the film.
He was nominated for Teen Choice Awards in 2008 and he won Nickelodeon Australian Kids' Choice Awards in 2008.
He also won Bravo Otto Award for Best TV Star-Male in the year 2010.
He played the lead role as Link Larkin in Hairspray (2007).
After that, he has appeared in numerous TV films and movies.
His adult comedy film Neighbors (2014) became a major commercial success that year.
He was on the Forbes Celebrity 100 list in 2008 as number 92.
His only release in 2015 was the moderately successful "We Are Your Friends" in 2015.
He was seen in the adult comedy "Dirty Grandpa" in 2016.
In the year 2017, he starred in "Baywatch".
He also had a supporting role in two biographical films released in December,
"The Disaster Artist", a comedy-drama directed by and starring James Franco, and, as Phillip, in the musical "The Greatest Showman", opposite Hugh Jackman. Both were nominated for the Golden Globe Award for Best Motion Picture-Musical or Comedy.
He played a drug-addled libertine in the Harmony Korine film "The Beach Bum" in the year 2019.
Besides movies, Zac Efron has contributed to soundtracks in his own films. He has not released an album, though. Efron's contribution is in the 2007 film "Hairspray", and 2006-2008 film series "High School Musical". Zac was also nominated for the High School Musical 3 for "Teen Choice Award for Choice Music: Album – Soundtrack" award.
What are the upcoming projects of Zac Efron?
Zac has been cast to voice Fred Jones in Warner Bros.' 2020 Scooby-Doo animated film.
It was announced that he would play serial killer Ted Bundy in Extremely Wicked, Shockingly Evil and Vile which was premiered at Sundance in early 2019, and will be released by Netflix on May 3.
What is the age of Zac Efron in High School Musical 2?
His age was 18 in High School Musical 2.
Does Zac Efron sing in HSM?
When they were filming the original HSM, Zac Efron couldn't hit the high notes necessary for his singing role, so Drew Seeley sang most of his part while Zac lip-synced. In the second and third movies, Zac took on all of his own singing. Zac Efron has contributed to soundtracks in his own films. He has not released an album, though. Efron's contribution is in the 2007 film "Hairspray", and 2006-2008 film series "High School Musical". Zac was also nominated for the High School Musical 3 for "Teen Choice Award for Choice Music: Album – Soundtrack" award.
Does Zac Efron is active in social media?
Yes, Zac Efron is very active in social media like Facebook, Twitter, and Instagram with more than 16.2 million followers on Twitter, more than 35 million followers on Instagram and has more than 18.3 million followers on Facebook.
Connect with Zac Efron
Facebook: facebook.com/ZacEfron/
Twitter: twitter.com/ZacEfron?ref_src=twsrcgoogletwcampserptwgrauthor
Instagram: instagram.com/zacefron/?hl=en
Does Zac Efron have a YouTube channel?
Yes, Zac Efron started a vlogging channel on YouTube where he goes 'off the grid' with his brother. Efron says he plans to add new videos to the channel every week.
What are the favorite quotes of Zac Efron?
I wish I could say I see my little brother more. We used to fight all the time but now that I don't see him very often I cherish the time I have with him.
Every day is a new experience and I take it as it comes.
I've grown up a lot, I'm on my own, and I've learned some valuable life lessons.