Kelly Brianne Clarkson is an American singer, songwriter, actress, author, and television personality who rose to fame in 2002 after winning the first season of American Idol, which earned her a record deal with RCA Records. Clarkson's debut single, "A Moment Like This", topped the US Billboard Hot 100 chart and became the country's best-selling single of 2002.
Will 'The Kelly Clarkson Show' Be a Replica of 'The Ellen DeGeneres Show?'
Kelly Clarkson — the country-singing girl with dreams of stardom and prosperous career in music — walked on to American Idol, and in the same instant, catalyzed her journey to becoming one of today's most successful talent competition winners and famous contemporary artists. She's even landed her own show, The Kelly Clarkson Show.
Kelly Clarkson represents the minority when it comes to talent competitions; alongside the likes of Carrie Underwood, Jennifer Hudson, and Adam Lambert, she managed to keep the momentum going. How many people can name more than three or four contestants who won The Voice, and how many songs do you know by said artists? Kelly Clarkson stands on a pedestal all her own — coaching The Voice, and now starting a talk-show. However, has the singer and The Voice coach taken one step too far? Is her show bound for success, or will it bring in a crowd just to lose its viewers overnight? Let's analyze what we know about the show, and determine whether it will be just another Ellen-like daytime talk-show without a shtick all its own.
Famous for
Being a famous American singer.
Winning the first season of American Idol.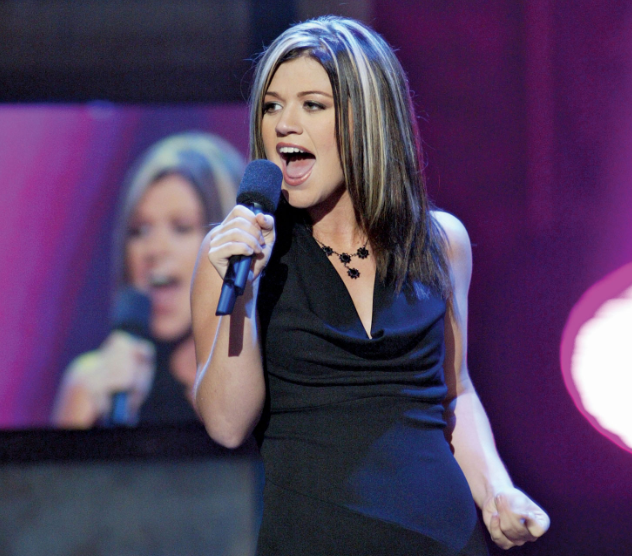 Source: @britannica.com
Where was Kelly Clarkson born?
Kelly Clarkson was born on 24 April 1982 in Fort Worth, Texas, U.S. She holds the American nationality and belongs to the white ethnicity. Her birth name is Kelly Brianne Clarkson with the birth sign of Taurus and was born to her father Stephen Michael Clarkson, a former engineer, and mother Jeanne Ann, a first grade English teacher. She has a brother named Jason and a sister named Alyssa. Also, she has two younger half brothers from her father's second marriage. Her parents divorced when she was six years old, whereupon her brother went to live with their father, her sister went to live with an aunt, and she stayed with her mother. Furthermore, she belongs to a Christian family and grew up in a church where she was the leader of the youth group.
Regarding her education, Kelly attended Pauline Hughes Middle School where her school choir teacher asked her to audition for the school choir after her singing in a hallway. later she graduated from Burleson High School in 2000, where she performed in several musicals, such as Annie Get Your Gun, Seven Brides for Seven Brothers, and Brigadoon. After graduation, she was offered full scholarships to the University of Texas at Austin, University of North Texas, and Berklee College of Music, but later declined them, explaining: "I've already written so much music and wanted to try a career on my own".
How tall is Kelly Clarkson?
Singer Kelly Clarkson stands the height of 5 ft 3 in tall with a weight of 79kg and has a body measurement of 37-31-37 inches with a bra size of 34C and a shoe size of 7(US). Additionally, she has got hazel eyes and blonde hair and her charming smile makes her look more beautiful and attractive.
Career of Kelly Clarkson
Clarkson worked several jobs to finance a demo, recording material, and trying to market it to record labels but received little response.
In 2001, she traveled to Los Angeles, trying to pursue a career in music.
She appeared as an extra in a few television series such as Sabrina, the Teenage Witch, and Dharma & Greg and briefly worked with musician Gerry Goffin to record five demo tracks in trying to secure a record deal.
Due to a lack of other career opportunities, she worked at a movie theater, promoted Red Bull energy drinks, and worked as a telemarketer and as a cocktail waitress in a comedy club.
In May 2002, she went for the audition for the inaugural season of the reality television series American Idol: The Search for a Superstar.
Despite receiving a "golden ticket," a pass to the Hollywood rounds, in the series premiere, Clarkson made her first appearance during the second episode.
Clarkson went on to win the competition on September 4, 2002, at the Kodak Theatre.
Immediately after winning American Idol, Clarkson was signed to a record deal with RCA Records, 19 Recordings by talent manager Simon Fuller, who created American Idol.
On September 17, 2002, her debut double-A-side single, "Before Your Love"/"A Moment Like This", was released. It eventually went on to become the best-selling single of 2002 in the United States.
Clarkson's debut album, Thankful, was released on April 15, 2003.
Thankful was a commercial success, debuting at number one on the Billboard 200 chart and went on to sell over 4.5 million copies worldwide.
Clarkson made her film debut with Guarini with the release of the musical romantic comedy film From Justin to Kelly in June 2003.
Her second studio album, Breakaway was released on November 30, 2004, and became Clarkson's most commercially successful album.
Breakaway garnered Clarkson many accolades, including two trophies at the 48th Grammy Awards—the Best Female Pop Vocal Performance for "Since U Been Gone" and the Best Pop Vocal Album.
"Since U Been Gone" was released as the album's lead single in November 2004 and became Clarkson's most successful single on the Hot 100 despite peaking at number two.
She also won Best Female Video two years in a row, each for "Since U Been Gone" and "Because of You", at the MTV Video Music Awards.

Clarkson's second video album, Behind Hazel Eyes, was released on March 29, 2005.
Clarkson's third studio album, My December, was released on June 22, 2007. The album went on to sell over 2.5 million copies worldwide.
On July 7, 2007, Clarkson performed on the American leg of the Live Earth concert.
Clarkson collaborated with Reba McEntire for filming an hour-long CMT Crossroads special at Nashville's Ryman Auditorium on February 22, 2007.
Clarkson's fourth album, All I Ever Wanted, was released on March 10, 2009, which garnered Clarkson a nomination for Best Pop Vocal Album at the 52nd Grammy Awards.
Its first single, "My Life Would Suck Without You", became an international hit.
Clarkson recorded a country duet with Jason Aldean, "Don't You Wanna Stay," for his 2010 album My Kinda Party. It became her first number-one song on the Billboard Hot Country Songs chart and has sold over 2.7 million copies.
Clarkson incorporated country vibe into her fifth studio album, Stronger, Released on October 21, 2011.
It was also critically applauded and won the Grammy Award for Best Pop Vocal Album at the 2013 Grammy Awards, making her the first artist to win the award twice Stronger's lead single, "Mr. Know It All", was released in September 2011.
Clarkson served as a mentor and judge, alongside John Legend, Jennifer Nettles, and Robin Thicke, on the ABC television show Duets which premiered on May 24, 2012.
She also became a guest mentor to Blake Shelton's contestants on season two of the American television series The Voice.
Clarkson released her first greatest hits album, Greatest Hits – Chapter One, on November 19, 2012, as Commemorating the 10th anniversary of her career in the music industry.
Three new songs recorded for the compilation—"Catch My Breath", "Don't Rush" (featuring country musician Vince Gill), and "People Like Us"—were all released as singles.
"Catch My Breath" became her 14th top-twenty hit on the Hot 100 chart as well as her 13th million-selling single in the United States.
According to Billboard, it was the third biggest adult contemporary song of 2013.
In January 2013, Clarkson performed "My Country, 'Tis of Thee" at the second inauguration of the U.S. President Barack Obama.
She also released a non-album single, "Tie It Up", exclusively to country music stations in June 2013.
Clarkson's sixth studio album and first Christmas record, Wrapped in Red, Released on October 25, 2013, the album debuted at number one on the Billboard Top Holiday Albums.
In February 2015, Clarkson released Piece by Piece, her seventh and final studio album under her recording contract with RCA Records.
In February 2016, it was announced that Clarkson signed a book deal with HarperCollins.
Her first children's book, River Rose and the Magical Lullaby was released on October 4, 2016.
The second book featuring River Rose, River Rose, and the Magical Christmas, was released on October 24, 2017.
On June 24, 2016, Clarkson announced she had signed a long-term worldwide deal with Atlantic Records, with the intention of releasing a soul-influenced eighth studio album in 2017.
On September 4, 2017, Clarkson announced her new lead single "Love So Soft", which was released on September 7, 2017.
On September 6, 2017, Clarkson announced that her album, Meaning of Life, would be released on October 27, 2017.
On September 6, 2017, Clarkson lent her voice in the computer-animated film, The Star which is based on the Nativity of Jesus.
In March 2018, Clarkson released "I've Loved You Since Forever", a ballad version of the children's book by Hoda Kotb
Clarkson hosted and performed at the 2018 Billboard Music Awards on May 20, 2018.
On February 25, 2019, Clarkson returned as a coach for the sixteenth season of The Voice.
Clarkson voiced Moxy, as well as provided original songs, in the animated musical comedy film UglyDolls, which was released on May 3, 2019.
On March 27, 2019, she released "Broken & Beautiful", the lead single from the UglyDolls: Original Motion Picture Soundtrack.
She is set to host the daytime variety talk show, The Kelly Clarkson Show, which will premiere on September 9, 2019.
Is Kelly Clarkson married?
Kelly Clarkson is married to her boyfriend talent manager Brandon Blackstock. The couple began dating since 2012 and finally got married on October 20, 2013, at Blackberry Farm in Walland, Tennessee. The couple together has a daughter, River Rose, born June 12, 2014, and a son, Remington "Remy" Alexander, born April 12, 2016. Clarkson is the stepmother to Blackstock's daughter and son from his previous marriage. Currently, they are living happily together in Encino, Los Angeles, California. Additionally, she is a Christian.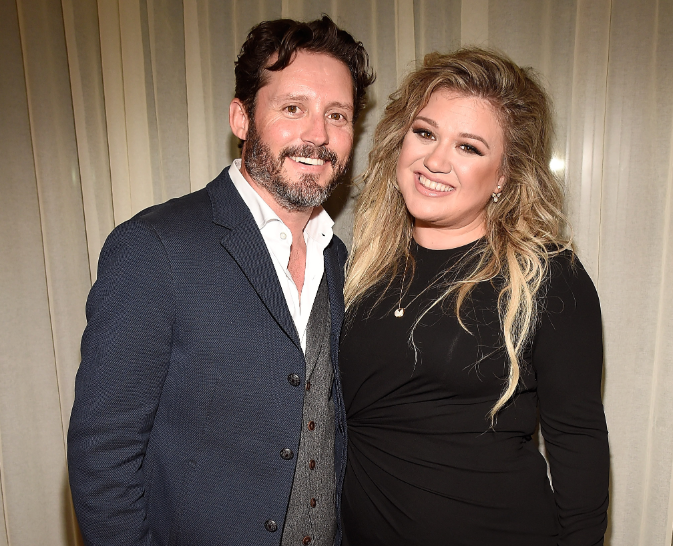 Source: @nepal24hours.com
Birthday of Kelly Clarkson
Singer Kelly Clarkson celebrates her birthday on the 24th of April with her friends and family.
Net Worth of Kelly Clarkson
Kelly Clarkson is earning a good amount of money from her singing career. Besides singing, She also earns from films and television shows although her salary is not revealed yet. A of 2019, her net worth is estimated to be around $28 million considering her decades of success post-American Idol.