About Nikki Blonsky; Actress and Singer
An American actress, singer, dancer, as well as a famous internet personality, is named for Nikki Blonsky. She is famous for being cast as Tracy Turnblad in "Hairspray" (2007) and as Maggie Baker in "Queen Sized" (2008). She is best known for starring in several shows as Teri O'Shaughnessy in "Ugly Betty" (2009), Poppy Barker in "Valemont" (2009), Willamena Rader in "Huge" (2010), and Margot in "Smash" (2013). She was nominated for a Golden Globe Award for "Best Actress in a Motion Picture Musical or Comedy" and winning several awards such as the Broadcast Film Critics Association Award for "Best Young Performer" as well as the Hollywood Film Festival for "Ensemble Cast of the Year" for her debut appearance in "Hairspray". She has lent her voice to the release of several hit songs for the soundtrack album titled Hairspray (Soundtrack to the Motion Picture) which was released on 10th July 2007. It was compiled of a total of 19 tracks of which, Nikki had lent her vocals to the release of Good Morning Baltimore, I Can Hear the Bells, Welcome to the '60s, Without Love, and You Can't Stop the Beat. As a voice actress, Nikki made her feature film debut as Lady Paw Paw in "Pup Star: World Tour" in 2018. She made her first TV show appearance on Rove Live in April 2007. Nikki Blonsky denies she's ever been racist as 2008 brawl with ANTM's Bianca Golden is brought up... a day after she comes out as gay. Blonsky said the idea she's racist 'couldn't be further from the truth'. She took to social media on Monday evening to stress that she's not racist after a Twitter user brought up a 2008 altercation she was involved in with America's Next Top Model contestant Bianca Golden that included accusations of racist remarks. 'I am deeply saddened and hurt to hear I have been wrongly accused of ever having anything other than love in my heart for someone of a different race when that couldn't be further from the truth,' said the 31-year-old actress, who was in the headlines Monday after revealing she's gay in a TikTok post a day earlier. She added: 'I am finally in a good place in my life living my true self I do not feel the need to rehash the trauma we all experienced that day or point fingers at anyone else to try to tarnish their reputation.' Nikki Blonsky was born with the birth name/real name of Nicole Margaret Blonsky on 9th November 1988. Her birthplace/hometown is in Great Neck, New York, the USA. She is American by nationality and her ethnicity is American-White. Her race is White. Her zodiac sign is Scorpio. As of 2019, she celebrated her 31st birthday. At present, she is residing in Franklin Square, the USA. She was born to her parents; Karl Blonsky (father), a Musical Employee, and Karen Smeja Blonsky (mother), a school teacher. Moreover, he also has siblings, a brother namely Joey Blonsky. Her father is Jewish and her mother Roman Catholic, in which faith she was raised. Talking about her education, she attended the Great Neck North Middle School. After that, she studied for one year at the John L. Miller Great Neck North High School in New York. After school each day, she would attend the after-school theatre program at William A. Shine Great Neck South High School, where she participated in productions of Les Miserables, Sweeney Todd, Kiss Me, Kate, and the title role of the opera Carmen. She is also a certified cosmetologist. She began working part-time as a hairstylist and make-up artist in her hometown of Great Neck, New York, between acting auditions in 2011. Scroll down to know about her full biography including her career, personal life, sexual orientation, gay, net worth 2020, facts, age, birthday, wiki, height, family details, now, weight, shows, and many more.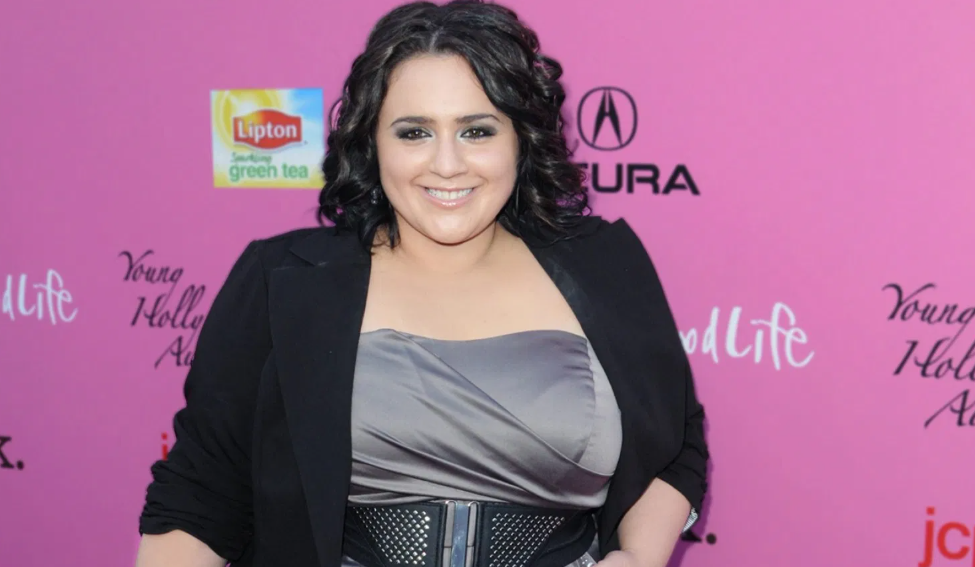 Source: @usmagazine.com
Nikki Blonsky's Acting and Singing Career
Nikki Blonsky started her acting career by portraying Tracy Turnblad in the musical film "Hairspray", an adaptation of the musical of the same name in the year 2007.
For her role in the film, she received praise for her performance, earning her several awards and nominations, including winning a Critic's Choice Awards for Best Actress, and being nominated a Golden Globe Award for Best Actress.
She also sang the American National Anthem in the pre-race ceremony at the 2008 Toyota/Save Mart 350 at Infineon Raceway on 22nd June 2008.
He also co-starred in the MTV mystery series "Valemont" in the year 2009.
In the year 2010, she led in the short-lived ABC Family series "Huge", which premiered in June 2010, and ran for one season.
For the role, she received a nomination for a Teen Choice Award.
In the year 2013, she appeared in two episodes of the NBC Broadway drama series "Smash".
She then appeared in the film adaptation of the book "Geography Club". The film received mixed reviews.
After that, she appeared Off-Broadway in the play "Stuffed" by Lisa Lampanelli at the Westside Theatre in October 2017 to November 2017.
In the year 2020, she launched her video blogging series on her Instagram account, in which she chats with other celebrities.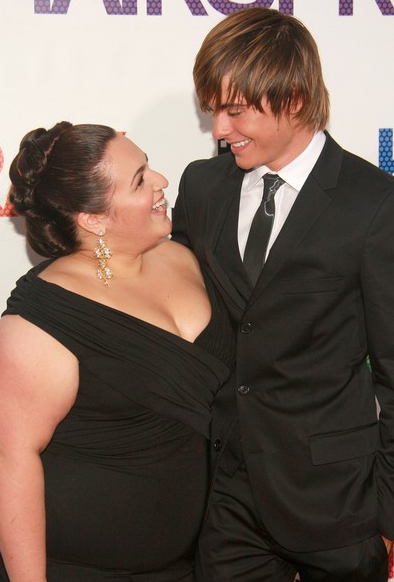 Source: @zimbio.com
Everything To Know About Zac Efron
Is Nikki Blonsky Gay?
Nikki Blonsky is not married yet and she is still to get married. In June 2020, she came out as gay via a video posted to the social media site TikTok set to the song "I'm Coming Out" by Diana Ross. At present, she seems to be single as there is no rumors about her dating anyone. She is enjoying her present life happily.
Talking about her past affairs, she was in a toxic relationship that often resulted in domestic violence. In an interview, she also stated that once she had been hit by phone in the head apart from being violently beaten up. There is a rumor about dating Zac Efron in the year 2007 on the set of "Hairspray". People further sought to believe in the speculations after the couple shared an intimate kiss on television during a talk show. However, the rumor was later put to an end as during that time, Zac was dating actress Vanessa Hudgens. In the year 2011, Nikki was spotted kissing aspiring actor Tommy Potoeski at a restaurant. Tommy even identified himself as her boyfriend while they were there. However, in June that year, her representative stated via Twitter, that she was happily single.
In July 2008, Nikki Blonsky and her parents were involved in a violent confrontation with the family of Bianca Golden, a former contestant on America's Next Top Model, at the Providenciales International Airport in Turks and Caicos. Golden, Blonsky, and Blonsky's father were all charged with assault. But the charges against Blonsky and Golden were dropped in December 2008.
Nikki Blonsky's Net Worth 2020
Nikki Blonsky is an American actress, singer, and dancer. As of 2020, the net worth of Nikki Blonsky is estimated to have $625 thousand. She has earned her net worth from her role as Tracy Turnblad in the 2007 film Hairspray. She is also well-known for her role as Maggie Baker in the 2008 television movie Queen Sized. Nikki hаѕ асquіrеd hеr wеаlth fоr bеіng аn асtrеѕѕ, а ѕіngеr аѕ wеll аѕ а dаnсеr. Ѕhе аlѕо hаѕ ѕkіllѕ іn соѕmеtоlоgу аnd wаѕ іѕѕuеd wіth а lісеnѕе, аnd durіng hеr frее tіmе whеn ѕhе іѕ nоt асtіng оr ѕіngіng, ѕhе uѕuаllу dоеѕ hаіrѕtуlіng, whісh hеlрѕ tо іnсrеаѕе hеr nеt wоrth. She has not done endorsement work for any brand yet. She is living a cool lifestyle from her earnings.