Sergio Busquets is a Spanish professional footballer. He is best known for showcasing his talents at Major League Soccer club Inter Miami. With his jersey number as #5 and playing position as a defensive midfielder, he is famous for his role as a deep-lying playmaker, directing gameplay through precise and composed passes, earning him a reputation as one of the greatest defensive midfielders in history. Busquets began his journey in Barcelona's first team in July 2008, making over 700 appearances and winning an impressive 32 trophies, including nine La Liga titles, seven Copa del Rey titles, and three UEFA Champions Leagues. His remarkable contributions were pivotal to securing continental trebles in 2008-09 and 2014-15. After 14 years with Barcelona, he bid farewell to the club at the end of the 2022-23 season. With a senior international debut for Spain in April 2009, Sergio earned 143 caps for the national team, scoring twice, and was an integral part of their triumphs in the 2010 FIFA World Cup and UEFA Euro 2012 tournaments, along with representing them in three other World Cups and two European Championships. He retired from international football following the 2022 World Cup. Inter Miami made an announcement on 23rd June 2023 about their signing of Busquets. Then, on 16th July, Busquets finalized a two-and-a-half-year deal with Inter Miami.

Sergio Busquets: A Glimpse into His Early Years and Parents
Born on 16th July 1988 in Sabadell, Spain, Sergio Busquets carries Spanish nationality and belongs to Spanish-White ethnicity. Sergio Busquets Burgos is his birth name. About his parents, his father, Carles Busquets, is a former professional footballer who served as a goalkeeper for Barcelona in the 1990s, and his mother, Loli Burgos, is a housewife. Sergio has a sibling, a brother named Aitor Busquets. His present age is 35 years old celebrating his birthday on 16th July 2023.

Sergio Busquets Football Career
Barcelona
Sergio Busquets started his football journey with local teams before joining Barcelona's youth ranks in 2005.
He made his debut for Barcelona's first team in the Copa Catalunya and played his first La Liga match in 2008.
Busquets scored crucial goals for the team in the UEFA Champions League during the 2008-09 season and signed a contract extension in December 2008.
He played a significant role in Barcelona's success, including starting in the Champions League final win over Manchester United in 2009, becoming part of a father-son duo to win the competition for the same team.
In the following season, Busquets continued his excellent performance and became a preferred central holding midfielder under Pep Guardiola. However, he faced criticism for an incident in a Champions League match against Inter Milan in 2010, where he was accused of feigning injury.
He showcased his versatility by occasionally playing as a center-back in the 2010-11 season. He extended his contract in January 2011 with an increased buyout clause.
In March of that year, while playing as a center-back, he scored an own goal in the Champions League round-of-16 against Arsenal, but Barcelona still won the tie. He played a full match in Barcelona's 3-1 Champions League final victory against Manchester United in May 2011.
In April 2012, he scored a rare goal in the Champions League semi-finals against Chelsea, but Barcelona eventually lost the tie.
Over the years, Busquets continued to be a vital part of Barcelona, signing contract extensions and even captaining the team on occasion.
He achieved significant milestones, including his 600th and 700th appearances for the club, and broke records in El Clásico matches.
However, on May 10, 2023, he announced his decision to leave Barcelona at the end of the season.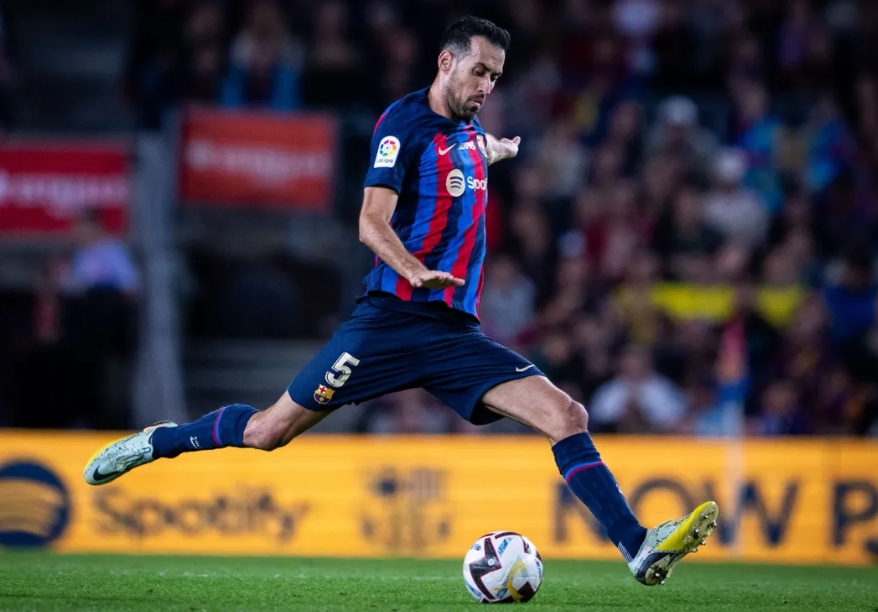 Inter Miami
On 23 June 2023, Inter Miami announced that they had signed Busquets. On 16 July, Busquets officially signed a two-and-a-half-year deal with Inter Miami.
International Career
Sergio Busquets, the Spanish footballer, had a remarkable international career that spanned 15 years.
He made his debut for Spain's under-21 team in 2008, scoring in a UEFA European Under-21 Football Championship qualification match.
Later, he earned a spot in the senior squad, playing in various tournaments, including the 2009 FIFA Confederations Cup and the 2010 World Cup, where Spain emerged victorious. Busquets played a crucial role in Spain's triumph at UEFA Euro 2012 and Euro 2016 qualifiers.
He reached significant milestones, celebrating his 100th appearance in 2017 and captaining the team in 2020 during a friendly against Portugal.
At UEFA Euro 2020, Busquets tested positive for COVID-19 but made a strong comeback, leading Spain to impressive victories, earning him the Hisense Player of the Finals award.
In the 2022 World Cup, he captained the team, but Spain was eliminated in the round of 16. In December 2022, Busquets announced his retirement from international football, leaving behind a legacy of 143 appearances for his country.
Sergio Busquets Awards, Honors, and Achievements
Barcelona
La Liga: 2008–09, 2009–10, 2010–11, 2012–13, 2014–15, 2015–16, 2017–18, 2018–19, 2022–23
Copa del Rey: 2008–09, 2011–12, 2014–15, 2015–16, 2016–17, 2017–18, 2020–21
Supercopa de España: 2009, 2010, 2011, 2013, 2016, 2018, 2022–23
UEFA Champions League: 2008–09, 2010–11, 2014–15
UEFA Super Cup: 2009, 2011, 2015
FIFA Club World Cup: 2009, 2011, 2015
Spain
FIFA World Cup: 2010
UEFA European Championship: 2012
FIFA Confederations Cup runner-up: 2013; third place: 2009
UEFA Nations League: 2022–23; runner-up: 2020–21
Individual
Bravo Award: 2009
La Liga's Breakthrough Player: 2009
FIFA World Cup All-Star Team: 2010
UEFA European Championship Team of the Tournament: 2012
UEFA Champions League Squad of the Season: 2014–15
La Liga Team of the Season: 2015–16
UEFA La Liga Team of the Season: 2015–16
UEFA Nations League Finals Player of the Tournament: 2021
Decorations
Prince of Asturias Awards: 2010
Gold Medal of the Royal Order of Sporting Merit: 2011
Sergio Busquets Transfer News
Inter Miami CF (16 July 2023-Present)
Barcelona (From 1 Sept 2008)
Barcelona Atlètic (From 1 Jul 2007, transferred from Barcelona U19)
Exploring Sergio Busquets' Net Worth and Salary
Sergio Busquets, the accomplished footballer, has found success with Inter Miami, where he signed an official two-and-a-half-year deal on 16 July. The announcement of his signing was made by Inter Miami on 23 June 2023. With a net worth of $45 million as of 2023, Sergio's football career has been the primary source of his wealth. While playing for Barcelona in 2022, he received an annual salary of £10,348,000. As of June 13, 2023, his market value stands at €5 million. Apart from his achievements on the field, Sergio has also ventured into TV commercials for prestigious brands like Qatar Airways and Nike Football. Currently leading a lavish lifestyle, Sergio Busquets continues to thrive in his football journey with Inter Miami.
Meet His Girlfriend and Adorable Children
Sergio Busquets remains unmarried but is happily in a committed relationship with his stunning girlfriend, Elena Galera, since 2014. The couple is blessed with two sons, Enzo, born in 2016, and Levi Busquets, born in 2018. They lead a joyous and harmonious family life. Sergio identifies as straight when it comes to his sexual orientation.
Sergio Busquets Height, Tattoos, and Weight
Sergio Busquets, the handsome footballer with a tall height of 6 ft 2½ in or 189 cm and an athletic body type, weighs approximately 77 kg or 170 lbs. He possesses captivating dark brown hair and eyes of the same color. Notably, he adorns an Arabic tattoo on his left forearm, bearing the heartfelt inscription, "A thing for you, the life in my country," dedicated to his beloved maternal grandfather. Measuring 40-13.5-34 inches, he exudes an impressive physique. Unfortunately, eight days before Spain's first game, Busquets tested positive for COVID-19, leading to the entire squad's withdrawal from their final warm-up match against Lithuania. As of now, he has got a healthy body and he maintains his body a lot by doing frequent exercise.