Nate Robinson Biography
An American former professional basketball player, Nate Robinson is known for being one of the shortest players in the NBA at 5'9". He helped lead the Chicago Bulls to the second round of the Eastern Conference playoffs in 2013. He was named AAA State Player of the Year while playing high school basketball at Rainier Beach High School in Washington. He also became the first three-time Slam Dunk contest champion in 2010. Outside of the NBA, he had played for "Hapoel Tel Aviv" (2016) in Israel, "Guaros de Lara" (2017) in Venezuela, and "Homenetmen Beirut" (2018) in Lebanon whereas with "Guaros de Lara", he had won the "Venezuelan League Championship" in 2017 and was also named the Venezuelan League "Grand Final MVP" that year. Scroll down to read Nate's Full Biography, Net Worth, Interesting Facts, Family, Wiki, Age, Personal Life, Untold Story, & more.
Famous For

Being an American former professional basketball player.
For being one of the shortest players in the NBA at 5'9".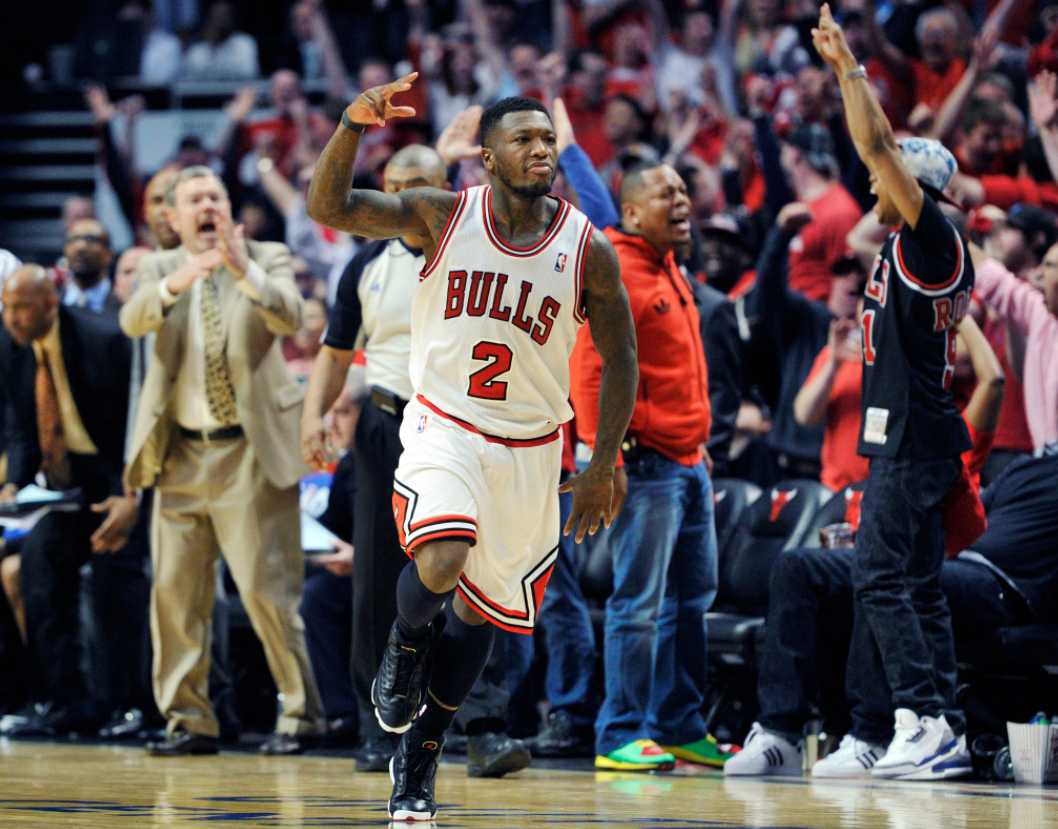 Source: @nytimes
Nate Robinson Early Life

On 31st May 1984, Nate Robinson opened his eyes for the first time with the real name or full name of Nathaniel Cornelius Robinson in Seattle, Washington (hometown/birth nation). He holds an American nationality and his ethnicity is African-American. Likewise, he is from the Christianity religion and his race is black. He happily celebrates his birthday on the 31st May of every year and he has celebrated his 36th birthday as of 2020. His zodiac sign is Gemini as his birthdate. His father Jacque Robinson is a former professional American football player however, his mother, Renee Busch has won beauty Salon. He has three siblings, Jasmine Stewart (Sister), Anthony Stewart (Brother), Deron Isaiah Robinson (Brother). Moreover, Robinson spent his first two years of high school at Rainier Beach High School in Seattle before moving to Union City, California where he played for James Logan High School in 2000-2001.
Nate Robinson Career

College Career
Nate Robinson kicks off his basketball career at Washington in 2002-2003 was named to the CollegeInsider.com's 20-player national All-Freshmen Team, as he's led the team in scoring average with 13.0 points per game, a figure that ranked 17th among Pac-10 players; also his 300 points tied for fourth among all-time UW freshmen.
He was named to the All-Pac-10 first team after he led the team and ranked 13th among Pac-10 scorers with 13.2 points per game and was also named to the NABC All-NCAA District 14 first team, NABC All-America third team, Pac-10 All-Tournament team, and All-Pac-10 first team after leading Washington to the Sweet Sixteen of the NCAA Tournament.
Professional career

New York Knicks
Nate was selected with the 21st overall pick by the Phoenix Suns in the 2005 NBA draft and was later traded to the New York Knicks on a draft-night where he played in 72 games his rookie year, starting 26 of them while averaging 9.3 points and 2.0 assists per game.
His fight with Nuggets guard J. R. Smith landed in the seats, and he was suspended for 10 games as a result however he averaged 12.7 points per game and was the team's leading scorer in 10 games in the 2007-2008 season. He scored a career-high 45 points in a 114-120 overtime loss to the Portland Trail Blazers on 8th March 2008.
Robinson averaged 17.2 points per game, 4.1 assists per game, and almost 30 minutes per game in 2008-2009 season whereas he reported on his Twitter page on 12th August 2009 that he would change his number from number 4 to number 2 for the 2009-2010 season as he re-signed with the New York Knicks to a one-year deal on 25th September 2009.
Later, Mike D'Antoni removed Robinson from the Knicks' rotation for 14 games beginning on 1st December 2009 after a series of disagreements although he made his return on 1st January 2010, against the Atlanta Hawks, and scored 41 points off the bench in the Knicks' overtime victory.
Boston Celtics

Nate was traded to the Boston Celtics on 18th February 2010 where he played in 26 games with the Celtics averaging 6.5 points per game in 14.7 minutes per game.
As well, he re-signed with Boston on a two-year deal on 16th July 2010 as six of the games Robinson started were part of a 14-game win streak for the Celtics.
Oklahoma City Thunder

Robinson was also traded to the Oklahoma City Thunder on 24th February 2011 but the Thunder waived Robinson on 24th December 2001 just prior to the start of the lockout-shortened 2011-2012 season.
Golden State Warriors

Nate Robinson signed with the Golden State Warriors on 4th January 2012 where he led the Warriors with 24 points in a 111-106 overtime victory over the Miami Heat on 10th January 2012, with the absence of Stephen Curry. He averaged 11.2 points, 4.5 assists and 2 rebounds in 51 games played in the 2011-2012 season.
Chicago Bulls

Nate also signed a one-year contract with the Chicago Bulls on 31st July 2012 and was named as the Eastern Conference Player of the Week for the first week of February, after averaging 17.8 points, 6.8 assists, and 2.5 steals on 52.9 percent from the three-point line in a 4-game span.
Also, he averaged 18.6 points and 5.1 assists, which included a win over the Heat on March 27 to end Miami's 27-game winning streak during a 19-game stretch from 8th March to 14th April.
Up 2-1 in their first-round series against the Brooklyn Nets, the Bulls faced a 109-95 deficit in game 4 with less than three minutes left in regulation as Nate scored 12 unanswered points to bring the Bulls back and eventually win the game in triple overtime. He finished the game with 34 points, including 23 points in the 4th quarter, just one point shy of Michael Jordan's franchise playoff record.
He scored 27 points and nine assists in game 1 to stun the defending champions and take a 1-0 series lead in a match with the Miami Heat in the semifinals as Kevin Craft of "The Atlantic" called him the breakout star of the playoffs.
Denver Nuggets

Nate also signed a multi-year deal with the Denver Nuggets on 26th July 2013 and he announced that he would wear number 10 to honor soccer player Lionel Messi; his preferred number 2 was already retired for Alex English.
He exercised the player option on his contract on 23rd June 2014 and he was traded to the Boston Celtics in exchange for Jameer Nelson on 13th January 2015.
Los Angeles Clippers and New Orleans Pelicans

Robinson signed a 10-day contract with the Los Angeles Clippers on 7th March 2015 however he signed a second 10-day contract with the Clippers on 17th March as well as he signed a one-year deal with the New Orleans Pelicans on 16th October 2015.
Post-NBA career

Nate signed with Hapoel Tel Aviv of the Israeli Basketball Premier League on 17th March 2016 whereas he scored a season-high 46 points in a playoff game against Hapoel Jerusalem on 19th May as he averaged 16.2 points, 1.6 rebounds, 2.9 assists, and 1.8 steals per game in 14 games for Tel Aviv.
As well, he was acquired by the Delaware 87ers of the NBA Development League on 8th February 2017 and made his debut in a 123-101 win over the Maine Red Claws on 14th February, recording three points, three assists, and three steals in 18 minutes off the bench.
He also signed with Guaros de Lara of the Venezuelan Liga Profesional de Baloncesto (LPB) on 3rd April 2017 though he won the 2017 LPB championship with Guaros. Robinson was named the LPB Grand Final MVP in July.
Later, he signed with Homenetmen Beirut of the Lebanese Basketball League on 31st July 2018 and was waived by the club in September 2018 due to an injury he suffered while playing in the BIG3 during the summer.
Nate Robinson Books

Nate Robinson has launched a book entitled "Heart over Height" in 2014.
Boxing

Besides basketball, it was announced in July 2020 that Robinson would be venturing into boxing for a professional debut, facing YouTuber Jake Paul as part of the undercard for the Mike Tyson vs. Roy Jones Jr. exhibition match whereas the vent was initially scheduled for 12th September at the Dignity Health Sports Park in Carson, California; however, in August, Tyson revealed the event had been pushed back to 28th November in order to maximize revenue. Robinson lost to Paul by second-round knockout.
Nate Robinson Awards and Achievements

3× NBA Slam Dunk Contest champion (2006, 2009, 2010)
Venezuelan League champion (2017)
Venezuelan League Grand Final MVP (2017)
Third-team All-American - AP, NABC (2005)
Frances Pomeroy Naismith Award (2005)
2× First-team All-Pac-10 (2004, 2005)
Pac-10 All-Freshman Team (2003)
Nate Robinson Personal Life

Reflecting on Nate Robinson's personal life, he is an unmarried guy. But, regarding his relationship status, he started a long-term romantic relationship with his high school sweetheart Sheena Felitz in 1999. They have three children together - two sons named Nahmier Robinson (b. 26th October 2004) and Ny'ale Cameron Robinson (b. 2006), and a daughter named Navyi Caiann Robinson (b. 2009). The paired relationship is exceptional till now and hopes it will remain the same as in the future too. He also has a son named Nasir Chakur Robinson from an alleged, unnamed illicit relationship. The duo is planning to be husband and wife soon. Furthermore, talking about his sexual orientation, he is straight.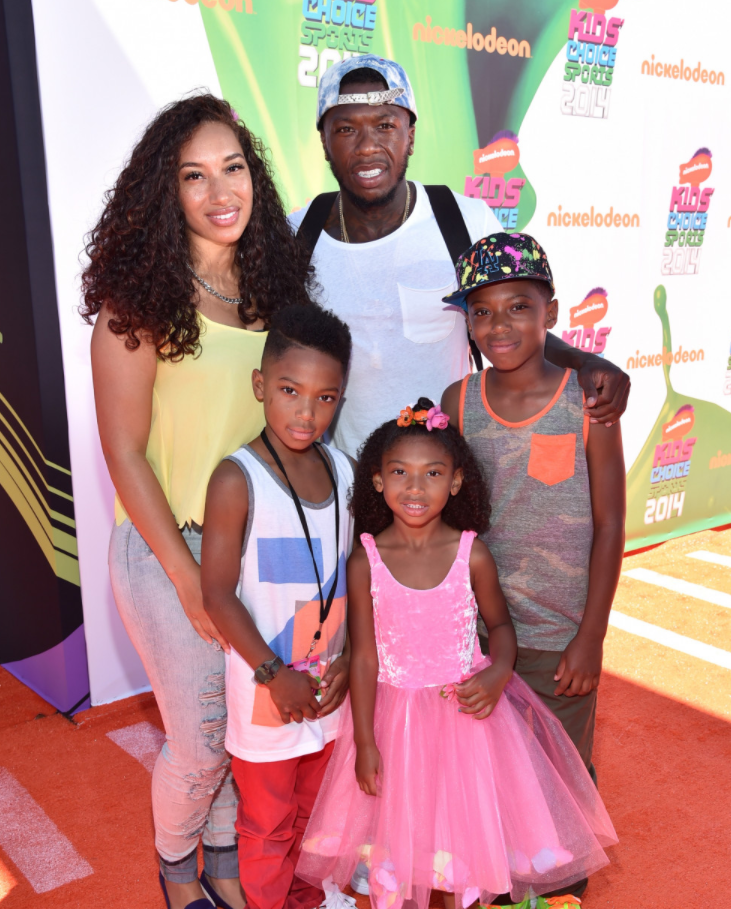 Source: @bellanaija
Nate Robinson Net Worth

Moving towards Nate Robinson's net worth, he has a worth of around $9 million dollars as of 2021 whereas he also earns a fine amount of salary too which is also in millions of dollars per year. Robinson earned over $24 million throughout his NBA career in salaries alone. He earned those salaries through eight different teams over the course of 11 seasons. He is an avid car collector and owns a Jeep Grand Cherokee, Dodge Challenger, and Hummer H2 as well as a blue Porsche Panamera and orange Cadillac CTS-V. His favorite car is the Pontiac Firebird which he also owns and is the same color as his Cadillac. In addition, his major source of income is from his basketball career. He has also opened a chicken and waffles restaurant in Rainier Beach, Seattle, the neighborhood in which he went to high school in 2014.
Nate Robinson Body Measurement
Nate Robinson is a handsome and adaptable basketballer who stands at a perfect height of 5 ft 9 in (1.75 m) with a balanced body weight of around 180 lb (82 kg). Explosive and athletic point guard Nate is also known for being one of the shortest players in the NBA. His toned physique, dreadlocked hair, affable smile, sports a rugged beard has attracted a lot of people towards him. His arms, entire back, and his entire upper torso are covered in tattoos. Nate has black hair and dark brown eyes color as his body build type is athletic.