About Zoe Saldana
Zoe Saldana is a professional American actress. She was also in a 1999 episode of "Law & Order". Zoe's film career began in 2000 with "Center Stage" portraying a ballet dancer. She performed with the New York Youth Theater at age seventeen. She is an actress who supplied the voice of Neytiri in the 2009 film Avatar. She also plays Uhura in the Star Trek films and Gamora in the Guardians of the Galaxy franchise in 2014. Because of her appearances in some of the highest-grossing films of all time, such as Avatar and Avengers: Endgame, she is the second highest-grossing film actress of all time, as of 2019. Zoe's films grossed more than $11 billion worldwide. She is left-handed. In 2015, during International Left-Handers Day, she tweeted in support of the Left-Handers Movement.
Famous For

Being a professional American actress.
For her roles in Avatar and Avengers: Endgame.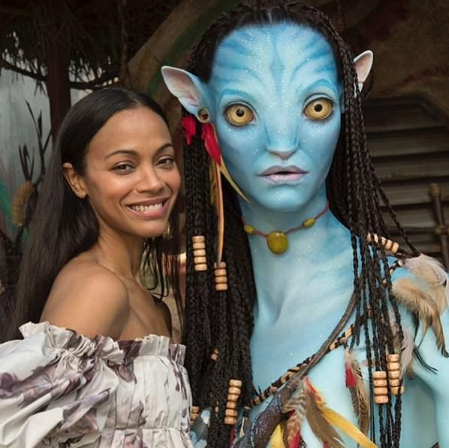 Source: @pinterest.com.mx
Early Life of Zoe Saldana

Zoe was born on 19th June 1978 in Passaic, New Jersey, U.S. Her full name or birth name is "Zoe Yadira Saldana Nazario". Her nationality is American whereas ethnicity is Hispanic. Zoe's race/ethnic background is black and the sun sign is Gemini. She celebrates her birthday on 19th June of every year and she had celebrated her 42nd birthday as of 2020. She is the daughter of Aridio Saldana (father), who was of Dominican and Haitian descent, while her mother, Asalia Nazario, is Puerto Rican with some Lebanese ancestry. She has two sisters named Cisely and Mariel. Zoe is educated from Newtown High School. Her dance training and her acting experience helped her land her first film role, playing ballet student Eva Rodriguez in Center Stage (2000).
Career of Zoe Saldana

Zoe Saldana kick off her career with her first film role was in Center Stage (2000), directed by Nicholas Hytner, about dancers at the fictitious American Ballet Academy in New York City. She appeared in the Britney Spears vehicle Crossroads (2002).
Zoe starred in the comedy-drama "Drumline" (2002), alongside Nick Cannon, earning mixed reviews.
She played Anamaria in "Pirates of the Caribbean: The Curse of the Black Pearl" (2003) and appeared in "The Terminal" as Dolores Torres.

In 2004, Saldana had roles in Haven and Temptation; both earned little-to-no box-office success. She starred in the romantic comedy-drama "Premium" (2006) and "After Sex" (2007).
She starred in Blackout, a television film set in New York City during the Northeast Blackout of 2003.
Steven Spielberg taught her the Vulcan salute five years earlier while he directed her in The Terminal and "Star Trek" (2009) was a box-office success earning $385.7 million.
Her second high-profile film in 2009 was James Cameron's Avatar portraying the indigenous hunter Neytiri which grossed $2.7 billion worldwide to become the highest-grossing film of all time. The film was nominated for ten "Saturn Awards", and won all ten at the 36th Saturn Awards ceremony.
Her "Saturn Award" for Best Actress win marked a rare occurrence for an all-CG character.
In 2010, her television ad for Calvin Klein's "Envy" line debuted as well as starred in the romantic comedy "The Heart Specialist".
She reprised her role as Uhura in "Star Trek Into Darkness" in 2013, the sequel to the Star Trek re-boot. Like the previous film, it was also a box-office success, ending its North American theatre run with a box office total of $228,778,661, placing it as the 11th highest-grossing film for 2013 which earned $467,365,246 worldwide, ranking it in 14th place for 2013, and making it the highest-grossing film of the franchise.
Zoe Saldana was nominated for many awards including "Critics' Choice Movie Award" for Best Actress in an Action Movie, Favorite Action Movie Actress at the "People's Choice Awards", and Best On-Screen Transformation at the "MTV Movie Awards".
Zoe co-starred in the science-fiction sequel "Star Trek Beyond" released in July 2016, and "Ben Affleck's" crime drama Live by Night released in December.
She returned as Gamora in the Guardians of the Galaxy sequel, Guardians of the Galaxy Vol. 2 (2017) released in May.
Zoe received a star on the "Hollywood Walk of Fame", honoring her legacy in the motion picture industry on 3rd May 2018.
Saldana will re-reprise her role as Neytiri in the sequels Avatar 2 and Avatar 3 scheduled for 2021 and 2023, respectively.
Recently, she sat down with Pose creator and executive producer Steven Canals Tuesday for a conversation about diversity, activism, and identity on Bese's Instagram page.
"I should've tried everything in my power to cast a Black woman to play and exceptionally perfect Black woman," she told Canals in the Instagram interview. "It was painful. I thought back then that I had the permission because I was a Black woman."
The Cynthia Mort-directed biopic (Nina) about the legendary vocalist saw Saldana don prosthetics and makeup to make her skin appear darker.
Her apology and the outcry about her casting comes at a time when shows have pulled Blackface episodes from streaming platforms and various industry players have demanded increased diversity in Hollywood staff and others have voiced support for the Black Lives Matter movement.
The conversation about proper representation and accountability is one the actress does not want to shy from, Zoe told the Pose creator. Instead, it's one she wants to encourage and learn from.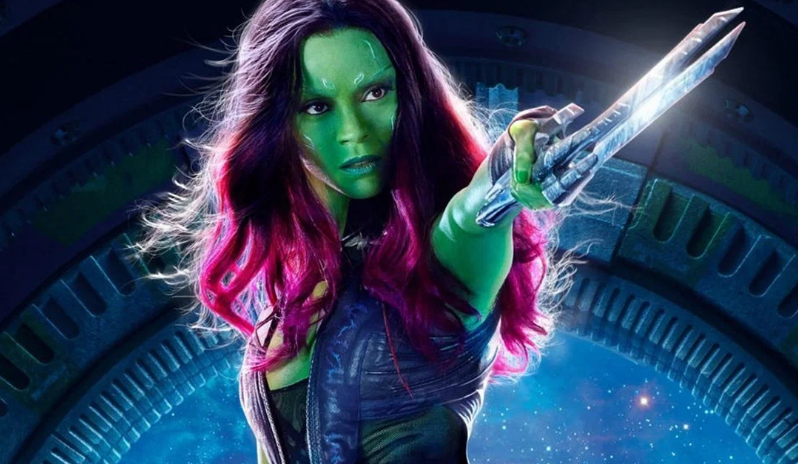 Source: @denofgeek
Awards and Achievements of Zoe Saldana

MTV Movie Awards for 3 times
Teen Choice Awards for 8 times
Black Reel Awards 5 times
ALMA Awards 3 times
Boston Society of Film Critics
Washington DC Area Film Critics Association
Kids' Choice Awards
People's Choice Awards 3 times
Scream Awards 2 times
BET Awards 4 times
Broadcast Film Critics Association
Empire Awards
Kids' Choice Awards
Saturn Awards
Image Awards 3 times
Hollywood Walk of Fame Award
Personal Life of Zoe Saldana

Talking about Zoe Saldana's personal life, she is a married woman. She was engaged to her longtime boyfriend Keith Britton, an actor and the CEO of My Fashion Database in June 2010. But in November 2011, she and Britton announced they had ended their relationship after eleven years. From December 2011 to January 2013, she was in a relationship with actor Bradley Cooper. Saldana began dating Italian artist Marco Perego since March 2013. The couple married in June 2013 in London. Saldana revealed Perego adopted her surname upon marriage in July 2015. The couple has three sons, twins born in November 2014, and the third born in February 2017. She has stated her children will be multi-lingual because she and her husband speak Spanish and English around them. During an interview with Net-a-Porter's The Edit in July 2016, she revealed she has Hashimoto's thyroiditis, an autoimmune disease, along with her mother and sisters. To combat the effects of this disease, Zoe said she and her husband adhere to a gluten- and dairy-free diet. Regarding her sexual orientation, she is straight.
Source: @parade
Net Worth of Zoe Salanda

Moving towards Zoe's net worth, her net worth is in millions of dollars. Changing Avatars to emerge as a Guardian of the Galaxy dancer/actress, her mega transformation has earned her a reported net worth of $14 million. Her films grossed more than $11 billion worldwide. And her main source of income is from the film industry such as films, series, and more. She is earning a considerable amount of money/salary from her actress career. She did advertisements for Calvin Klein and Roca Wear.
Body Measurement of Zoe Saldana

Regarding her body measurement, she has the best height of 5 ft 6.5 in or 169 cm and her body weight is around 54 kg or 119 pounds. Her hair color is black whereas eyes are dark brown. She is a beautiful woman with a slim body which has attracted a lot of people. Her body measurement is 33-25-32 inches.